Postgraduate Diploma (PgDip) in Theatre Costume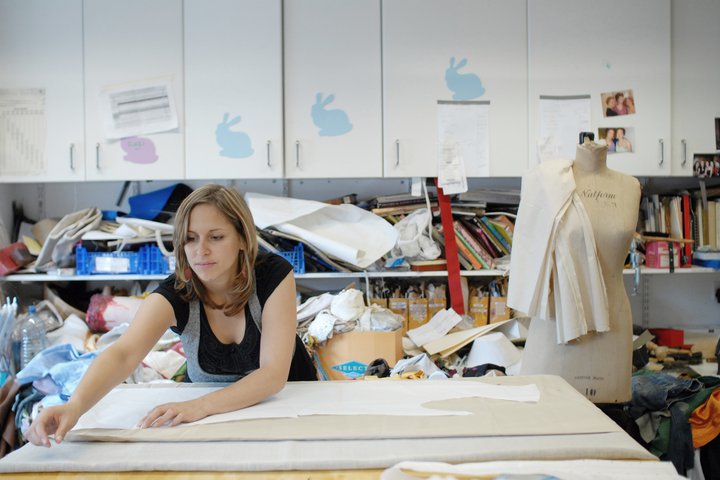 Applications for entry in September 2019 are now closed. Applications for entry in September 2020 will open in autumn.
Our full-time, two-year Postgraduate Diploma in Theatre Costume is aimed at students pursuing a career as a costume maker or supervisor. You will cover all areas of costume-making, from pattern-cutting through to the finished garment, and gain the skills needed to take a design or costume reference and transform it into a finished garment.
This course is aimed at both costume-making and costume supervising.
Costume-making
We teach costume-making from first principles, from basic sewing skills, pattern cutting and grading, through to the finished product. The basic sewing skills are organised in five levels:
Hand sewing, seams, hems, fastening
Pattern matching, tucks, cording, pleats and gathering, buttonholes, eyelets, false lacing
Openings, bias rouleaux and piping, facings and using bias
Fastenings (zips and fly opening)
Pockets
Although some time is given to completing all levels, you will be expected to work on them outside teaching hours.
All these skills, as well as other maintenance and alterations, are practised throughout the course by working on all the third year shows as assistants. This improves work speed and gives you experience in working with different fabrics and vintage costumes from our store.
The forms of pattern-cutting we teach are flat (block), cutting on the stand, and draping – although investigation into further forms is also encouraged, such as going straight to fabric, sizing up from a grid, and taking a pattern from an existing garment. You will also learn pattern manipulation and grading throughout the course.
Some garments are taken through to completion as class projects, including corsetry, ruffs, period shirt tailoring and millinery. Others form personal projects and are supervised, although you will be expected to work semi-independently.
Costume supervising
Costume supervising is taught in the class room with script analysis, budget skills and communication and management skills. It is also practised, firstly with the second year BA (Hons) Acting students as part of a short Shakespeare project, which is toured around schools in the London area. You will then have the opportunity to supervise two or three RADA professional performances, or a film project.
We also provide experience of other elements of a wardrobe department. You will have introductory classes in hair and make-up, wig knotting, history of costume, fabric treatments and props skills.
Term one
The term starts with basic sewing before going on to block pattern cutting. You will also spend some time in the props department before working as assistant and dresser on the first set of productions.
You will then look at cutting on the stand and manipulating patterns, before assisting and becoming dressers on the second set of RADA productions. Ruff-making and an introduction to corset-making follows. There is also linear teaching in history of costume, costume props and professional development.
Term two
The second term continues with a full corset project, with further period underwear if time. You will spend a couple of days with professional dyers to learn about fabric treatments, before assisting on the next set of productions. An Elizabethan ruff and shirt project follows, and some lessons on hair, make-up and wig knotting.
The last set of shows are followed by some time to further investigate pattern-cutting and an introduction to millinery with a Sinemay/fascinator project. The term is completed by supervising work on the second year actors combat performances, the 'Prize Fights'.
Term three
The final term of the year spends more time on millinery, including felt blocking and working with Buckram. There is further alteration and costume-making work on productions, as well as costume supervising teaching and a week of working with a professional tailor to produce a jacket.
The second half of term launches into supervising the Shakespeare Schools Tour and RADA Festival.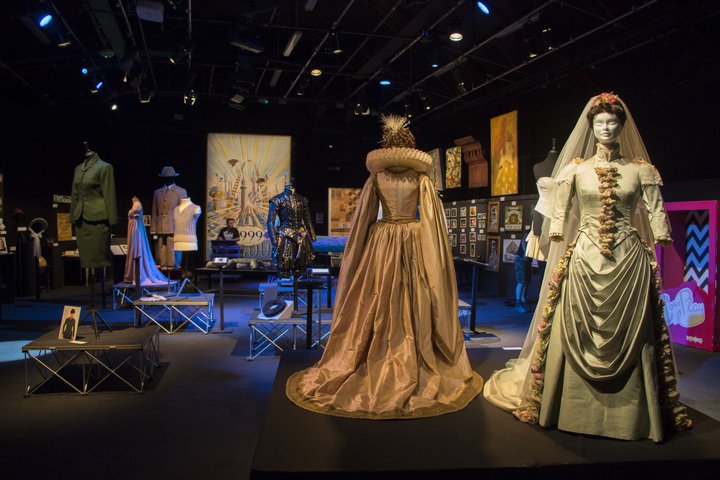 The second year is less linear in structure.
You will choose whether to make two or three personal projects – which involve producing a costume from scratch, using a design of your choice – or supervise two or three RADA productions (a RADA film is also an option).
The work created is presented at an exhibition for industry and the public at the end of the year.
Secondments
During the course, each student undertakes at least one secondment of approximately five weeks. This period can be split between more than one placement and its length can be changed depending on the individual students' training requirements.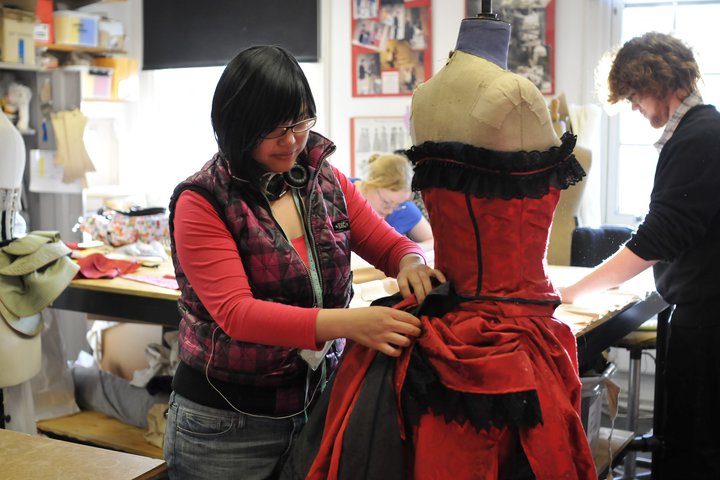 Year 1
Class times are 10am-5pm, although the workroom is available in the evenings for extra work if required.
When working on the shows, however, hours can be long. In the lead-up to the shows, staff will work alongside you throughout the necessary working hours. Evening and weekend work is common, but we try not to work beyond 9pm.
When working a show role, for example dresser or costume supervisor, there may be long hours during the tech week (usually 9am-10pm). Once the shows are open, you will have linear teaching during the day and show work in the evening, which lasts as long as the performance and will often include Saturdays. Productions usually run for approximately 10-12 days including two Saturdays, after which working hours return to the norm.
Year 2
When working on the shows, the hours described above apply. When making a costume project, you will be expected to attend from 10am-5pm as a minimum, but can (and most students usually do) work some extra hours in the evenings in order to complete your projects.
You can find our term dates up to summer 2021 here.
Class and personal project work take place alongside roles on RADA public productions, all of which determine your progression through the course. Assessment takes place twice per term through a combination of finished garments and presentation folders, individual portfolios, research and self-assessments.
Year 1 (45 credits)
Foundation technical theatre skills – 15 credits
Foundation theatre costume skills – 15 credits
Skills development – 15 credits
These are determined by undertaking two production roles in each term, alongside linear teaching.
Assessment Year 1
six assessment points (two per term) which must all be passed to progress to Year 2
Year 2 (105 credits)
Costume HoD supervisor (1) – 15 credits
Costume HoD supervisor (2) – 30 credits
Costume-making project (1) – 15 credits
Costume-making project (2) – 30 credits
Professional secondment and professional development exhibition – 15 credits
Assessment Year 2
five assessment points (two per term), and passing the professional placement. The accumulated marks from the second year of the course determine the final grade.
Key teaching staff on the course:
Diane Favell Head of Wardrobe
Helen Chattaway Deputy Head of Wardrobe
Paul Aspinall Assistant Head of Wardrobe
Pippa Batt Assistant Head of Wardrobe
You will also be taught by visiting practitioners in different specialisms. Recent visiting professionals include:
Sarah Palmer Manser (make-up and wig knotting)
Mel McCleary (wig knotting)
Deborah Tallentire (tailoring)
Karen Shannon (millinery)
Jane Maier (airbrushing)
National Theatre dye room
Interview process
Candidates will need to demonstrate their suitability for conservatoire vocational training. Candidates will be asked to complete a brief questionnaire prior to interview, in order to ascertain:
general level of understanding of costume making
level of understanding of costume making terminology and practices
an appreciation of theatre history and knowledge of texts
openness to learning and ability to receive and retain information
The questionnaire forms part of the panel's assessment of the candidate as well as providing a basis for conversation in the interview. You should come to the interview prepared to talk enthusiastically about your passions and your experience. You will also be asked to bring a portfolio or samples of previous work. Please note the panel are always interested in evidence of your process as well as the final result of any project or work.
Find more details about our admissions in our admissions procedure document.
Candidates must:
be 18 years old by 1 September 2019
have complete fluency in the English language
have IELTs (academic) level 5.5 or above in all four components if English is not your first language
hold a minimum of a foundation degree in a related subject
have significant practical experience (gained through education or professional practice)
We will consider applicants without a relevant first degree, provided that they can evidence prior learning in this area or a related area for study at level 7.
Due to the creative nature of the course, the required balance of practical skills and independent learning ability are considered mandatory to progress within the course.
Information for disabled
applicants
We consider diversity to be enriching and a vital part of what makes us one of the world leaders in providing vocational training. We encourage the opportunity for self-development regardless of age, gender, disability, ethnicity, marital status, nationality, sexual orientation, parental status, religion or belief.
We welcome applications from disabled applicants and encourage them to disclose relevant information regarding any disability when completing their application form, to enable us to provide additional support during the interview process. There is more information for disabled applicants on the Conservatoire for Dance and Drama website.
Home, EU or international
student?
There are strict regulations regarding residency which must be met in order to qualify for Home Student status. All EU students who are offered a place at RADA are required to verify their EU status prior to the offer of the place being confirmed.
Home (UK) student
In order to be classed as a Home (UK) student you normally need to meet all of the following criteria on the first day of the first academic year of the course:
You are settled in the UK (this means there is no immigration restriction on the length of your stay)
You are ordinarily resident in the UK, and have been for the full three years before the first day of the academic year (ordinarily resident means that your main home is in the UK, and you are choosing to live in the UK.)
The main reason for you being in the UK was not to receive full-time education.
EU student
You will be classed as a Home (EU) student if, on the first day of the first academic year of your course:
You are an EU national, or the relevant family member of a non-UK EU national, who is in the UK as a self-sufficient person or as a student, or the relevant family member of a UK national.
You must have been ordinarily resident in the European Economic Area and/or Switzerland and/or the overseas territories for the three years before the first day of the first academic year of the course.
You must not have been resident wholly or mainly for the purpose of receiving full-time education
International student
If you do not fall under the Home (UK) or Home (EU) fee definitions, then you will be classed as an international student.
International students coming to RADA on a full-time course of more than six months will require a Tier 4 (General) Student Visa before coming to the UK to start your course. Without the visa you will not be allowed to enter the UK. Please download our guide for more information.
The definitions on this page are only a very brief summary and there are a number of exceptions to the conditions listed. For more detailed information, please refer to the UK Council for International Student Affairs guide.
All EU students offered a provisional place at RADA are required to verify their EU status prior to the offer of the place being confirmed. Please contact the Student Finance Services European Team on EU_Team@slc.co.uk or +44 (0)141 243 3570.
We charge an application fee for all courses. Our admissions process is not automated and may involve significant contact with an individual applicant. We do not refund application fees.
The application fee for the Postgraduate Diploma in Theatre Costume is £31.
Policies, terms and
conditions
If you would like to know more about RADA's admissions policies for higher education courses, please download and read our Admissions Policy.
For information about RADA's admissions, appeals and complaints for higher education courses, please download and read our Admissions Appeals and Complaints document. Please note that this process covers the following courses only:
BA (Hons) in Acting
FdA Technical Theatre and Stage Management
BA (Hons) Technical Theatre and Stage Management (progression year)
PgDip Theatre Costume
MA Theatre Lab
Foundation Course in Acting
Please download the RADA fees policy for more information about fee levels and increases, deposits and payment.
You can read our terms and conditions for students here.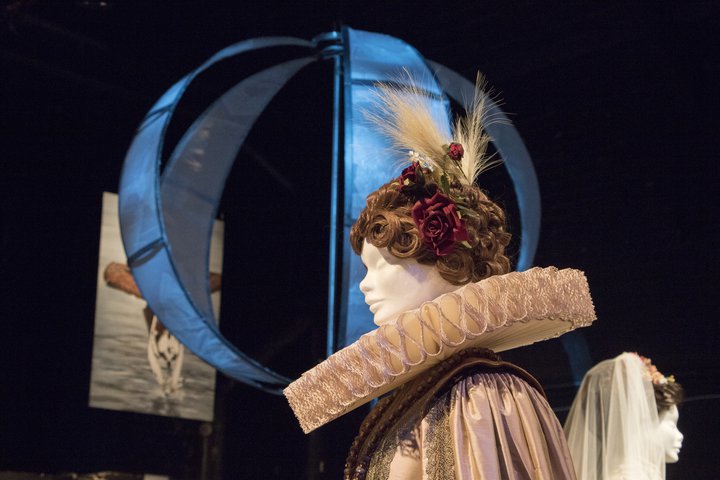 Make sure you've checked above about your status and whether you are classed as a Home (UK), Home (EU) or International student. This affects the fee and also the financial support available.
The PgDip Theatre Costume (postgraduate) fees for the academic year 2019-20 for all students will be £6,695.
Your course is two years in length so the total tuition for all students will be not less than £13,390. Please note that we are likely to increase your fees year on year by a cost of living amount.
Please see the RADA Fees Policy for more information about how RADA calculates tuition fee increases for each year of a course.
Almost all materials you require for your course, including travel for any trips, will be included in your course costs. However, you should also be aware of the following additional costs during your time at RADA and during the application process.
Costs not included in the
fees
Other materials costs: £300
The things not covered include footwear, clothes, play texts and stationery. We take a repayable deposit from students for locker keys, access passes and against any unpaid library fees. This totals around £100. Any student likely to have difficulty paying a deposit can notify us before arriving at RADA.
International students will need to pay for visa costs.
Please see the Life at RADA section below for information about likely accommodation costs.
We charge an application fee for all courses. Our admissions process is not automated and may involve significant contact with an individual applicant. We do not refund application fees.
The application fee for the Postgraduate Diploma in Theatre Costume is £31.
Funding your training h3>
It is important that you understand when you accept a place at RADA that you know how you will pay for it and whether you will need financial assistance. We do not take account of financial need when offering places, but we do reasonably assume that if you are applying to come to RADA, you will be able to pay the fees and support yourself.
This course does not qualify for a Postgraduate Loan through the Student Loans Company, but UK and EU students are eligible for RADA scholarship support (see below for more information).
As PgDip Theatre Costume students are not eligible for the postgraduate loan, RADA will consider applications for scholarships for students on this course. You should be from a family with an income of less than £25,000 to be considered.
It is unlikely that RADA will support all of your costs, so you should be able to fund the majority of your fee and living costs from other sources.
You may also be interested in h3>
FdA in Technical Theatre & Stage Management
RADA's two-year Foundation Degree in Technical Theatre and Stage Management (TTSM) offers broad, practical training in all the areas that contribute to a theatre production, with the opportunity to specialise in your second year in the area you wish to take into a long-term successful career.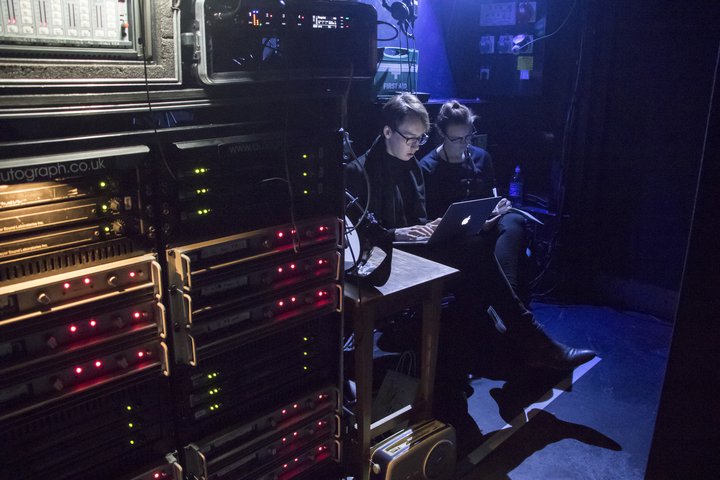 RADA is based in the heart of London with the museums, universities and libraries of Bloomsbury on one side, and the West End and film world of Soho on the other.
Studying and living here gives you access to one of the most vibrant cultural hubs in the world. There are over 17,000 theatrical performances each year in London with venues at the forefront of theatrical innovation. The West End represents some of the highest quality commercial theatre in the world and the wealth of fringe theatres means you can experience unique performances right on your doorstep. Our graduates go on to work in many of these venues, both on and off the stage.
RADA is an international community and we welcome people from across the world to both our higher education and short courses.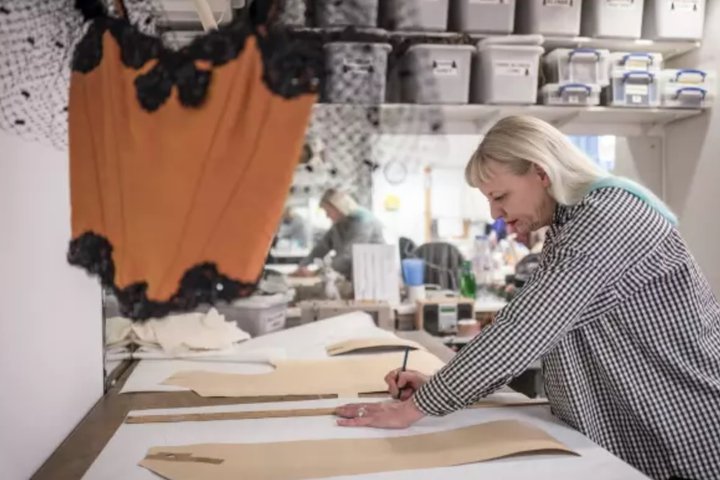 Our theatres
Our three theatres give you the opportunity to work in industry-standard spaces: the Jerwood Vanbrugh Theatre, a fully flexible theatre with 194 seats; the GBS Theatre, a studio theatre seating up to 70; and the Gielgud Theatre, an intimate studio space seating up to 50. All our acting and theatre production students will work in at least one of these theatres during their time at RADA.
Studios and workshops
We have a range of studios and workshop spaces across our buildings on Gower Street and Chenies Street. These include teaching and rehearsal studios for actors; dedicated metalwork, carpentry, scenic art, video and props workshops; extensive props and costume stores; a costume-making workroom; a CAD suite; state-of-the-art sound studios; and equipment for filming on and off-site.
Library
This is an important resource for students, with a large collection of rare and out-of-print plays in the English language. You will also have access to a number of digital resources. Visit the Library page for more details.
Refectory and RADA Bar
The Refectory offers subsidised meals for students (for example a salad bowl is £1.50) with hot and cold food daily. You may also heat up your own food to eat in the Refectory. The RADA Bar and café is open to staff, students and the public during the day (and in the evening during public productions), and offers a discount for RADA students.
Student services and support h3>
We have a dedicated Student and Academic Services (SAS) department who are here to support you during your time at RADA from before you arrive until after you leave. You can drop in and see us if you need letters confirming student status, if you have queries about fees or student finance, or need assistance in applying for student finance.
We aim to get to know all students at RADA so we can help with your particular needs.
Find out more about our Student and Academic Services
teams
We have four teams in the Student and Academic Services department:
Registry and Admissions, who manage the admissions process and support you as a student
Higher Education Courses and Programming, responsible for the smooth running of your courses and supporting the Directors of Training and course leaders
Student Wellbeing, who offer pastoral care, counselling and referral to other services if necessary
Widening Participation and Outreach, responsible for extending opportunities to engage with RADA
Student wellbeing services
The Student Wellbeing Service is located in our Chenies Street building and includes pastoral care and access to counselling at a time that suits our students' busy schedules. Students can drop in or make an appointment to see someone.
Counselling support is available throughout the training for any personal problems and is free of charge. RADA includes sessions on drugs and alcohol, sexual health and consent, nutrition and budgeting within the personal development training strand for all undergraduate students.
Healthcare
RADA has a relationship with a local GP (Ridgmount Practice). If you have any particular health concerns, it is worth looking for accommodation that is within the wider Ridgmount Practice catchment area.
We offer students who require physiotherapy support a limited number of free sessions. We have a relationship with a local practice and students referred for support can see someone on-site or at the practice.
Chaplaincy and faith services
We have students from all faiths at RADA.
Our Chaplaincy service is there to support you in your faith, especially if you have moved away from your home place of worship. RADA has a long-standing relationship with St Paul's Church, Covent Garden, known as the Actors' Church. Our Student and Academic Services team can also put you in touch with someone from a particular faith to support you at RADA.
Support for disabled students h3>
We support students as individuals at RADA, and we will work with you to make appropriate adjustments and ensure that you can obtain additional support. We encourage potential students to disclose any disabilities early in the application process so we can make reasonable adjustments for you.
You can apply for Disabled Students' Allowances (DSAs) to cover some of the extra costs that you might have because of a mental health problem, long-term illness or other disability. These allowances are additional to your other student finance and you won't need to repay them. Find out more information about DSAs here.
Once you have a place at RADA, we can assist in identifying whether you are eligible for support. You will likely require a 'needs assessment' to determine what adjustments and financial assistance is necessary. We have a relationship with the North London Regional Access Centre (run by Middlesex University), which is a good place to have any assessment ahead of coming to RADA.
In keeping with our personalised training, you may be able to receive additional support for any condition or impairment directly from RADA. We will determine this with you as you progress through your course.
RADA does not currently have its own student accommodation. This means that our students live in one of the following:
local halls of residence, including those run privately
with other students in private houses and flats
lodging with another person.
Once you have accepted your place at RADA, we will provide information about local accommodation contacts. We aim to connect incoming students with one another, which can help you to look for accommodation together. Our current students will also be looking for people to share with, and we also help you to make those connections.
For low-income students (i.e. those from a background of under £25,000), please talk to us once you have your place if you might struggle with a deposit for a flat or house.
Some students will carrying on living at home whilst at RADA and others live across London. We advise that you balance out both the time and cost of a commute with spaces that might seem more expensive, but are closer to the Academy – you will spend a lot of time here.
Our students pay an average of around £650 per month (based on a 12-month contract) for a room in a shared house. Some private halls can be considerably more expensive. If you have specific access needs, please speak to someone in our Student and Academic Services team for assistance in finding an appropriate place to live.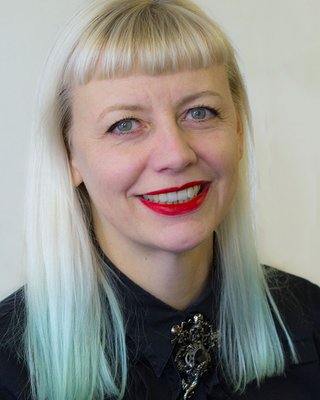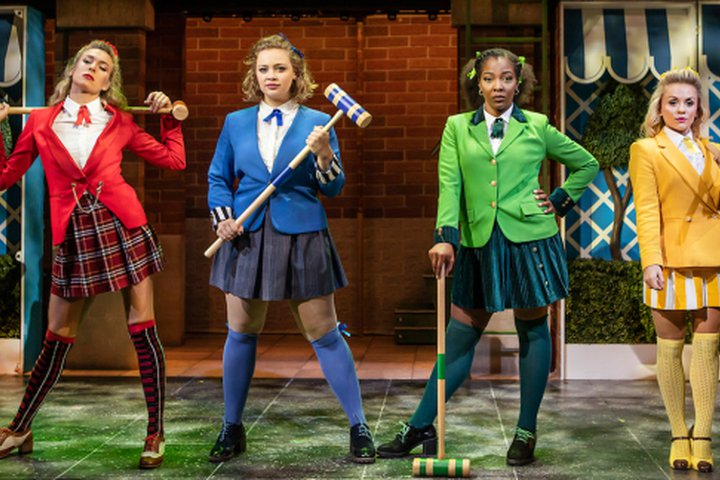 The course aims to prepare you for a career in costume supervising and costume-making, across theatre, TV and film.
The training has also led students into other career paths connected to the specialism, for example:
Dresser
Running wardrobe
Touring supervisor
Buyer
Dyeing and breaking down
Fabric printing
Costume hire
With further training, the course can lead to a profession in the following areas
Make-up
Tailoring
Wig making and styling
Costume designing
Recent graduate
destinations
Graduates have recently worked in costume-making, supervising and other costume and wardrobe related roles at:
London theatres
Almeida Theatre
Bridge Theatre
Lyric Hammersmith
Royal Albert Hall
Southwark Playhouse
Theatre Royal Stratford East
West End productions
Aladdin the Musical
Dreamgirls
Harry Potter and the Cursed Child
Heathers the Musical
Wicked
Regional and international tours
The Crucible
Flashdance
Joseph and the Amazing Technicolor Dreamcoat
Madagascar: the Musical
Film and television
BBC's Strictly Come Dancing,
ITV's Dancing on Ice
Netflix's The Crown
Films
Fantastic Beasts: The Crimes of Grindelwald
Maleficent
Mission: Impossible – Fallout
Peterloo
Suffragette