Our theatres are fully accessible through our Malet Street entrance. Parking bays are situated in Malet Street.
If you require use of our designated mobility and wheelchair seating areas, please inform the Box Office when you make your booking either online or by calling +44 (0)20 7908 4800.
Featuring the work of RADA's talented acting and theatre production students alongside industry professionals. See RADA's world leading training in action.
RADA provides access to various events for Deaf audiences. If you require the use of our audio-assistance systems, please inform our box office when booking your tickets.
Captioned performances
Theatre captions are similar to television subtitles and give people who are Deaf access to live performance. The actors' words appear on a unit placed next to the stage or in the set, at the same time as they are spoken or sung. Unlike opera surtitles for hearing audiences, captions include additional information such as speaker names, sound effects and offstage noises.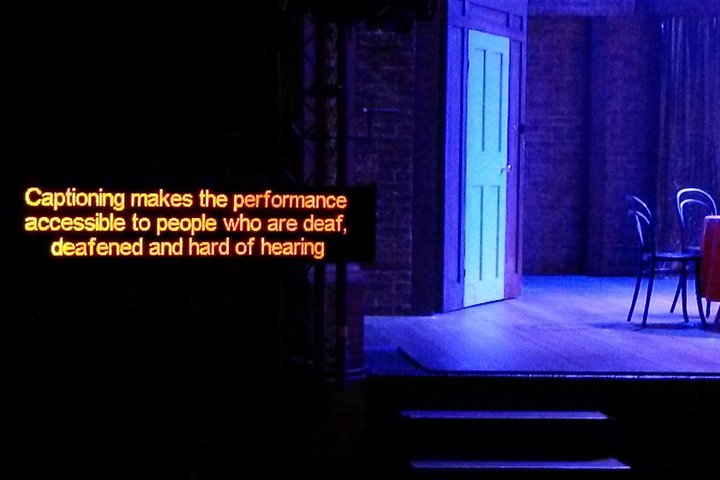 Gloria
by Branden Jacobs-Jenkins
Jerwood Vanbrugh Theatre, Malet Street
Friday 17 February, 7pm
The Motherf**ker with the Hat
by Stephen Adly Guirgis
GBS Theatre, Malet Street
Saturday 1 April, 7pm
Further upcoming dates can be found on our What's on pages.
Our website conforms to the WCAG AA standards so that our content is easy to read and understand. The site:
Ensures designs are colour compliant (for the benefit of colour blind and partially sighted users)
Provides text alternatives for images
Uses descriptive labels for buttons and form fields
Uses valid HTML so user agents, including assistive technologies, can accurately interpret and parse content
If you notice an accessibility problem on the website, please email us at webupdates@rada.ac.uk