FdA in Technical Theatre & Stage Management
Is this course for me?
Are you looking for two years of comprehensive training to ground you in all areas of the production arts? If you are a creative, hands-on individual with a passion for the arts and looking to pursue a successful career within theatre, film and television, live events or production, this course is for you.
Course overview
Our belief is that for anyone to successfully specialise in one area of the production arts, they must first be grounded in all areas. This two-year course offers an in depth foundation in all the areas that contribute to a theatre production in the first year, leading to specialism in one or two areas in the second year.
The course is designed to lead into the BA (Hons) progression year, and the majority of our students continue to the third year; however, the FdA is a complete training. Those completing this course will be fully equipped for transition into the industry and their careers beyond.
Graduates pursue successful careers across theatre, film and television, events management and events production in stage management, lighting, sound, props, scenic art, construction, video, costume, technical and production management.
Please note some elements of this course may be taught digitally as part of a blended learning programme if necessary.
Find out more about life as a student at RADA here.
Our students learn by doing. Your training will be vocational and practical, focusing on preparing you for work in the industry. Career guidance and professional development sessions are given throughout the course. There are no academic essays or dissertations, our work is practical and collaborative. You will be asked to write a self assessment every six weeks and written work ranges from risk assessments to technical schematics as part of the training.
After a broad-based first year of training, your second year allows you the opportunity to specialise in the vocational area that interests you, choosing from stage management, lighting, scenic construction, technical management, sound, property making and supervision, production management, video, scenic art or costume.
From the outset, you will work on RADA public productions – we stage around 15 shows a year – as crew and/or operator. These productions are directed by professionals and usually involve professional designers. In your second year you will work in more senior roles (of which there are around eighty to choose from). Theses include: stage manager, deputy/ assistant stage manager, wardrobe supervisor, production electrician, lighting programmer, production sound engineer, production video engineer, scenery builder or project manager, production manager, technical manager, scenic artist, broadcast/ camera supervisor, props supervisor.
You will also undertake a professional placement in your second year for up to six weeks with a theatre company, organisation or practitioner. Recent student placements have taken place on shows including Harry Potter and the Cursed Child, The Curious Incident of the Dog in the Night-Time and Secret Cinema, and at venues such as the National Theatre, Old Vic, Young Vic, Glyndebourne Opera, Regent's Park Open Air Theatre, Royal Court and English National Opera .
Rich and diverse in its scope and facilities, the course combines in-depth technical instruction with insight into the organisational, management and collaborative skills that form the core of successful work in theatre and other areas of the entertainment industry, like film, radio, television, conferences, events and other commercial ventures.
We encourage personal development, considered reflective practice and strong individual growth because these are the skills that will support you through a complex, high-pressured and rewarding career.
RADA also regularly hosts guest speakers, comprising leading figures from a wide range of industries and walks of life – from politics and arts, to photography, neuroscience and religion.
Students benefit from a the RADA Buddy mentoring scheme, which supports your transition from student to professional with graduate 'buddies' providing professional advice, feedback and networking opportunities.
Although the Foundation degree is intended as a complete vocational training in itself, students who successfully complete the FdA and acheive at least a Merit will now automatically be considered for the BA (Hons) progression year - enabling students to deepen their specialist knowledge further in one or two areas of technical theatre or stage management.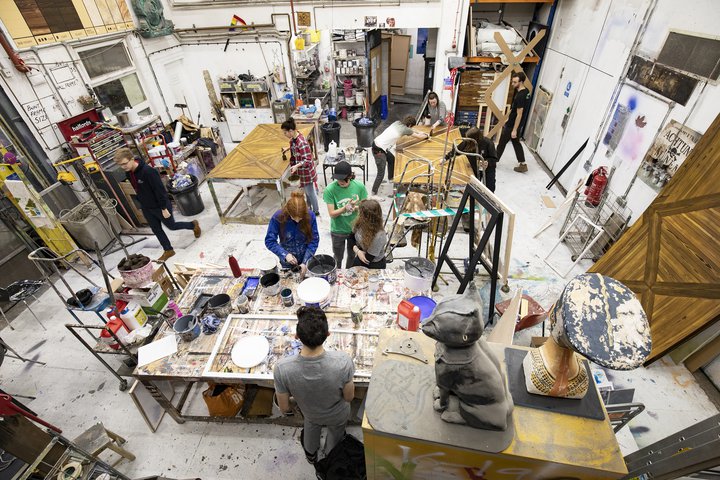 The degree covers the following areas:
Stage management
Stage electrics and lighting design
Sound design and production sound engineering
Scenic art
Scenic construction
Property making and procurement
Costume
Set design
Stagecraft
Alternative theatre production
Video projection and the manipulation of digital imagery
Camera operating
Technical management
Production management
Exposure to roles in film-making
First aid certification
Health and safety in the workplace
Technical drawing
Music score reading
History of theatre
Company management
This is a full-time course of two academic years, each running from September to July and divided into three terms.
Hours will fluctuate between 35 hours per week during pre-production (mostly production work and self-directed study) and 72 hours per week during production and technical rehearsal (senior production roles, classroom and self-directed study).
RADA ensures regular breaks and we align these with industry union regulations following BECTU and Equity.
Each year there is an intake of up to 30 students, typically taught in groups of six.
You can find our term dates up to summer 2023 here.
The FdA in Technical Theatre and Stage Management is a vocational course. Students are assessed entirely on their practical work. Assessment follows six 'rotations' or blocks of performance throughout the year, where students are assessed on production roles, project work or placements. Students across the course complete a self-assessment which is an opportunity to reflect on their learning.
The final award is based on completing the necessary credits across the course and the average of marks in the final year for all assessments. The Foundation Degree is classified into Pass, Merit or Distinction. TTSM students receive both written feedback and their provisional marks throughout the course.
Credits
Year 1 (120 credits)
Year 2 (120 credits)
You must complete both years to be awarded the credits. You are unable to take credits earned if you leave the course early.
Year 1
Foundation Technical Skills: scenic construction (15 credits)
Foundation Technical Skills: stage management/props (15 credits)
Foundation Technical Skills: lighting/video (15 credits)
Foundation Technical Skills: sound/stagecraft (15 credits)
Foundation Technical Skills: scenic art/wardrobe (15 credits)
Foundation Technical Skills: repeat rotation (students have the opportunity to revisit a rotation in a department they are considering specialising in) (15 credits)
Foundation Skills: stage management (15 credits)
Design Project & Professional Skills Development 1 (15 credits)
Year 2
Practical Production 1 (15 credits)
Practical Production 2 (15 credits)
Practical Production 3 (15 credits)
Practical Production 4 (15 credits)
Practical Production 5 (15 credits)
Professional Development 2 (15 credits)
Professional Placement (30 credits)
All course elements are compulsory. Students must pass all elements of their first year to progress through into their second year (first year marks do not count towards the final award). The final award is determined through an average of all marks in the second year.
The work placement module is assessed on a pass/fail basis, and is required to earn sufficient credits to complete the course, but does not count towards the final award.
During the first year, initial information and instruction swiftly folds into physical action and practical skill building, culminating in work on our public productions. You cycle through the technical production areas over each half term, alongside which you will also receive ongoing training throughout the year in a number of areas, notably:
stage management
theatre history
stage, light and sound design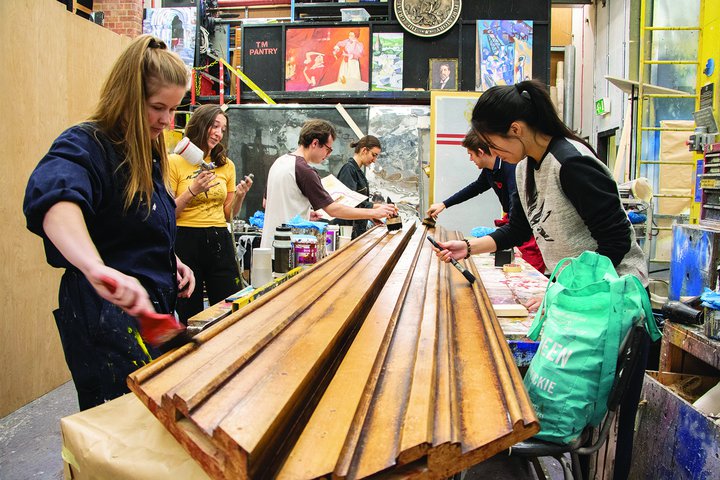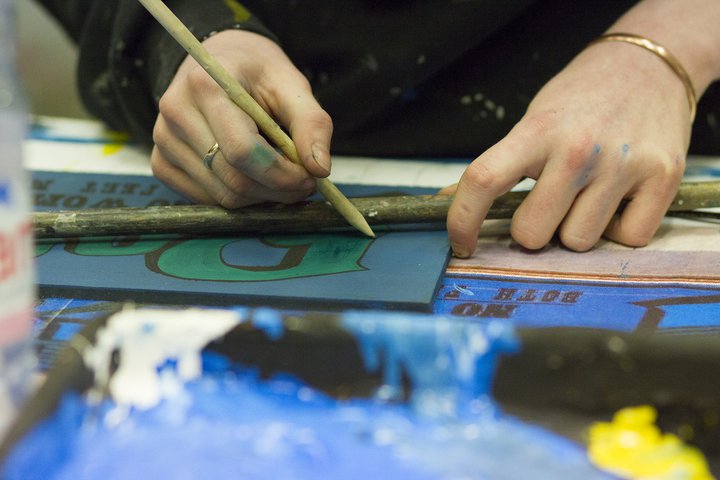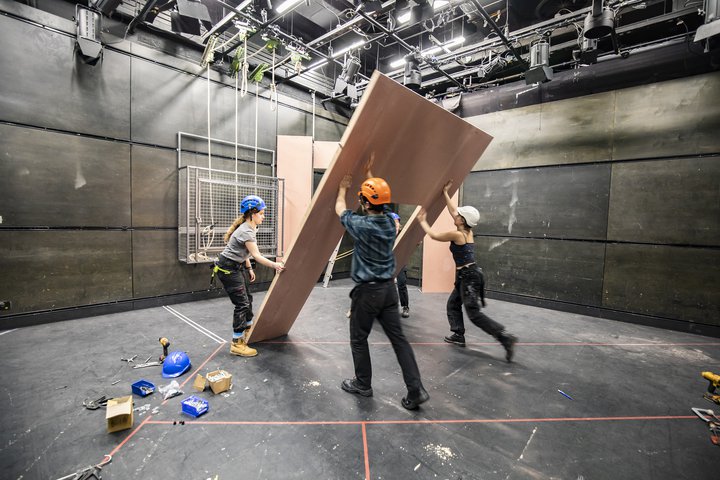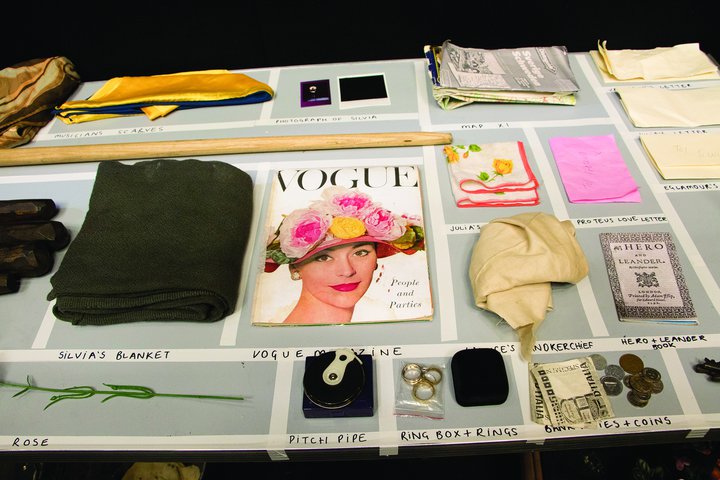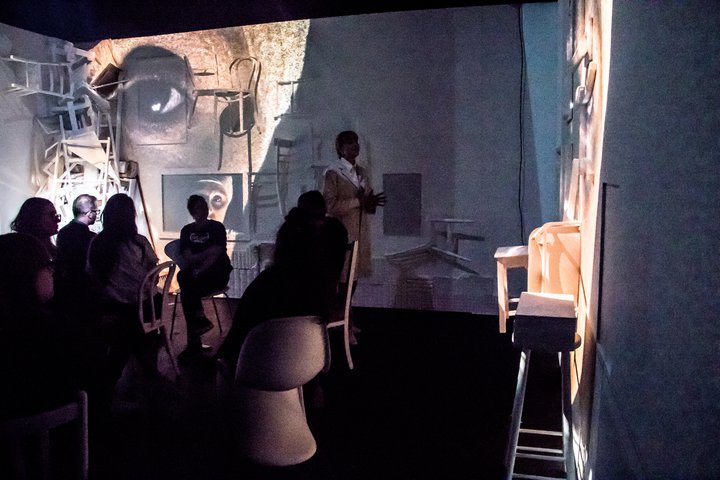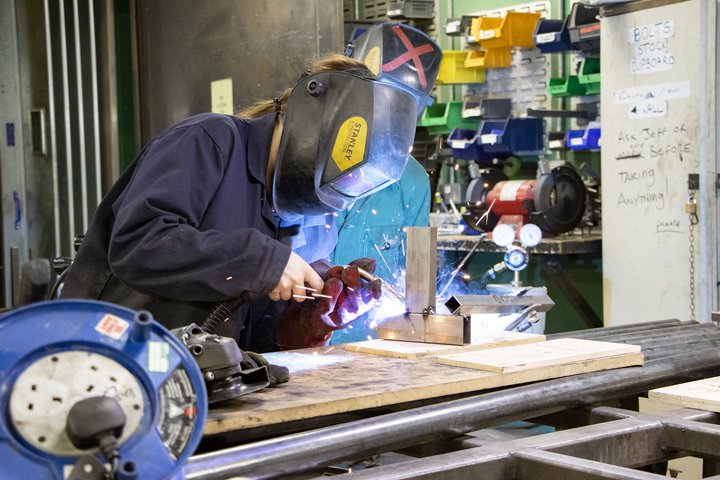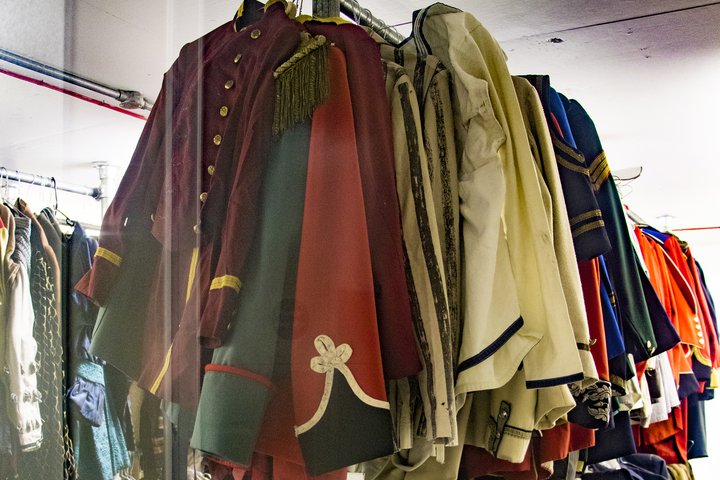 In the second year, you will specialise in a chosen area and work exclusively through productions in key roles in your chosen field, such as:
stage manager
production electrician
wardrobe supervisor
deputy stage manager
prop maker
technical or production manager
assistant stage manager
scenic artist
lighting programmer
production sound engineer
construction HoD or scenery builder
video production engineer
You will also undertake an industry placement. You will also have the opportunity to develop your skills either by undertaking project work in your chosen skill areas, such as property making, costume making, scenic art and scenic construction; by taking part in projects based on alternative theatre styles and digital production processes; or by working on one of the six short films or radio recordings we make during the year.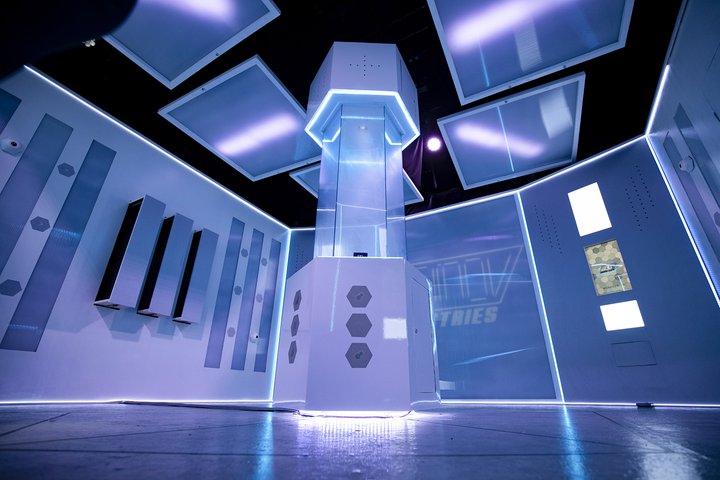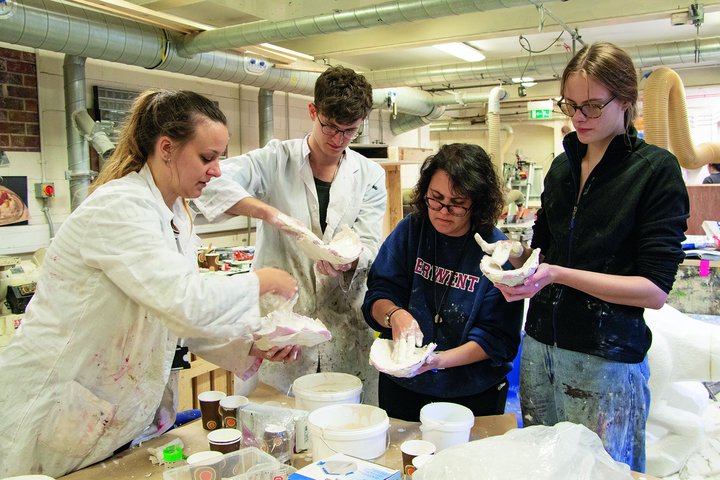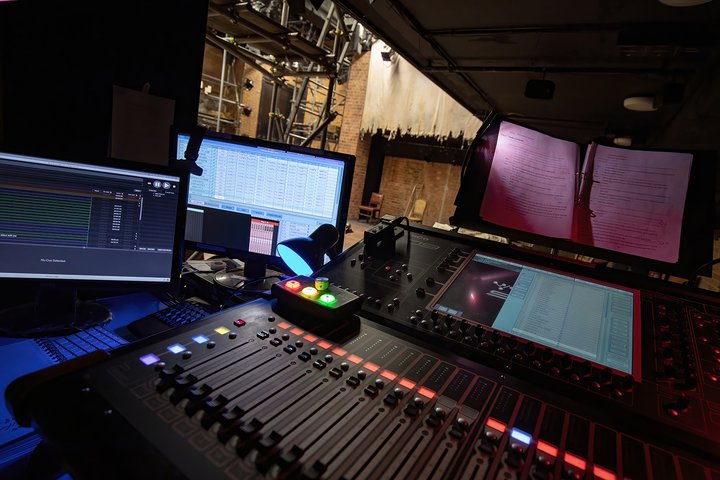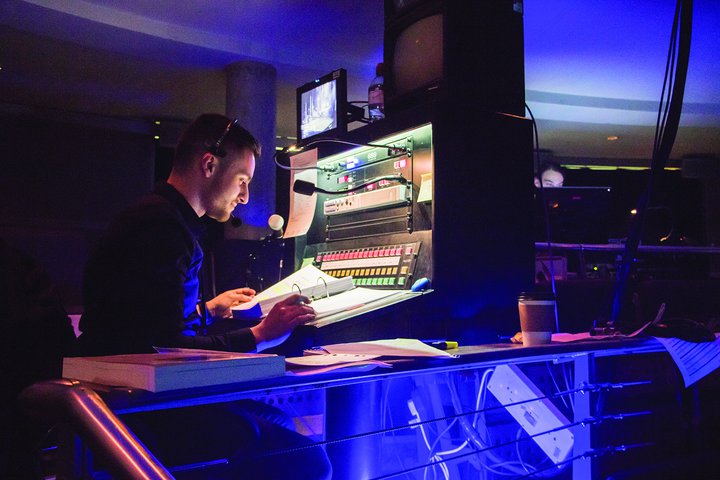 We consider diversity to be an enriching and vital part of what makes us one of the world leaders in providing vocational training. We encourage the opportunity for training regardless of age, gender, disability, ethnicity, marital status, nationality, sexual orientation, parental status, religion or belief.
How to apply
Apply by submitting our online application form, which will be followed by an interview. It is free to apply for this course.
A guide to our online application
form
Applications are online – you can fill out the form on a desktop, mobile or any other device.
If you find that the form doesn't work, try using a different browser. We recommend Chrome or Safari.
We ask questions about you including your address, school address, qualifications and household income.
We ask for a passport-style photo of you. This can be a selfie or any other photo that clearly shows you from the shoulders up in portrait orientation up to 2MB in size. This is for our records only.
Parts of the form will appear/disappear according to your answers – this is so we can collect the correct information for each applicant.
The information we collect is confidential. Some of it is shared with our interview panel, but we mark this clearly on the form.
You can save your progress and return to it later. If you press save, the form creates a URL which you will need to save or email to yourself. You can then use this link to return to your place in the form and continue filling it in.
Once you have pressed 'Submit' on the application form you can no longer edit, so please make sure you have filled out everything correctly.
You will receive a confirmation email to say your form has been submitted. This will also include a summary of your answers to the Your Details and Your Qualifications sections, so you have a record of these.
We require you to have achieved a standard of education which means you can study for a foundation degree, but we do not require specific A levels or other qualifications. All eligible applicants are interviewed.
You must:
be 18 years old on 1 September 2022
have IELTS (academic) level 5.5 or above in all four components (reading, writing, listening and speaking) if English is not your first language
have some practical experience of theatre production disciplines or related activity
demonstrate an intellectual, creative and practical ability to undertake foundation degree training
be able to talk enthusiastically about your passion and experience at interview
be able to show an understanding of the nature of the work
Once you have submitted your application online, we will get in touch with you to arrange an interview date. Interviews will likely begin in January 2022. We hope to have completed the process by the end of May, although this is dependent on the volume of applications.
Candidates who are successful in the interview stage will usually progress to a workshop (which is expected to be in person). This could take the form of a set task or group work, but we will never ask any candidate to take a formal written test or exam. We may ask candidates to answer a questionnaire, which is not marked, but informs discussion at interview.
You should come prepared to talk enthusiastically about your passions and your experience. You will be invited to show the panel examples of your work and/or a portfolio during the interview. This does not necessarily need to relate directly to a theatrical production; we are interested in anything that you have made that demonstrates your process and your artistic/technical ability, and we encourage you to share your workings through photographs, notes, sketches etc.
Find more details about what to prepare for each stage of the interview process in our Admissions Procedure Guide (large print format available here).
Information for disabled
candidates
We welcome applications from disabled candidates and encourage them to disclose relevant information regarding any disability when completing their application form, to enable us to provide additional support during the admissions process. If you are a disabled candidate and would like further advice or guidance, please contact the admissions team directly on admissions@rada.ac.uk.
Admissions, appeals and
complaints
For information about RADA's admissions, appeals and complaints procedures for higher education courses, please download and read our Admissions, Appeals and Complaints document. Please note that this process covers the following courses:
BA (Hons) in Acting
FdA in Technical Theatre and Stage Management
BA (Hons) in Technical Theatre and Stage Management (progression year)
Postgraduate Diploma in Theatre Costume
MA Theatre Lab
Policies, terms and
conditions
If you would like to know more about RADA's admissions policies for higher education courses, please download and read our Admissions Policy.
Please download the RADA Fees Policy for more information about fee levels and increases, deposits and payment.
Please see our Student Protection Plan for information about how we protect your rights.
You can read our terms and conditions for students.
Undergraduate fees for the academic year 2022-23
Home (UK) students
£9,250 per academic year
International students
£21,710 per academic year
See below for information on whether you are classed as a Home (UK) or International student. This affects the fees and also the financial support available. For Home (UK) students, please note that our fees are regulated by the Office for Students.
The course is two years in length, so for Home students the total tuition will be not less than £18,500. For international students, the total tuition will be not less than £43,420. For international students, please note that we are likely to increase your fees year on year by a cost of living amount.
Please see the fees policy for more information about how RADA calculates tuition fee increases for each year of a course.
UK or international
student?
There are strict regulations regarding residency which must be met in order to qualify for Home (UK) student status. Please note: EU students who started a course in September 2020 or earlier are eligible to pay Home fees for the duration of their course; any EU student (except Irish nationals) starting a course from September 2021 onwards will have International student status, unless you have pre-settled status or settled status.
Home (UK) student
In order to be classed as a Home (UK) student you normally need to meet all of the following criteria on the first day of the first academic year of the course:
You are settled in the UK (this means there is no immigration restriction on the length of your stay)
You are ordinarily resident in the UK, and have been for the full three years before the first day of the academic year (ordinarily resident means that your main home is in the UK, and you are choosing to live in the UK)
The main reason for you being in the UK is not to receive full-time education
International student
If you do not fall under the Home (UK) definitions, then you will be classed as an international student.
International students coming to RADA on a full-time course of more than six months will require a Student visa before coming to the UK to start your course. Without the visa you will not be allowed to enter the UK. Please visit the UK Visas & Immigration website for further details.
The definitions on this page are only a very brief summary and there are a number of exceptions to the conditions listed. For more detailed information, please refer to the UK Council for International Student Affairs guide.
Almost all materials and resources you require for your courses, including travel for any trips, are included in your tuition fees.
You will undertake a placement of up to six weeks as part of this course. For the majority of students, this will not mean any additional costs. You can apply for additional financial support from RADA if your placement means that you incur additional costs, such as travel.
Other materials costs: £300 + laptop
The things not covered include protective footwear, practice clothes, play texts and stationery. International students will have costs associated with the Student visa. Please visit the UK Visas & Immigration website for further details.
Laptops, phone/tablet devices and related equipment
To participate in this course, including online training, you will need to have the equipment see more information on the document here Prices for laptops may vary but costs are likely to be in the region of £550 and upwards. Educational discounts are available, so we advise that you wait until you are enrolled before buying any new equipment. We recognise that not all applicants/ students will own this equipment or be in a financial position to purchase it. RADA, therefore, has ways in which we can provide you with support to ensure that you can access the equipment you need.
Please note that a Laptop, phone/tablet devices and related equipment policy is being drawn up. More information is available from the admissions team by emailing admissions@rada.ac.uk.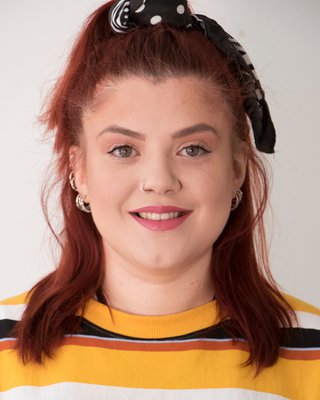 It is important that you understand when you accept a place at RADA that you know how you will pay for it and whether you will need financial assistance. We do not take account of financial need when offering places, but we do reasonably assume that if you are applying to come to RADA, you will be able to pay the fees and support yourself.
Although applications are made directly to RADA, not through UCAS, RADA is a Registered Provider with the Office for Students. This means that our courses are eligible for student financial support.
RADA also offers a number of scholarships, the majority of which are awarded on the basis of income to undergraduate students studying in higher education for the first time.
Applying for a student
loan
You can apply for a student loan for your tuition fees and living costs (maintenance) if you:
are a Home (UK) student
have not already completed a course at the same level (for example another BA degree)
Tuition fee loans are not means tested and this means that you do not have to pay any fees upfront for your course.
Depending on your home/residency country, you will also be able to take out a maintenance loan to support you in your studies. These loans are means tested and will depend on whether you are living at home or independently. Information about how much you can borrow and a student finance calculator are available on the student finance website.
RADA offers a number of scholarships. The majority of our scholarships will be awarded on the basis of income to undergraduate students studying in higher education for the first time.
We have a limited number of scholarships for second degree students. We do not usually offer scholarships to international students from outside the UK.
Means-tested scholarships
For UK student, new to higher education, starting an undergraduate course in September 2021, we offer the following awards:
Income under £43,000
Minimum award of £3,000 for each year of study
Care leavers
In accordance with our 2020 – 2025 Access and Participation Plan, RADA offers an additional scholarship to care leavers (for living costs) of £3,000 per year for each year of study. This is for UK students on undergraduate courses.
Students are invited to apply for scholarship support once they have been offered a place.
Support for UK undergraduates taking a second
degree
Second-degree students are not eligible for government-sponsored loans for a degree at the same or lower level.
RADA welcomes applications from UK students who already hold a degree from another institution or in a different subject, and we hold a small number of places at the UK fee rate for such students.
You will need to finance yourself for both fees and living expenses. We have a very limited number of scholarships, which include full-fee and/or full-maintenance scholarships, for students who are not eligible for student finance. Please read our scholarship section below for more information.
It is in your interest to provide us with information about how you intend to pay for your fees and support yourself through training, if you are not eligible for government-sponsored student finance. We will prioritise students from low-income backgrounds and from groups under-represented in the profession in allocating financial support.
International students are required to pay the full cost of their fees and living costs and are made an offer on the basis of paying privately. However, all funding issues are discussed individually with each student once an offer has been made.
Support for international
students
If you are defined as an International student, you are required to pay the full cost of your fees and living expenses. Your offer is made on the basis that you can meet these expenses from your own funds. There are also financial requirements associated with the allocation of a Student visa. Please visit the UK Visas & Immigration website for further details.
RADA is not, at present, eligible for US Federal Loans.
Graduates from RADA's FdA in Technical Theatre and Stage Management can be found practising their professional skills across the industry. Approximately half of the current year group go on to a progression year at RADA to obtain a BA (Hons) in Technical Theatre and Stage Management. Other graduates go directly into the profession.
Graduates pursue successful careers in stage management, lighting, sound, props, scenic art, construction, video, costume, technical and production management. Graduate go on to work in theatre, film, television, live events production and escape rooms.
Theatre production training also gives a grounding in skills that transfer well to other careers, including managing other people, budgeting and time management.
Recent graduate
destinations
Here is just a selection of recent destinations of our theatre production graduates.
Theatre and opera
Almeida Theatre
Bush Theatre
Buxton Opera House
Cambridge Theatre
Chichester Festival Theatre
Dominion Theatre
Donmar Warehouse
Everyman Theatre, Liverpool
Finborough Theatre
Garsington Opera
Glyndebourne Opera
London Coliseum
Lyric Hammersmith
Menier Chocolate Factory
National Theatre
New Wimbledon Theatre
Orange Tree Theatre
Oxford Playhouse
Park Theatre
Regents Park Open Air Theatre
Royal Court
Royal Opera House
Royal Shakespeare Company
Southwark Playhouse
St Martin's Theatre
Theatre503
Theatr Clwyd
Theatre Royal Drury Lane
Trafalgar Studios
Film and television
Events and special effects
INCA Productions
Lewes Light Festival
Quantum Special Effects Ltd.
Viking Line Cruises
Youth Winter Olympics