Postgraduate Diploma (PgDip) in Theatre Costume
Information on this page relates to Entry 2023 and will be updated in the Autumn for our next recruitment cycle.
Is this course right for me?
Do you like working on performances and bringing characters to life through costume-making, wardrobe and styling? Our two-year course provides practical training and experience within a theatre environment for those who want to pursue a costume maker or supervisor career.
Course overview
You will cover all areas of costume-making. From pattern-cutting through to the finished garment, and gain the skills needed to take a design or costume reference and transform it into a finished garment. You will also gain knowledge and practice of a costume supervisor's duties and managerial skills, enabling you to transition successfully into the industry.
Please note some elements of this course may be taught digitally as part of a blended learning programme if necessary in line with changing Government health advice.
RADA students work closely together and while studying you will work with students from all our courses, and particularly those studying on our BA (Hons) in Acting, BA (Hons) and FdA in Technical Theatre and Stage Management.
Find out more about life as a student at RADA here.
This course is aimed at both costume-making and costume supervising.
Costume-making
We teach costume-making from first principles, from basic sewing skills, pattern-cutting and grading, through to the finished product. The basic sewing skills are organised in five levels:
Hand sewing, seams, hems, fastening
Pattern matching, tucks, cording, pleats and gathering, buttonholes, eyelets, false lacing
Openings, bias rouleaux and piping, facings and using bias
Fastenings (zips and fly opening)
Pockets
Although some time is given to completing all levels, you will be expected to work on them outside teaching hours.
All these skills, as well as other maintenance and alterations, are practised throughout the course by working on all the RADA public productions as assistants. This improves work speed and gives experience in working with different fabrics and vintage costumes from our store, as well as working with professional designers and directors.
The forms of pattern-cutting we teach are flat (block), cutting on the stand, and draping – although investigation into further forms is also encouraged, such as going straight to fabric, sizing up from a grid, and taking a pattern from an existing garment. You will also learn pattern manipulation and grading throughout the course.
Some garments are taken through to completion as class projects, including corsetry, ruffs, period shirt tailoring and millinery. Others form personal projects in the second year, which are supervised, although you will be expected to work semi-independently in preparation for professional work.
Costume supervising
Costume supervising is taught in the classroom with script analysis, budget skills and communication and management skills. It is also practised, firstly with the second year BA (Hons) Acting students as part of a short Shakespeare project, which is toured around schools in the London area. You will then have the opportunity to supervise two or three RADA professional performances, or a film project.
We also provide experience of other elements of a wardrobe department. There are introductory classes in hair and make-up, wig knotting, history of costume and costume props, fabric treatments and props skills.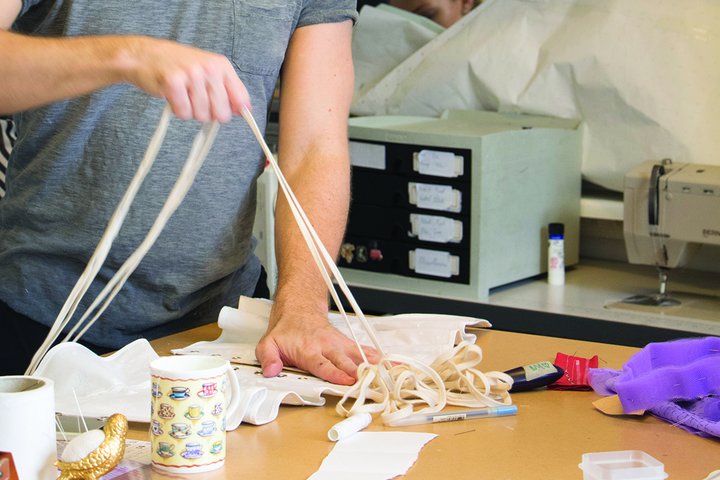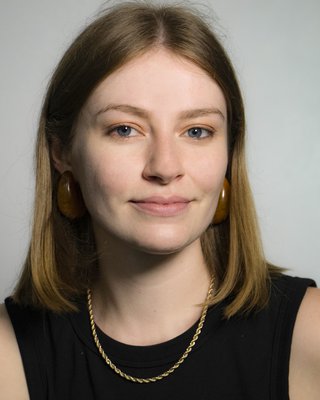 Term one
The term starts with basic sewing before going on to block pattern cutting. You will also spend three days in the props department before working as an assistant with two students dressing on the first set of RADA productions.
You will then look at cutting on the stand and manipulating patterns, before assisting with two students dressing on the second set of RADA productions. Ruff-making and an introduction to corset-making follows. There is also linear teaching in history of costume props, history of costume and professional development, with some more instruction in pattern-cutting to finish the term.
Term two
The second term continues with a full corset project. You will spend a couple of days with professional dyers to learn about fabric treatments, before assisting on the next set of RADA productions. Projects follow including a shirt project, hair, make-up and wig-knotting.
The last set of productions is followed by some time to further investigate pattern-cutting and an introduction to millinery with a Sinamay/fascinator project. The term is completed by supervising work on the second year BA (Hons) Acting combat performances, the Prize Fights.
Term three
The final term of the year spends more time on millinery, including felt blocking and working with Buckram. There is further alteration and costume-making work on productions, as well as costume supervising teaching and a week of working with a professional tailor to learn the skills to make a jacket.
The second half of term includes a detailed supervising project where the students are taught all the skills required to supervise a show and put them into practice with a given design. The project includes the following:
what is required in the creation of a set number of costumes for a production, through the varying methods of hiring, making and buying costumes and accessories
the potential costing of a production through the making, buying or hiring of costumes
working within budgets and producing detailed budget sheets
the number and variety of costume hire companies and retail outlets
to start building a directory of contacts, suppliers, hire companies, sources and notes for future supervision work
communication and organisational skills
scheduling and time management skills
working to a designer's vision and brief
analysing scripts and costume designs
This project will also include research into the fashions and/or fabric from a chosen area of the world.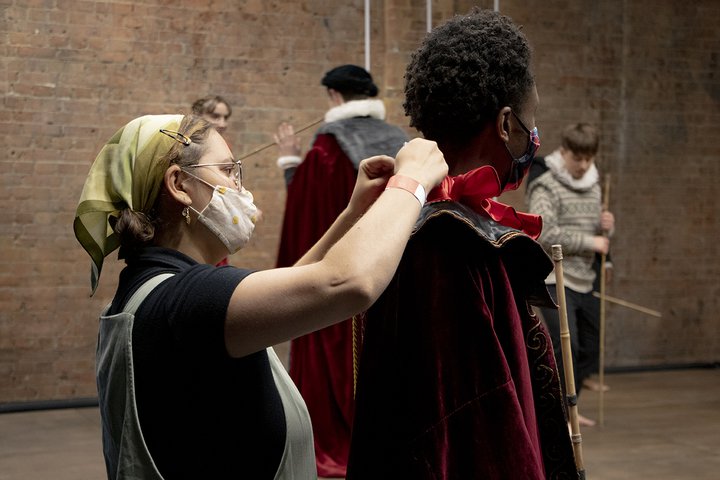 The second year is focused on projects and productions.
You will choose to make two or three personal projects – which involve producing a costume from scratch, using a design of your choice – or to supervise two or three RADA productions (a RADA film is also an option).
The work created is presented at an exhibition for industry and the public at the end of the year.
Secondments
During the course, each student undertakes a secondment of between 4 and 6 weeks . This period can be split between more than one placement and its length can be changed depending on individual students' training requirements.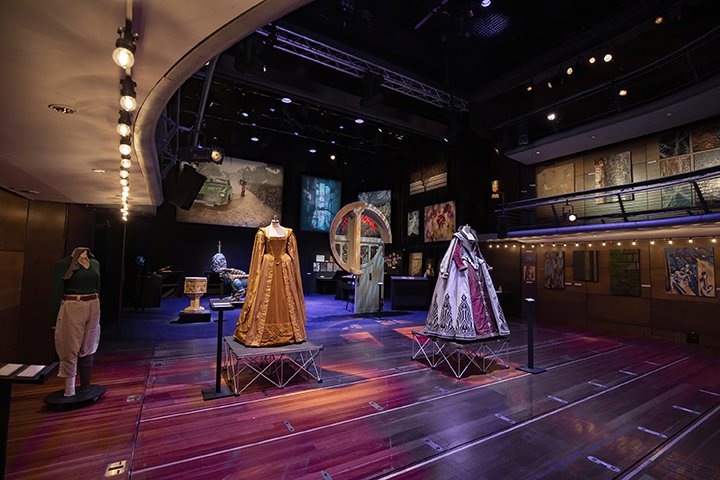 Year 1
Class times are 10am-5pm, although the workroom is available in the evenings for extra work if required.
When working on the productions, however, hours can be long. In the lead-up, staff will work alongside you throughout the necessary working hours. Evening and weekend work is common, but we try not to work beyond 10pm.
When working a show role, for example dresser or costume supervisor, there may be long hours during the tech week (usually 9am-10pm). Once the shows are open, you will have linear teaching during the day and show work in the evening, which lasts as long as the performance and will often include Saturdays. Productions usually run for approximately 10-12 days including two Saturdays, after which working hours return to normal.
Year 2
When working on the shows, the hours described above apply. When making a costume project, you will be expected to attend from 10am-5pm as a minimum, but can (and most students usually do) work some extra hours in the evenings in order to complete your projects.
RADA ensures regular breaks and we align these with industry union regulations following BECTU and Equity.
You can find our term dates up to summer 2025 here.
Class and personal project work take place alongside roles on RADA public productions, all of which determine your progression through the course. Assessment takes place twice per term through a combination of finished garments and presentation folders, individual portfolios, research and self-assessments.
Year 1 (45 credits)
Foundation technical theatre skills – 15 credits
Foundation theatre costume skills – 15 credits
Skills development – 15 credits
These are determined by undertaking two production roles in each term, alongside linear teaching.
Assessment Year 1
six assessment points (two per term) which must all be passed to progress to Year 2
Year 2 (105 credits)
Costume head of department supervisor (1) – 15 credits
Costume head of department supervisor (2) – 30 credits
Costume-making project (1) – 15 credits
Costume-making project (2) – 30 credits
Professional secondment and professional development exhibition – 15 credits
Assessment Year 2
five assessment points (two per term), and passing the professional placement. The accumulated marks from the second year of the course determine the final grade.
Visit our theatre production staff list to read about our faculty.
Recent visiting professionals include:
Winston Rose (tailoring)
Vesna Pesic (millinery)
Pinewood Studios dye room
We encourage the opportunity for training regardless of age, gender, disability, ethnicity, marital status, nationality, sexual orientation, parental status, socio economic status, religion or belief. We are committed to promoting equality and diversity, to pursuing non-discriminatory policies and practice and eliminating unfair discrimination.
How to apply
Apply by submitting our online application form, which will be followed by an interview.
We do not charge an application fee for this course.
A guide to our online application
form
Applications are online – you can fill out the form on a desktop, mobile or any other device.
If you find that the form doesn't work, try using a different browser. We recommend Chrome or Safari.
We ask questions about you including your address, school address, qualifications and household income.
We ask for a passport-style photo of you. This can be a selfie or any other photo that clearly shows you from the shoulders up in portrait orientation up to 2MB in size. This is for our records only.
Parts of the form will appear/disappear according to your answers – this is so we can collect the correct information for each applicant.
The information we collect is confidential. Some of it is shared with our interview panel, but we mark this clearly on the form.
You can save your progress and return to it later. If you press save, the form creates a URL which you will need to save or email to yourself. You can then use this link to return to your place in the form and continue filling it in.
Once you have pressed 'Submit' on the application form you can no longer edit, so please make sure you have filled out everything correctly.
You will receive a confirmation email to say your form has been submitted. This will also include a summary of your answers to the Your Details and Your Qualifications sections, so you have a record of these.
You will be asked to demonstrate your suitability for the course based on your previous qualifications and/or experience; we are particularly looking for enthusiasm for theatre and film work, and for all the various disciplines within a wardrobe department.
You will be asked to show any work that could support your interview, for example a garment or project that you have completed as part of a course or self-taught. We encourage you to share photos, notes etc. to help you speak about the processes you used, not just the finished item.
Read more details in our Admissions Procedure document (large print format available here).
Applicants must:
be 18 years old or above by the start of the academic term
have complete fluency in written and spoken English
hold a minimum of a foundation degree in a related subject
have significant practical experience (gained through education or professional practice)
We will consider applicants without a relevant first degree, provided that they can evidence prior learning in this area or a related area for study at level 7.
Please note: due to the creative nature of the course, we require a balance of practical skills and independent learning ability to progress within this course.
Tuition fees for the academic year 2022-23

Home (UK) students
£7,610
International students
£13,930
Your course is two years in length so the total tuition fees for UK students will not be less than £15,220, and for international students not less than £27,860. Please note that we are likely to increase your fees year-on-year; see the RADA Fees Policy for more information about how we calculate tuition fee increases.
See below for information about whether you are classed as a Home (UK) or International student.
UK or International
student?
There are strict regulations regarding residency which must be met in order to qualify for Home Student status. Please note: EU students who started a course in September 2020 or earlier are eligible to pay Home fees for the duration of their course; any EU student (except Irish nationals) starting a course from September 2022 onwards will have International student status, unless you have pre-settled status or settled status.
Home (UK) student
In order to be classed as a Home (UK) student you normally need to meet all of the following criteria on the first day of the first academic year of the course:
You are settled in the UK (this means there is no immigration restriction on the length of your stay).
You are ordinarily resident in the UK, and have been for the full three years before the first day of the academic year (ordinarily resident means that your main home is in the UK, and you are choosing to live in the UK).
The main reason for you being in the UK was not to receive full-time education.
International student
If you do not fall under the Home (UK) fee definition, you will be classed as an international student.
International students coming to RADA on a full-time course of more than six months will require a Student visa before coming to the UK to start your course. Without the visa you will not be allowed to enter the UK. Please visit the UK Visas & Immigration website for further details.
The definitions on this page are only a very brief summary and there are a number of exceptions to the conditions listed. For more detailed information, please refer to the UK Council for International Student Affairs guide.
Almost all materials you require for your course, including travel for any trips, will be included in your course costs.
Other materials costs: £300
The things not covered include footwear, clothes, play texts and stationery. International students will also have costs associated with the Student visa. Please visit the UK Visas & Immigration website for further details.
It is important that you understand when you accept a place at RADA that you know how you will pay for it and whether you will need financial assistance. We do not take account of financial need when offering places, but we do reasonably assume that if you are applying to come to RADA, you will be able to pay the fees and support yourself.
This course does not qualify for a Postgraduate Loan through the Student Loans Company, but UK students are eligible for RADA scholarship support (see below for more information).
As the PgDip in Theatre Costume is not an eligible course of study for a Masters Loan, you will be expected to fund your course privately. RADA has limited funding available for postgraduate students but will consider applications for scholarships in the second (final) year of training. You should be from a family with an income of less than £43,000 per year and must be a UK/IRE (home) student to be considered.
It is unlikely that RADA will support all of your costs, so you should be able to fund the majority of your fee and living costs from other sources. Please note these are discretionary awards, subject to availability. Students should not rely on scholarship provision to be able to take up a place.
Students should not rely on scholarship provision to be able to take up a place.
Student services and support
We have a dedicated Student and Academic Services (SAS) department who are here to support you during your time at RADA from before you arrive until after you leave. You can drop in and see us if you need letters confirming student status, if you have queries about fees or student finance, or need assistance in applying for student finance.
We aim to get to know all students at RADA so we can help with your particular needs. You can find out who we are on the staff page.
Student wellbeing
The Student Wellbeing Service is located in our Chenies Street building and includes pastoral care and access to counselling at a time that suits our students' busy schedules. Students can drop in or make an appointment to see someone, free of charge.
Healthcare
RADA has a relationship with a local GP (Ridgmount Practice), which is open to students living in designated postcodes. We can advise you on areas which will give access to this practice, especially if you have ongoing health needs. RADA offers students free access to physiotherapy on referral.
Chaplaincy and faith services
We have students from all faiths at RADA and our Student and Academic Services team can put you in touch with someone from a particular faith to support you at RADA. We do not have prayer rooms on-site at RADA.
Support for disabled students
We support students as individuals at RADA, and we will work with you to make appropriate adjustments and ensure that you can obtain additional support. We encourage potential students to disclose any disabilities early in the application process so we can make reasonable adjustments for you.
You can apply for Disabled Students' Allowances (DSAs) to cover some of the extra costs that you might have because of a mental health problem, long-term illness or other disability. These allowances are additional to your other student finance and you won't need to repay them. Find out more information about DSAs here.
Once you have a place at RADA, we can assist in identifying whether you are eligible for support. You will likely require a 'needs assessment' to determine what adjustments and financial assistance is necessary. We have a relationship with the North London Regional Access Centre (run by Middlesex University), and direct students to this service.
In keeping with our personalised training, you may be able to receive additional support for any condition or impairment directly from RADA. We will determine this with you as you progress through your course.
RADA does not currently have its own student accommodation. This means that our students live in one of the following:
local halls of residence, including those run privately
with other students in private houses and flats
lodging with another person.

Once you have accepted your place at RADA, we will provide information about local accommodation contacts. We aim to connect incoming students with one another, which can help you to look for accommodation together. Our current students will also be looking for people to share with, and we also help you to make those connections.
For low-income students (i.e. those from a background of under £25,000), please talk to us once you have your place if you might struggle with a deposit for a flat or house.
Some students will carrying on living at home whilst at RADA and others live across London. We advise that you balance out both the time and cost of a commute with spaces that might seem more expensive, but are closer to the Academy – you will spend a lot of time here.
Our students pay an average of around £650 per month (based on a 12-month contract) for a room in a shared house. Some private halls can be considerably more expensive. If you have specific access needs, please speak to someone in our Student and Academic Services team for assistance in finding an appropriate place to live.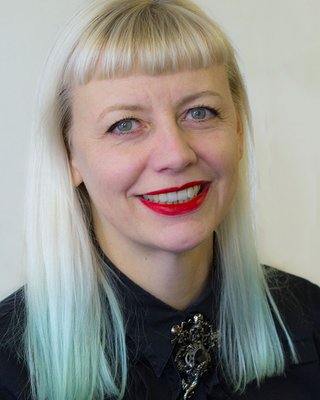 The course aims to prepare you for a career in costume supervising and costume-making, across theatre, TV and film. The training has also led students into other career paths connected to the specialism, for example:
Dresser
Running wardrobe
Touring supervisor
Buyer
Dyeing and breaking down
Fabric printing
Costume hire
With further training, the course can lead to a profession in the following areas
Make-up
Tailoring
Wig making and styling
Costume designing
Recent graduate
destinations
Graduates have recently worked in costume-making, supervising and other costume and wardrobe related roles at:
London theatres
Almeida Theatre
Bridge Theatre
Lyric Hammersmith
Royal Albert Hall
Southwark Playhouse
Theatre Royal Stratford East
West End productions
Aladdin the Musical
Dreamgirls
Harry Potter and the Cursed Child
Heathers the Musical
Wicked
Regional and international tours
The Crucible
Flashdance
Joseph and the Amazing Technicolor Dreamcoat
Madagascar: the Musical
Film and television
BBC's Strictly Come Dancing,
ITV's Dancing on Ice
Netflix's The Crown
Netflix's Bridgerton
Leavesden Studios
Films
Fantastic Beasts: The Crimes of Grindelwald
Maleficent
Mission: Impossible – Fallout
Peterloo
Suffragette