MA Theatre Lab
Information on this page relates to Entry 2023 and will be updated in the Autumn for our next recruitment cycle.
Is this course right for me?
This course is aimed at applicants with existing experience of acting and performance who wish to extend their skills at a professional level and develop themselves as both collaborative and/or independent theatre and performance makers.
You can find out more about life as a student at RADA here.
Course Overview
RADA's MA Theatre Lab extends an actor's training and creative development, re-addressing acting as an embodied and exploratory art form at the heart of the theatre-making process.
Application considerations
There is an application fee which we will only charge for applicants to are invited to audition.
The MA Theatre Lab is a four term course, running for 12 months from January to January.
RADA's MA Theatre Lab expands your ability to work both collaboratively and independently as an actor and theatre maker. Working rigorously with expert practitioners, you will explore actor-centred approaches and apply them innovatively to extant texts, working on and creating new and original performance. This will empower you to play a revitalising role in today's theatre-making landscape.
The course is ideally for applicants who already have strong experience in performance. Instead of replicating RADA's three-year training in one year, it aims to build on applicants' existing experience, whilst extending their training.
In term one and two, learning and assessment will be focused on a practical exploration of techniques in acting and performance, physical and vocal skills and devising. This learning will be reinforced by reflecting, writing and analysing on your experience.
In your third term, you will work over the summer as an ensemble alongside a professional director to create a full-length original piece of work for public performance.
Whilst continuing your training and study in a fourth term, you work towards making small-scale, original performances as a part of the Development of Performance module (either in companies or as solo makers) for an end of year Lab Works Festival. This process will be supervised and mentored by members of staff and people from the industry.
Throughout the year there will be further opportunities to share your work and receive extensive feedback from staff and visiting professionals.
We are currently undergoing a process of decolonising our curriculum, so there may be some changes to texts or areas of study outlined below.
The course is built around four compulsory strands:
Methodology and creative practice
Contextual studies and theatre history
Voice and movement
Public performance lab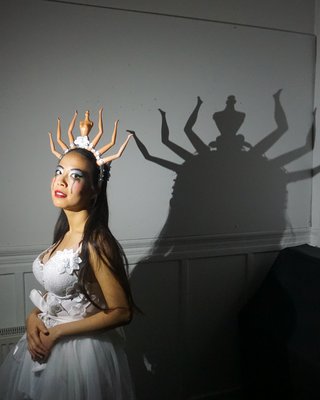 1. Methodology and creative practice
The first two terms centre around rigorous studio-based work on several approaches to acting and performance in Performing Lab 1 and 2.
You will explore texts and theatre-making in the Laboratory and Studio style, applying approaches ranging from Stanislavski's influential legacy, acting practices associated to Epic theatre, clowning, physical theatre, and ensemble performance from around the world. Through this work you will develop your own creative practice.
Across terms one, two and four the Development of Performance sessions will enable you to further enhance your training, through collective and individual experimentation, applying your emerging skills to the making of new work.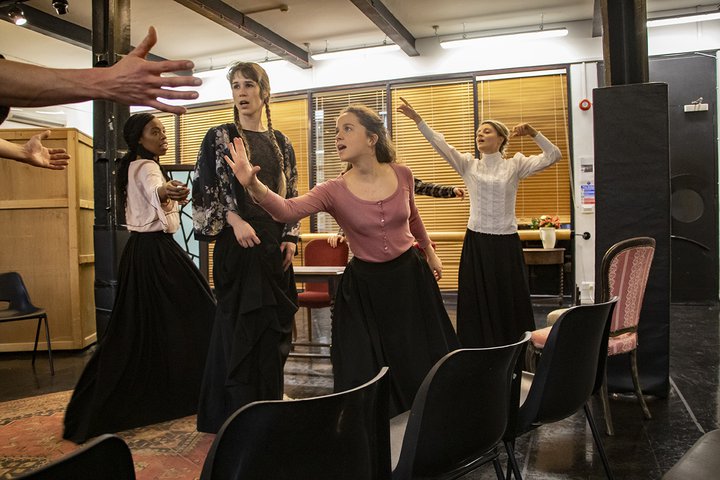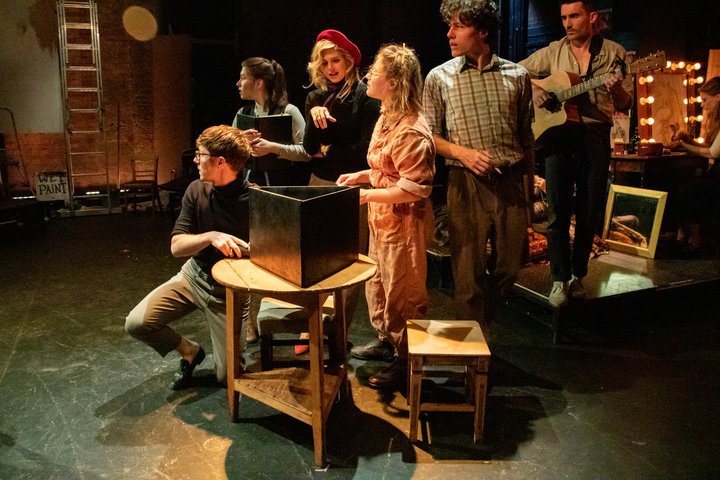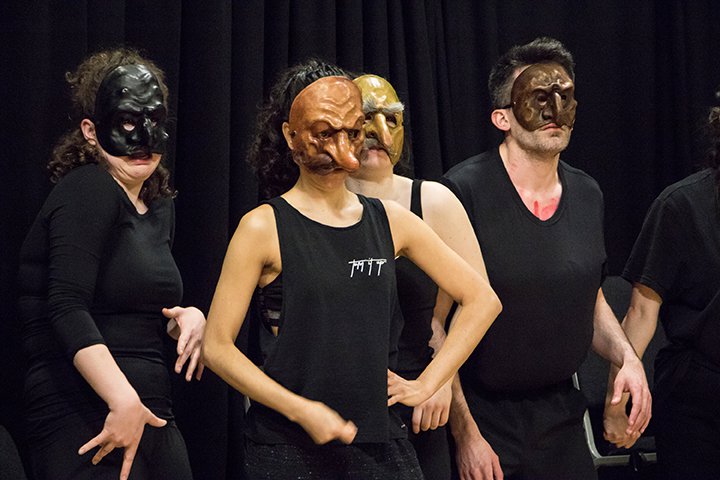 2. Contextual studies and theatre history
In terms one and two, contextual studies emphasises the links between historical context and practice, examining developments in theatre internationally through writing and performance.
Through practical engagement with plays ranging from Ancient Greek drama up to contemporary performance of the 20th century, you will explore how theatre grew out of social and political contexts.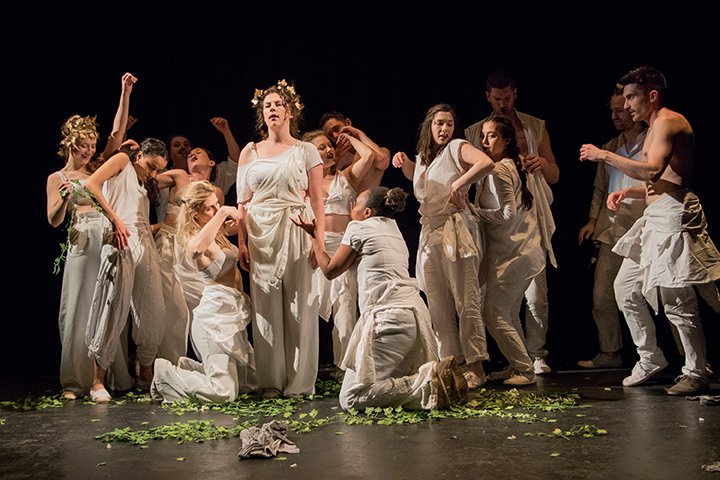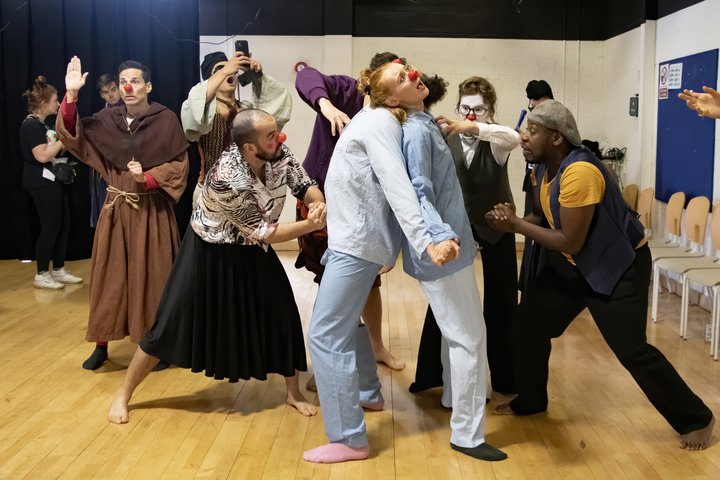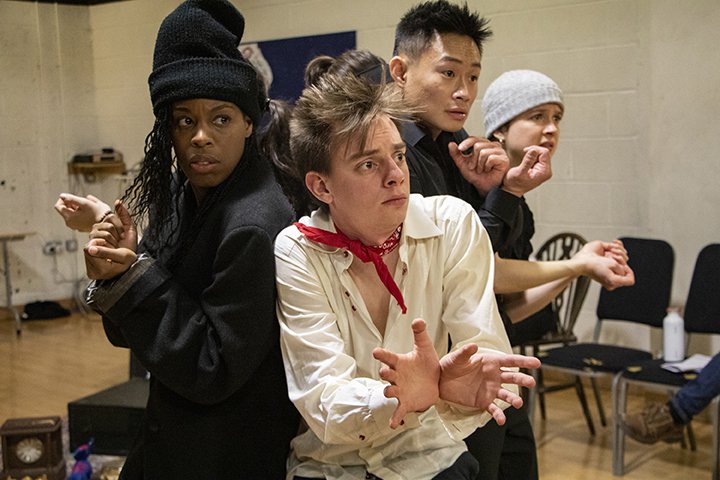 Throughout the year you will develop through an integrated training approach to body and voice.
Vocal performance will follow an embodied ethos, introducing you to some alternative approaches. You will also explore song, through ensemble polyphony and individual singing.
Physical work will progress in an ensemble approach, whilst challenging the individual to develop through predominantly a 'via negativa' based approach.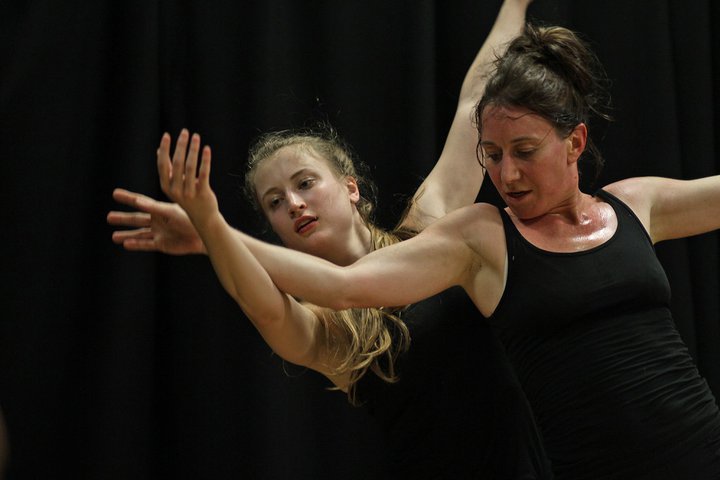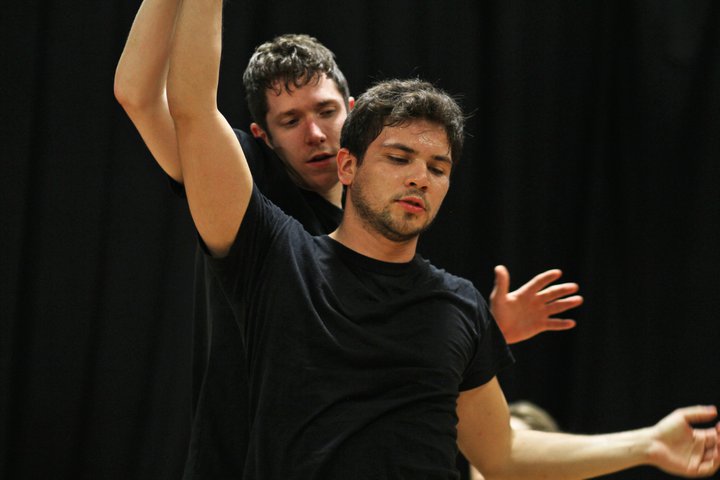 4. Public performance lab and Development of Performance festival
In terms three and four you will engage in intensive devising processes, towards public performances. These test your abilities as a collaborative, creative artist and theatre-maker, offering the opportunity to apply the skills you have developed, putting into practice the ethos of your training.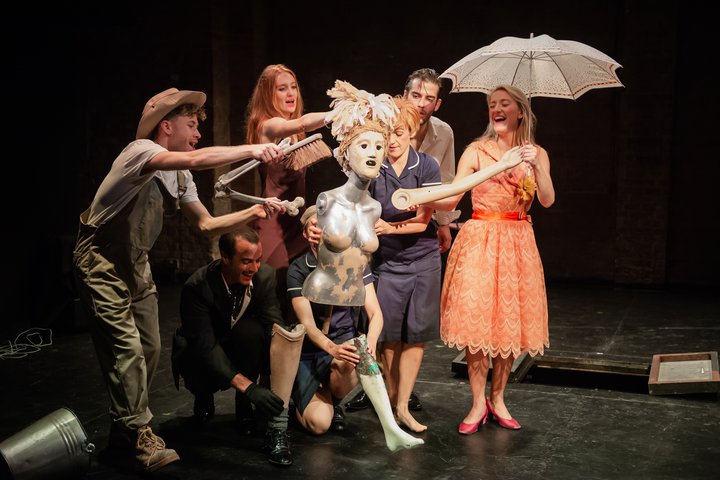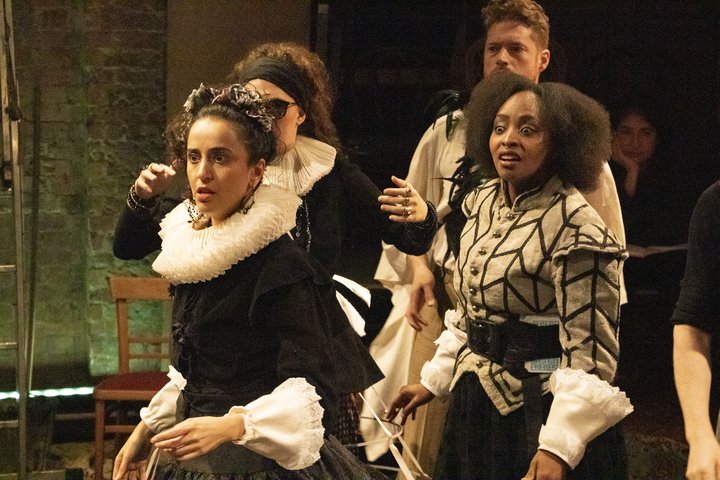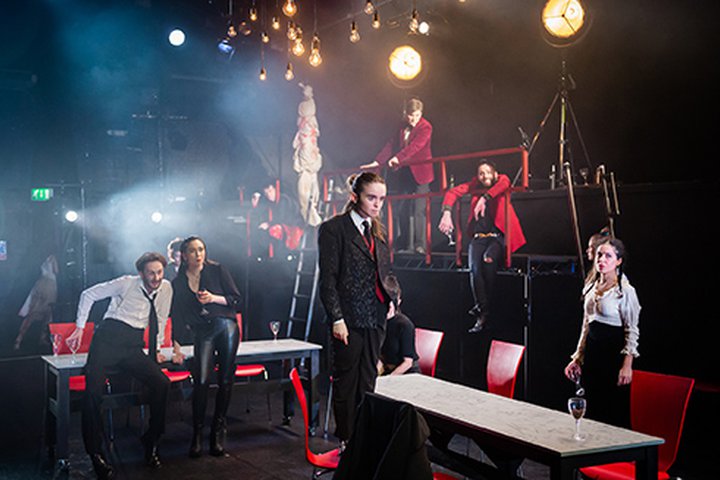 Term one, two and four are 12 weeks long, with compulsory attendance from Wednesday evening to Saturday evening for an intensive 25-30 hours.
However, it is necessary for you to set aside time for preparation such as line-learning, reading of recommended supporting material, rehearsal with your fellow students and the upkeep of your notes. Time management will require your attention, as the course is cumulative and the workload will gradually intensify.
There may be additional seminars offered to you outside of class hours and optional extracurricular activities, commitment to which will add to the workload .
Furthermore, you will have timetabled meetings at least twice a term with the course leader and receive regular feedback from other members of the faculty.
Note that, between spring and summer terms, students will have a one-week intensive work session as a part of the Developing Performance module. This may involve preparing work for possible festival visits over the year.
Term 3, over August, involves work Monday-Saturday. Normally you'll work 10am-6pm daily over a six-week full-time block of supervised devising work, leading to a public production at RADA. This is followed by a further two weeks of independent work on the final reflective essay.
You can find our term dates up to summer 2025 here.
The MA Theatre Lab leads to an unclassified masters degree; this means you will receive a pass or fail.
Assessment is based on both practical (process and studio sharing) and critical/reflective written work. You will be assessed by various methods throughout your training, which includes continuous, synoptic, summative and formative assessment methods.
The course consists of 180 credits.
Movement/physical and voice (20 credits)
continuous assessment over all four terms.
Contextual studies and theatre history (20 credits)
in-class continual assessment over two terms and end term 2 written assignment
Performing Lab 1 (20 credits)
term 1 presentation and reflective written essay.
Performing Lab 2 (20 credits)
term 2 presentations
Dissertation/public performance (40 credits)
term 3 practical production and written dissertation
Performing Lab 3 (20 credits)
term 4 presentation and reflective written essay
Developing Performance (40 credits)
terms 1, 2 and 4 continual assessment and performance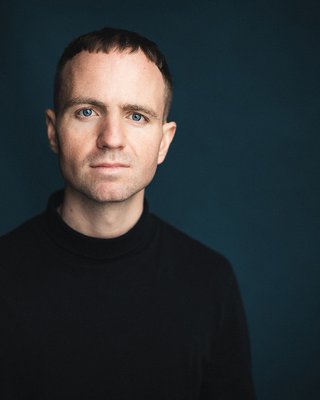 Complete the application form online. Late applications will not be considered under any circumstances.
There is a non-refundable application fee which will only be charged if you are invited to audition; we will contact you for payment should you be selected.
A guide to our online application
form
We ask if you would prefer to attend an in-person audition or submit a self-tape. Please make sure you've read the information about these in the Auditions section below.
Accessing the application form:
Applications are online – you will need access to the internet and can complete the form using a desktop computer, mobile or any other electronic device (e.g. iPad, tablet).
If you find that the form doesn't work, try using a different browser. We recommend Chrome or Safari.
Before you start:
We ask questions about you including your contact details and qualifications. Please ensure you have this information before you start.
We ask for a passport-style photo of you. This can be a selfie or any other photo that clearly shows you from the shoulders up in portrait orientation up to 2MB in size. This is for our internal use only.
You will need to provide a brief summary of your CV.
You will need to write an 800 word statement in support of your application.
You will need to upload a reference from someone who knows your work.
Completing the form:
Parts of the form will appear/disappear according to your answers – this is so we can collect the correct information for each applicant.
The information we collect is confidential. Some of it is shared with our audition panel, but we mark this clearly on the form.
You can save your progress and return to it later. If you press save, the form creates a URL which you will need to save or can choose to email to yourself. You can then use this link to return to your place in the form and continue filling it in.
Once you have pressed 'Submit' on the application form you can no longer edit, so please make sure you have filled out everything correctly.
You will receive a confirmation email to say your form has been submitted. This will also include a summary of your answers to the Your Details and Your Qualifications sections, so you have a record of these.
This course is aimed at applicants with existing experience of acting and performance who wish to extend their skills at a professional level and develop themselves as both collaborative and/or independent theatre and performance makers. The entry requirements are:
Undergraduate honours degree in a relevant discipline, or an equivalent Level 6 qualification in the Framework for Higher Education Qualifications
Substantial experience in acting and/or performance (assessed on a case-by-case basis)
Please note:
Students from other fields of study may be considered if you have sufficient practical experience in the field.
In certain circumstances, RADA will also consider applicants with exceptional experience in performance and theatre who do not hold an undergraduate degree or qualifications equivalent to Level 6. Again, this is assessed on a case-by-case basis.
English is not my first language. How is fluency in English
Assessed?
Applicants should have excellent conversational English and be able to understand a variety of texts. As with all applicants, during the audition the panel will consider how you deliver your speeches and also how you are able to interact and converse with them.
If English is not your first language, you may need to provide proof of your English language ability.
For more information see our guide or contact admissions@rada.ac.uk.
For non-UK applicants, we recommend that you read the guidelines published by UK Visas and Immigration. RADA can choose how to assess a student's knowledge of English.
Applicants must be at CEFR level C1 or IELTS 7.0 overall with a minimum of 6.5 in all areas.
The application form will ask for your CV. This should demonstrate your degree level qualifications and appropriate professional or work experience; show your engagement in theatre and acting/performance; and establish your credentials as someone who has the ability to take creative initiative.
It will also ask you for an 800-word statement of support. This should demonstrate your understanding of the course and share your experience in the field. It should also reflect on your thoughts concerning the potential role for theatre and performance in society, and give some attention to envisaging the work you'd like to be involved with in the future.
You should also submit a reference from someone who knows your work.
If you are selected for audition, we will invite you to participate in an in-person audition and interview on the same day at RADA, or to submit a self-tape audition video followed by a digital interview at a later date. We give equal weighting to in-person and self-tape auditions; there is no advantage or disadvantage to auditioning by either method.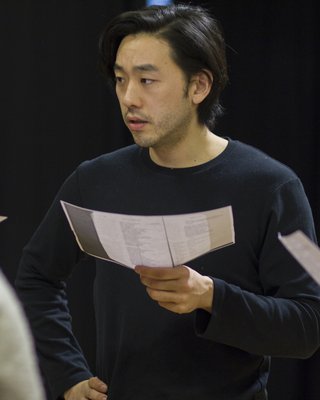 MA Theatre Lab fees for entry in January 2023 will be:
Home (UK) students
£16,160
International
£22,290
Your course is one year in length so for Home (UK) students the total tuition will be £16,160. For International students, the total tuition will be £22,290.
See below for more information on whether you are classed as a Home (UK) or International student. This also affects the financial support available.
Please see the fees policy for more information about how RADA calculates tuition fee increases for each year of a course.
UK or International
student?
There are strict regulations regarding residency, which must be met in order to qualify for Home (UK) student status. Any EU student (except Irish nationals) starting a course from September 2021 onwards will have International student status, unless you have pre-settled status or settled status.
Your fee status is decided prior to your starting the course and cannot usually be changed once the course has started.
If you are unsure which category you fall into, please read this guide from the UK Council for International Student Affairs.
Home (UK) student
In order to be classed as a Home (UK) student you normally need to meet all of the following criteria on the first day of the first academic year of the course:
you are settled in the UK (this means there is no immigration restriction on the length of your stay) and meet the residency requirement
you are ordinarily resident in the UK, and have been for the full three years before the first day of the academic year (ordinarily resident means that your main home is in the UK, and you are choosing to live in the UK)
the main reason for you being in the UK was not to receive full-time education.
International student
If you do not fall under the Home (UK) fee definitions, then you will be classed as an International student.
International students coming to RADA on a full-time course of more than six months will require a Student Visa before coming to the UK to start your course. Without the visa you will not be allowed to enter the UK. Please visit the UK Visas & Immigration website for further details.
The definitions on this page are only a very brief summary and there are several exceptions to the conditions listed. For more detailed information, please refer to the UK Council for International Student Affairs guide.
Almost all materials you require for your course, including travel for any trips, will be included in your course costs.
Approximate costs for other materials: £300
The things not covered include practice clothes, yoga mats and footwear, play texts and stationery.
Please note: in some cases students may purchase elements of costume and props for their own work that will not be automatically refunded by RADA. In general, students should try and work with what is available to them.
International students will need to pay for visa costs. Please visit the UK Visas & Immigration website for further details.
It is important that you understand when you accept a place at RADA that you know how you will pay for it. We do not take account of financial need when offering places, but we do reasonably assume that if you are applying to come to RADA, you will be able to pay the fees and support yourself.
It is in your interest to provide us with information about how you intend to pay for your fees and support yourself through training.
Applying for a postgraduate Master's
loan
If you are from the UK, you may be eligible to apply for a postgraduate Master's loan. This loan is not based on income and can provide a maximum of up to £11,836. It is paid directly to the applicant and can be used to pay tuition fees or living costs. If you intend to use the loan to pay for tuition fees, please note that the maximum amount does not cover the full cost of the course. You will be expected to cover the balance.
Visit www.gov.uk for more information.
RADA is not currently able to offer scholarships for the MA Theatre Lab. If this situation changes, we will update information on the website.
Support for international
students
For students defined as International, you are required to pay the full cost of your fees and living expenses.
Your offer is made on the basis that you can meet these expenses from your own funds. There are also financial requirements associated with the allocation of a Student visa. Please visit the UK Visas & Immigration website for further details.
RADA courses are not eligible for US Federal Loans.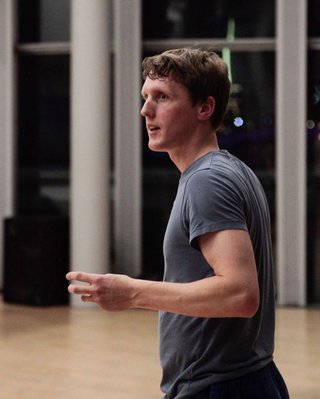 Where do MA Theatre Lab Graduates work?
Recent graduate
destinations
Graduates have recently worked at:
Battersea Arts Centre
Berlinale Film Festival
Barbican
Bloomsbury Theatre Festival
BBC
Black Cat Cabaret
Brooklyn Art Haus
Cannes Film Festival
Circle Theater, New York
Complicite
Coronet Theatre
Gecko
Les Enfant Terribles
English Touring Theatre
Flabbergast Theatre
ITV
The Lowry, Salford
LG Arts Center, South Korea
National Theatre
National Theatre of Romania
Netflix
Physical Fest, Liverpool
Polka Theatre
Pop-up Globe, New Zealand
Royal Exchange Theatre, Manchester
Royal Shakespeare Company
Shakespeare's Globe
Song of the Goat Theatre
Theatre Alibi
Theatre de la Ville, Luxembourg
Theatre Re
Timesis Theatre, Liverpool
Tobacco Factory Theatres
Tristan Bates Theatre
Underbelly Festival, Southbank
Vaults Festival
Voila! European Theatre Festival
Theatre Companies founded by MA Theatre Lab graduates
Animikii Theatre
Bare Theatre
Be•wilder Theatre
Bound By Theatre
Bunkum Ensemble
Eden's Cave
Facing North Theatre
Hot Coals Theatre
Knaïve Theatre
Krēants
Muntjac Theatre
New Public
Objective Entertainment
Psychopomp Theatre Collective
Saski Bisou
The MA Theatre Lab prepares you for both a conventional acting career and a more independent performance-making pathway. As Masters level students, graduates may also wish to apply their learning to developing a career in pedagogy and/or academia.
Graduates of the MA Theatre Lab work internationally in a range of theatre venues and companies, as well as in film and television, with many founding their own companies and creating new work.