Elements of RADA Workshops: in-person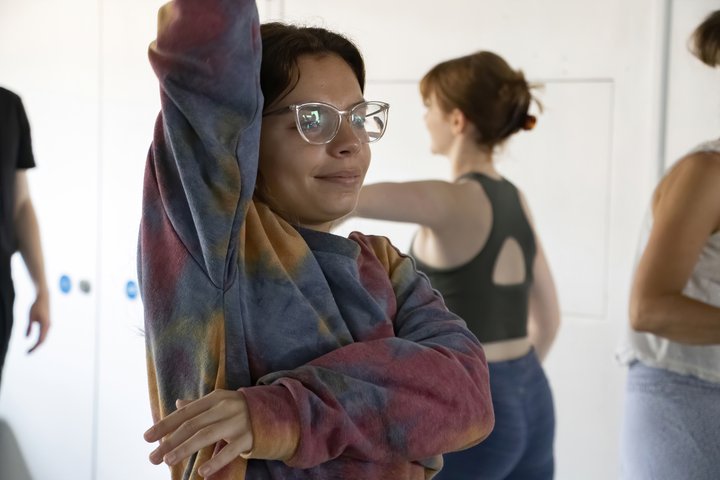 Focusing on key subjects taught within the Academy: Voice, Movement, Contemporary Text and Classical Text.
Class sizes are kept small for the work to be detailed and are therefore suitable for students of all levels.
The workshops are self-contained sessions, allowing you to book for as many as you wish.
Part of our Acting Essentials series of courses.
Prefer to learn in your own environment? Try Elements of RADA: online
Entry requirements
No selection: There is no selection process for this course, if you feel this course is suitable for you and have read all the information on this webpage, then please proceed to booking.
Participants must be over 18 and have fluent, confident use and knowledge of the English language.
Number of places
Places for these classes are limited to 14 people; to avoid disappointment please book early.
Who is this course suitable for?
Those with no prior experience.
Actors or directors looking for new approaches.
Those wishing to improve audition/interview skills or who work in 'speaking professions'.
The dates and content of the in-person workshops are:

February – March: Mondays
Monday 20 March – Contemporary Text
Monday 27 March – Voice


April – July: Wednesdays
Wednesday 26 April – Contemporary Text
Wednesday 3 May – Classical Text
Wednesday 10 May – Voice
Wednesday 17 May – Movement
Wednesday 24 May – Contemporary Text
Wednesday 31 May – Classical Text
Wednesday 7 June – Voice
Wednesday 14 June – Movement
Wednesday 21 June – Contemporary Text
Wednesday 28 June – Classical Text
Wednesday 5 July – Voice
Wednesday 12 July – Movement
Your booking confirmation will be sent by email. If you have questions relating to your booking, please email shortcourses@rada.ac.uk.
Prior to your workshop, you will be contacted with any specific text/material/instructions required.
Please note: all courses are non-transferable and non-refundable.
Frequently asked questions
Will I get a certificate at the end of the
course?
No. A Certificate of Completion is not available for this course. At the discretion of RADA Short Courses, a letter or email may be available, providing attendance has been fulfilled, and the student has adhered to Rules and Regulations of the Academy (see below).
Does the course count towards university
credits?
There are no University Credits associated with this course.