Foundation Course in Acting (non-HE)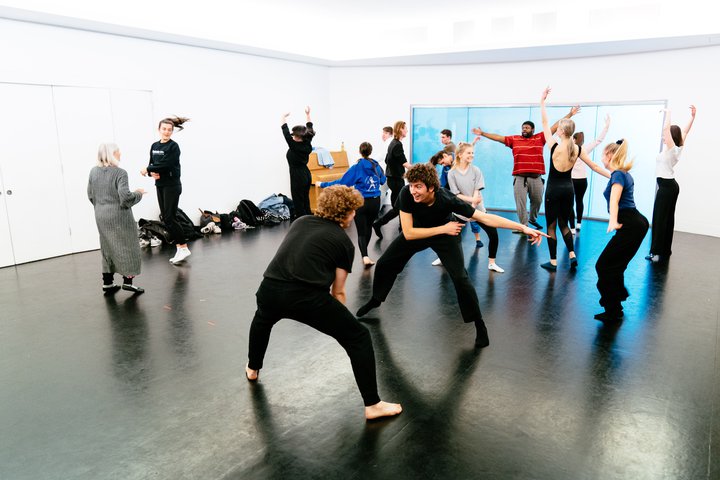 Is this course for me?
Are you considering whether actor training at degree level will suit you? This course is invaluable for students who want to gain an insight into life at a conservatoire drama school or if you are considering a career that demands communication and presentation skills at the highest level.
Course overview
Our two-term Foundation Course in Acting is taught by RADA tutors and directors, and provides a rigorous training in the foundations of acting.
This course is not accredited and is therefore non-award bearing. In addition, please note that there is no student finance available for this course.
The curriculum offers skills classes in:
acting technique (focusing on Stanislavski and Meisner)
movement
voice
singing (group and solo)
text analysis
Specialist classes in:
acting for screen
introduction to playwriting
introduction to filmmaking
Rehearsal projects:
contemporary playwrights
Realist movement
Shakespeare
During the course you will have the opportunity to explore careers in theatre and related industries, and will be introduced to practitioners who can discuss the range of career options available.
You can find out more about life as a student at RADA here.

The Foundation Course in Acting consists of two terms of 12 teaching weeks, beginning in January and finishing in June.
The programme is intensive and can involve evening and Saturday work.
Applicants must be 18 or over by the start of the course
Candidates must have complete fluency in English
Library
An important resource for students, with a large collection of rare and out-of-print plays in the English language. This is access to the following digital resources: Drama Online, Cambridge Journals, Theatre in Video, Digital Theatre Plus and RADA Accents Archive.
Wellbeing and counselling
We have a drop-in and appointment-based service for advice, a chat or a more formal assessment. Counselling support is available throughout the training and with any personal problems. There are also talks on sexual health, nutrition, drugs and alcohol.
Healthcare, injury prevention and response
We have a relationship with a GP practice, access to specialist medical support and osteopathy.
Disabled students' support
We ensure Learning Agreements are in place, access to dyslexia, dyspraxia and other learning support needs, access to specific support for students with other impairments, and support in applying for Disabled Student's Allowance.
This is a non-accredited course which does not attract government funding. All students offered places on the Foundation Course are required to fund both the annual fee and all living costs privately. Note the approximate living cost for a student living in London is £1300 per month.
Application fee
The application fee for the Foundation Course in Acting is £34. The application fee covers the cost of processing and progressing each individual application. Application fees are not refundable.
Auditions
The audition process follows the same principles as for the BA (Hons) in Acting, but with a three-stage process. Prospective students may indicate that they wish to apply for the Foundation Course in Acting alone or for both BA (Hons) in Acting and Foundation in Acting at the same time Prospective students for both courses are seen at the first and second rounds through our online audition process, and then those for whom the Foundation Course is a better option in the view of the panel will be directed towards a workshop day (which we hope will take place in person at RADA). Students who have applied for the Foundation Course in Acting may be redirected to the Foundation Course audition process at any of the recall stages of the auditions for the BA (Hons) in Acting.
The Foundation Course in Acting audition is a three-stage process:
Preliminary auditions open in November 2021 and your video will be seen in the preliminary round by two members of the audition panel. The preliminary audition will consist of three audition speeches and a song. Each speech should last a maximum of two and half minutes. You are also required to sing an unaccompanied song (verse and chorus only), and give us some information about yourself and your work.
Piece A - Classical
The classical piece should be from Shakespeare or an Elizabethan/Jacobean playwright (Jonson, Marlowe, Webster, etc.). It should be originally written in English - so do not choose a piece from a Greek tragedy or a Molière comedy, for example.
Piece B - Alternative Classical
You must have an alternative classical piece prepared (same rules as Piece A).
Piece C - Contemporary
The contemporary piece should provide a clear contrast to the classical piece and be written after 1960. Do not use Chekhov or Shaw for this piece.
Song
The song should be unaccompanied and consist of a verse and chorus only.
RADA cannot provide advice on the suitability of your speech choices before you submit your video audition.
Video submissions of successful candidates from the preliminary stage will be passed to a recall panel consisting of four panel members.
The group workshop is designed to give you a sense of the training that you would experience were you to be offered a place on the course. It involves movement, group dynamic work, text analysis, monologue presentation, monologue work as well as an interview with the course director.
Find out more about our admissions process, information for disabled students, appeals and complaints:
If applying for the Foundation Course in Acting:
Applicants submit an audition tape as part for the initial audition.
If successful, your tape will be considered at a second round.
If successful, second-round applicants are invited to a third-round workshop. This may be in-person or held online depending on Government health advice.
Successful applicants to Foundation Course in Acting are selected from the workshop.
Find more details about what to prepare for each stage of the audition process in our admissions procedure guide (available in large print here).
Information for disabled
applicants
We consider diversity to be enriching and a vital part of what makes us one of the world leaders in providing vocational training. We encourage the opportunity for training regardless of age, gender, disability, ethnicity, marital status, nationality, sexual orientation, parental status, religion or belief.
We welcome applications from disabled applicants and encourage them to disclose relevant information regarding any disability when completing their application form, to enable us to provide additional support during the interview process.
There is no government funding (Disabled Students' Allowance) available for this programme but we will discuss any specific learning needs with the individual, prior to their joining. We can assist with the arrangement of specialist support (for example study skills support for students with dyslexia or dyspraxia) but this must be privately funded by the student. If you are a disabled candidate and would like further advice or guidance, please contact the admissions team directly on admissions@rada.ac.uk.
Admissions policy, appeals and
complaints
If you would like to know more about RADA's Admissions Policy for our courses, please download and read our Admissions Policy.
For information about RADA's Admissions, Appeals and Complaints for higher education courses, please download and read our Admissions Appeals and Complaints document. Please note that this process covers the following courses only:
BA (Hons) in Acting
FdA Technical Theatre and Stage Management
BA (Hons) Technical Theatre and Stage Management (completion)
PgDip in Theatre Costume
MA Theatre Lab
Foundation Course in Acting