Part-time Blended Foundation Course in Acting (non-HE)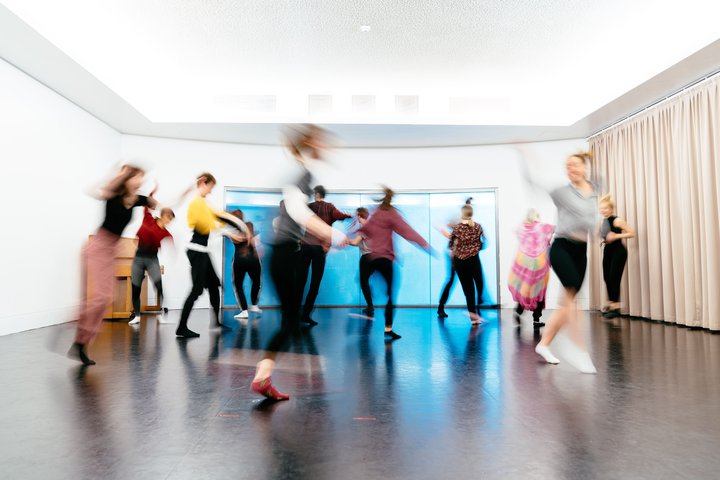 Appplications have now closed for entry in 2023.
Is this course for me?
This course will offer a taste of what to expect from a conservatoire drama school and prepare students for further actor training through online and in-person blended learning. The accelerated nature of the course is designed to engage students who have studied drama previously but have not had opportunity to immerse themselves in practical, vocational training.

Taught by RADA tutors and directors, this part-time course provides a rigorous training in the foundations of acting.
The blended structure makes the most of the advantages of participants being in their own environment for certain activities, whilst also being able to work collaboratively in a rehearsal room. A timetable incorporating evenings, weekends and whole days facilitates students who do not have the option of studying full-time.
This course is not accredited and is therefore non-award bearing. In addition, please note that there is no student finance available for this course.
The curriculum offers skills classes in:
acting technique (focusing on Stanislavski and Meisner)
movement
voice
singing (group and solo)
text analysis
Specialist classes in:
acting for screen
introduction to playwriting
introduction to filmmaking
Rehearsal projects:
contemporary playwrights
Realist movement
Shakespeare
During the course you will have the opportunity to explore careers in theatre and related industries, and will be introduced to practitioners who can discuss the range of career options available.
You can find out more about life as a student at RADA here.

Applicants must be 18 or over by the start of the course
Candidates must have complete fluency in English
Library
An important resource for students, with a large collection of rare and out-of-print plays in the English language. This is access to the following digital resources: Drama Online, Cambridge Journals, Theatre in Video, Digital Theatre Plus and RADA Accents Archive.
The Part-Time Blended Foundation Course in Acting is delivered over a six month period online and in-person at RADA.
The programme is rigorous and involves evening and Saturday work, as well as intensive in-person periods.
27 February – 1 April 2023:
Online:
Monday 6.30pm – 9.30pm
Wednesday 6.30pm – 9.30pm
In-person at RADA:
Saturday 10am – 5pm
April intensives:
In-person at RADA:
Monday 3 – Thursday 6, 10am – 5pm
Tuesday 11 – Saturday 15, 10am – 5pm
Monday 17 – Saturday 22, 10am – 5pm
26 April – 8 July 2023:
Online:
Wednesday 6.30pm – 9.30pm
In-person at RADA:
Saturday 10am – 5pm
Summer intensives:
In-person at RADA:
Monday 10 – Friday 14 July, 10am – 5pm
Monday 17 – Friday 21 July, 10am – 5pm
Monday 24 July – Friday 28 July, 10am – 5pm
Monday 31 July – Friday 4 August, 10am – 5pm
Monday 7 – Friday 11 August 10am – 5pm
Monday 14 – Saturday 19 August 10am – 5pm
Monday 21 – Saturday 26 August 10am – 5pm
This is a non-accredited course which does not attract government funding. All students offered places on the Part-Time Blended Foundation Course in Acting are required to fund both the course fee and all living costs privately. Note the approximate living cost for a student living in London is £1300 per month.
Applying for the Part-Time Blended Foundation Course in Acting is a two-stage process:
Apply to the course via this form.
Successful candidates will be invited to attend a group workshop audition taking place in early 2023.
The group workshop is designed to give you a sense of the training that you would experience were you to be offered a place on the course. It involves movement, group dynamic work, text analysis, monologue presentation, monologue work as well as an interview with the course director. You will need to prepare two audition speeches, which should each last a maximum of two and half minutes, and give us some information about yourself and your work.
Piece A - Classical
The classical piece should be from Shakespeare or an Elizabethan/Jacobean playwright (Jonson, Marlowe, Webster, etc.). It should be originally written in English - so do not choose a piece from a Greek tragedy or a Molière comedy, for example.
Piece B - Contemporary
The contemporary piece should provide a clear contrast to the classical piece and be written after 1960. Do not use Chekhov or Shaw for this piece.
RADA cannot provide advice on the suitability of your speech choices before your audition.
Find out more about our admissions process, information for disabled students, appeals and complaints:
Information for disabled
applicants
We welcome applications from disabled applicants and encourage them to disclose relevant information regarding any disability when completing their application form, to enable us to provide additional support during the interview process.
There is no government funding (Disabled Students' Allowance) available for this programme but we will discuss any specific learning needs with the individual, prior to their joining. We can assist with the arrangement of specialist support (for example study skills support for students with dyslexia or dyspraxia) but this must be privately funded by the student. If you are a disabled candidate and would like further advice or guidance, please contact us at shortcourses@rada.ac.uk
Information for International
students
Please note that this course meets the requirements for a Standard Visitor Visa.