We know that accepting a place at drama school can bring worries about finances. Our aim is to train the most talented and most promising artists, and we believe no-one should be held back because of financial or personal circumstances.
We are a higher education provider, which means that coming to RADA costs the same as most UK university courses and has the same access to student loans. We also offer RADA scholarships and have links with external scholarship schemes such as Warner Bros. Creative Talent, BAFTA Scholarships Programme and the Laurence Olivier Bursary scheme. Around 50% of undergraduate students receive some financial support from RADA.
We offer places based on talent and potential, not on financial situation. However, it is important that when you accept a place at RADA, you understand how you will pay for it and whether you will need financial assistance. Our Student and Academic Services team is here to help with advice and support about paying your fees, applying for student loans and RADA scholarships. We encourage anyone who is worried about finances to come and talk to us.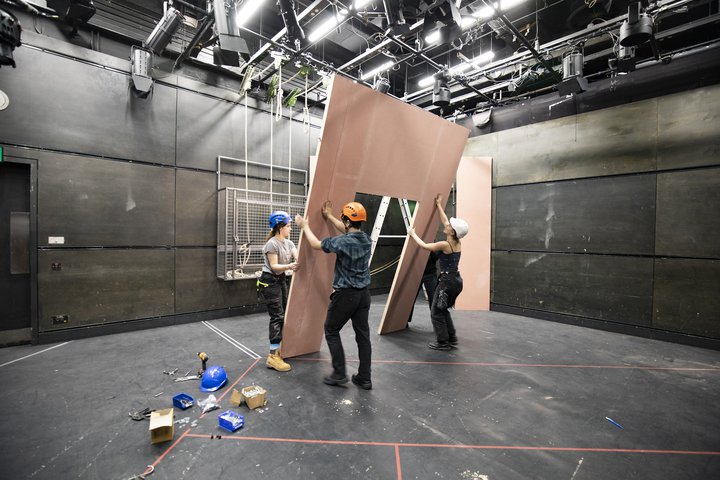 RADA is a Registered Provider with the Office for Students. This means that our courses are eligible for financial support, i.e. student loans.
Undergraduates can apply for a student loan for your tuition fees and living costs if:
you are a UK ('home') student
you have not already completed a course at the same level (for example another BA degree)
Tuition fee loans are not means-tested, and this means that you do not have to pay any fees upfront for your course.
UK undergraduate students will also be able to take out a maintenance loan to support you in your studies. These loans are means-tested and will depend on whether you are living at home or independently.
Information about how much you can borrow, how to apply for loans and a student finance calculator are available on the government's student finance website.
EU

students

The UK left the EU on 31 January 2020 and is now in a transition period.

Anyone starting a course in the 2020-21 academic year will still pay 'home' student fees (i.e. the same as UK students) and have access to student loans.

In June 2020, the UK government announced that EU, other EEA and Swiss nationals will no longer be eligible for home fee status or financial support from Student Finance England for courses starting in the 2021-22 academic year. This does not apply to Irish nationals; anyone who benefits from Citizens' Rights under the EU Withdrawal Agreement, EEA EFTA Separation Agreement or Swiss Citizens' Rights Agreement; or anyone with pre-settled status or settled status.

You can read the full government announcement here. Please see www.gov.uk for more details.
Postgraduate

students

If you are from the UK, you may be able to apply for a postgraduate loan for our MA Theatre Lab. Visit www.gov.uk for more details.

Our Postgraduate Diploma in Theatre Costume is currently not eligible for a Postgraduate Loan through the Student Loans Company. For financial assistance for this course, please see information below regarding RADA scholarships.Students on the MA in Text and Performance (run in partnership between RADA and Birkbeck) pay all their fees to Birkbeck. Please visit their website for guidance on financial support.

Students taking a second

degree

If you have studied in higher education before, you are not eligible for government student loans for another degree at the same level or lower. For example, if you hold a BA degree from a university, you would not be able to access a student loan for an FdA or BA at RADA, but you may be able to access a postgraduate loan for an MA course at RADA.

We welcome applications from students who already hold a degree from another institution or in a different subject, but you will need to finance yourself for both fees and living expenses.

We have a very limited number of scholarships, (including full-fee and/or full-maintenance scholarships) for students who are not eligible for student finance. Please read our scholarship section below for more information.
RADA offers a number of scholarships and bursaries. The majority are awarded on the basis of income to undergraduate students who are studying in higher education for the first time. Students are invited to apply for a scholarship once they have been offered a place. We prioritise students from low-income backgrounds (under £25,000 up to £43,000) and from groups under-represented in the profession.
We also have a limited number of scholarships for students taking a second degree. We do not usually offer scholarships to international students from outside the UK.
There are some postgraduate scholarships available for students on the Postgraduate Diploma in Theatre Costume who have a household income of under £25,000. We are not currently able to offer scholarships for the MA Theatre Lab.
Means-tested scholarships
For UK students new to higher education, starting an undergraduate course in September 2021, we offer the following award:
Income of £43,000 or less
Minimum award of £3,000 for each year of study
Care Experienced
In accordance with our 2020 – 2025 Access and Participation Plan, RADA offers an additional scholarship to people who are care experience (for living costs) of £3,000 per year for each year of study. This is for UK students on undergraduate courses. Find our Accessible Summary of the Access and Participation Plan 2020-25.
RADA has a small hardship fund. Students can make a direct request to Student Services staff for assistance for emergencies (like dental treatment) or general hardship. Amounts awarded will not usually exceed £200.