Shakespeare Summer School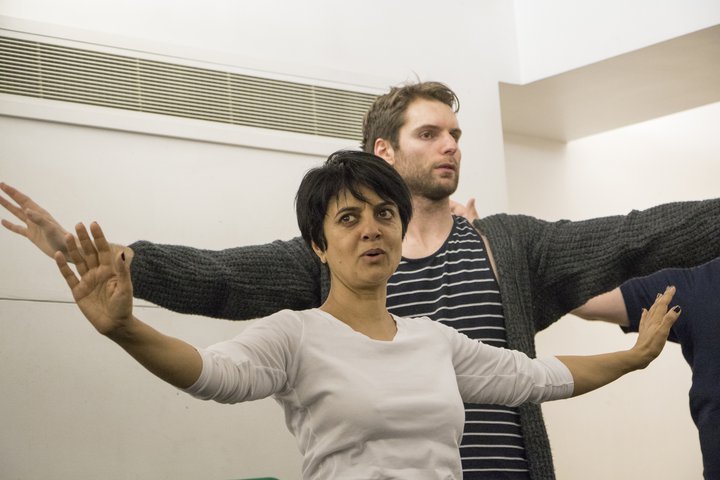 Our Shakespeare Summer School investigates Shakespeare from an actor's point of view. It's an invaluable resource for performers of all ages and experience and our longest running short course, launched over 35 years ago.
The course is for a range of experiences: for seasoned professionals; for those who may be contemplating full-time drama training; for people who simply wish to explore an interest in the craft; and for enthusiasts of any age.
The course draws on the classical aspects of RADA's core teaching, combining rehearsal of text with classes in essential skills.
Entry requirements
16+. Applications by students between the ages of 16 and 17 may need additional references and will be given special consideration by the Course Director.
Please remember that this is a physically demanding course, and that, while any specific needs will be taken fully into account, and that there is no upper age limit, participants must be reasonably fit.
Fluent, confident knowledge of the English language is essential.
You will work in two 'companies' of between 12 and 16 people. Each company has a professional director. You will undertake a detailed scene study on one or more of Shakespeare's plays during the four week course, culminating in an informal sharing with another company.
In the same group you will have classes in dance, clown, physical performance, stage fighting, basics of Shakespeare acting and a masterclass conducted by a distinguished practitioner.
In a second company, you will have classes in voice, singing, Alexander Technique, sonnets and monologues. At particular times during the course there are informal sharings of clown, sonnets and monologues. All companies are structured so that each student has the best possible chance of making progress at the most appropriate pace.
Accommodation
Details regarding accommodation will be sent out if you are offered a place on the course.
Approach
The course is not a casual undertaking and classes are not optional; students are expected to treat these as professional rehearsal calls. Total commitment to punctuality, discipline and preparation is required from every student.
Hours
10am - 5pm
Week One - Wednesday to Saturday
Weeks Two, Three and Four - Monday to Friday
Punctuality is essential; a certificate stating the minimum number of contact hours is awarded on successful completion of the course.
Optional 5th week course: Shakespeare in Action h3>
If you have completed the RADA Shakespeare Summer School you are eligible to undertake an optional fifth week course, Shakespeare in Action.
Shakespeare in Action is a week long, rigorous work-out with RADA's key tutors; culminating in a minimal, 'rehearsal-basic' performance of an adapted Shakespeare play in one of the Academy's theatres.
The course offers close personal supervision in the context of a professional production, with advanced skills classes and one-to-one tutorials in physical performance and voice.
This course is exceptionally demanding, and that priority is normally given to those who have some experience of acting or directing Shakespeare. You may be asked to send a DVD or a video link of yourself performing a two-minute Shakespeare monologue. In all cases, entry is at the discretion of the Course Director.
You will need strong stamina, be able to learn lines quickly and feel confident in your ability to work at an advanced level.
Subject to the availability of places, it may be possible to sign up for this course after you have started the Shakespeare Summer School.
Hours
10am - 6pm (there may be some evening work)
Applying
Please tick 'Shakespeare in Action' on the Shakespeare Summer School application form if you would like to attend this course.
When available, please complete the application form and return:
A scanned copy of the application form to sallypower@rada.ac.uk
Or a paper copy to:
Sally Power RADA, 62-64 Gower Street,
London, WC1E 6ED
United Kingdom
You will need to include:
A reference a teacher, tutor, director or fellow actor, to give some information about their experience (or otherwise) of acting
A short written statement about what you would like to gain from the course
Applications by students between the ages of 16 and 17 may need additional references and their participation will be at the discretion of the Course Director. We will contact you once we have received your application.
Although there is no application deadline, places are limited and therefore early booking is recommended.
All applications are considered in order of receipt. If your application is received after the course is full, you will be put on the waiting list. If, for any reason, the Course Director feels that you have not enough experience, you will not be accepted onto the course.
Frequently asked questions and terms and conditions h3>
What should I wear on the
course?
In addition to loose and comfortable clothes for movement and voice classes (with trainers or dance/ballet shoes), you will need a white shirt or blouse (not a T-shirt).
Women need a black practice skirt. Men should provide dark trousers (not jeans) and a formal jacket.
We strongly recommend that women equip themselves with character shoes and men with black lace-ups (i.e. in addition to trainers used in certain classes).
Does the course count towards university
credits?
In the case of students who are attending courses at universities in North America (or elsewhere), it is a matter for each university or college to decide whether to include the Shakespeare Summer School as part of their students' accreditation process.

If you have any questions regarding this course or further enquiries regarding the content please email sallypower@rada.ac.uk.
Can RADA help me to find
accommodation?
Accommodation
Accommodation can be arranged for Shakespeare Summer School students who are aged 18+. There are limited rooms available and they are allocated on a first come first served basis.
The accommodation is a ten-minute walk from RADA. Single rooms are provided, which includes a hand basin. There are communal bathrooms and a small kitchen available (please note no kitchen utensils are provided). Linen is included, but bring your own towel. A coin-operated launderette is on the premises.
Accommodation is secure, but you are advised to take reasonable security precautions e.g. not leaving valuables unattended in your room, or leaving doors and windows unlocked. Floors are mixed sex, and the accommodation is used by many organisations over the summer.


Rules and regulations of the
Academy
What is the cancellation
policy?
Once you are accepted onto the course - you will receive full details of our cancellation policy.
Once payment has been made, it is strongly recommended that all students insure themselves to cover the loss of fees in the event of illness, for which the Academy cannot accept any liability.
Rules and regulations of the
Academy
All students must undertake to adhere to the General Rules and Regulations of the Academy. The Academy's Director or Course Director shall, at their absolute discretion, have the right to terminate the course in respect of any student whose presence or conduct is in contravention of the same.
Friends or other persons who are not officially enrolled are not permitted to sit in on classes, rehearsals or presentations.
Students must understand, conform and adhere to the Academy's Health and Safety Procedures and Policies.
All students are expected to wear the correct and appropriate clothing for each class.
Students are expected to maintain a professional standard of dress and hygiene at all times.
Fees are non-returnable once a student has started a course.
Photography or recording of any kind is strictly prohibited in the classroom areas without permission from the Academy's staff.
RADA does not discriminate against applicants on the grounds of sex, disability, ethnicity or sexuality. We welcome applicants from disabled people and offer places solely on the basis of potential and suitability for the course. The school is mainly housed in a newly-refurbished building which provides good access for wheelchair users.
Decisions made by the Academy regarding the selection of instructors, the allocation of students to study groups, the material for that study group and any roles allocated are final and not open to negotiation.
It is strongly recommended that students insure themselves to cover any medical or transport costs and loss of fees in the event of illness or accident for which the Academy cannot accept any liability.
If, for reason of epidemic or national crisis, the Academy is compelled to close during the course, no fees can be returned or compensation be made for any period of tuition that may have been lost through the Academy's inability to carry on its work.
It is important to note that the Academy does not accept responsibility for students beyond the scheduled teaching hours on the RADA premises. These are Monday to Friday 9am to 6pm. Parents are therefore advised to ensure that adequate supervision of activities undertaken in the evening and at weekends is provided, as appropriate, during the duration of the course.