Shakespeare Summer School: Online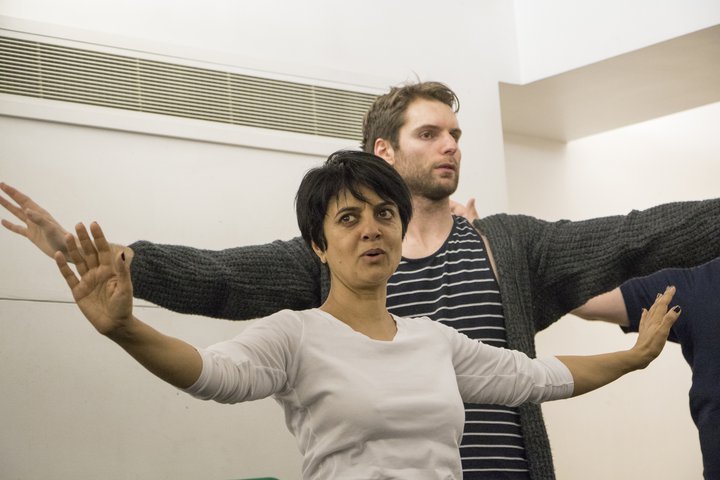 The Shakespeare Summer School is our longest running short course. Launched over 40 years ago, and investigating Shakespeare from an actor's point of view, it is designed to cater for a wide range of ability and experience: for seasoned professionals; for those who may be contemplating full-time drama training; and for complete beginners.
The comprehensive curriculum embraces aspects of RADA's core teaching, combining rehearsal of text with classes in essential skills.
This course has proved an invaluable resource for people of diverse ages, experience, and nationality.
Entry requirements
16+.
Applications by students between the ages of 16 and 17 may need additional references and will be given special consideration by the Course Director.
Please remember that, although there is no upper age limit, this is a physically demanding course. While any specific needs will be taken fully into account, participants must be reasonably fit.
Fluent, confident knowledge of the English language is essential.
You will work in two 'companies' of between 12 and 16 people. Each company has a professional director. You will undertake a detailed scene study on one or more of Shakespeare's plays during the four-week course, culminating in an informal sharing with another company.
In the same group you will have classes in dance, clown, mask, physical performance, stage fighting, basics of Shakespeare acting and a masterclass conducted by a distinguished practitioner.
In a second company, you will have classes in voice, singing, Alexander Technique, sonnets and monologues. At particular times during the course there are informal sharings of clown, sonnets and monologues. All companies are structured so that each student has the best possible chance of making progress at the most appropriate pace.
Accommodation
Details regarding accommodation will be sent out if you are offered a place on the course.
Approach
The course is not a casual undertaking and classes are not optional; students are expected to treat these as professional rehearsal calls. Total commitment to punctuality, discipline and preparation is required from every student.
Hours
Punctuality is essential; a certificate stating the minimum number of contact hours is awarded on successful completion of the course.
2021 dates are to be confirmed.
Frequently asked questions and terms and conditions
Does the course count towards university
credits?
There are no University Credits associated with this course.
Can RADA help me to find
accommodation?
Accommodation
Accommodation can be arranged for Shakespeare Summer School students who are aged 18+. There are limited rooms available, and they are allocated on a first come first served basis.
The accommodation is a ten-minute walk from RADA. Single rooms are provided, and there are communal bathrooms and a small kitchen available (please note no kitchen utensils are provided). Linen is included, but bring your own towel. A coin-operated launderette is on the premises.
Accommodation is secure, but you are advised to take reasonable security precautions e.g. not leaving valuables unattended in your room, or leaving doors and windows unlocked. Floors are mixed sex, and the accommodation is used by many organisations over the summer.


What is the cancellation
policy?
Once you are accepted onto the course - you will receive full details of our cancellation policy.
Once payment has been made, it is strongly recommended that all students insure themselves to cover the loss of fees in the event of illness, for which the Academy cannot accept any liability.
Rules and regulations of the
Academy
All students must undertake to adhere to the General Rules and Regulations of the Academy. The Academy's Director or Course Director shall, at their absolute discretion, have the right to terminate the course in respect of any student whose presence or conduct is in contravention of the same.
Students must understand, conform and adhere to the Academy's Health and Safety Procedures and Policies.
Friends or other persons who are not officially enrolled are not permitted to sit in on classes, rehearsals or presentations.
All students are expected to wear the correct and appropriate clothing for each class.
Students are expected to maintain a professional standard of dress and hygiene at all times.
Fees are non-returnable once a student has started a course.
Photography or recording of any kind is strictly prohibited in the classroom areas without permission from the Academy's staff.
RADA does not discriminate against applicants on the grounds of gender, disability, ethnicity or sexuality. The school premises provide good access for wheelchair users.
Decisions made by the Academy regarding the selection of instructors; the allocation of students to study groups; the material for that study group; and any roles assigned are final and not open to negotiation.
It is strongly recommended that students insure themselves to cover any medical or transport costs and loss of fees in the event of illness or accident, for which the Academy cannot accept any liability.
If, for reason of epidemic or national crisis, the Academy is compelled to close during the course, no fees can be returned, or compensation be made, for any period of tuition that may have been lost through the Academy's inability to carry on its work.
It is important to note that the Academy does not accept responsibility for students beyond the scheduled teaching hours on the RADA premises. With younger students, parents or guardians are advised to provide adequate supervision outside of timetabled hours.