Shakespeare in Action: Online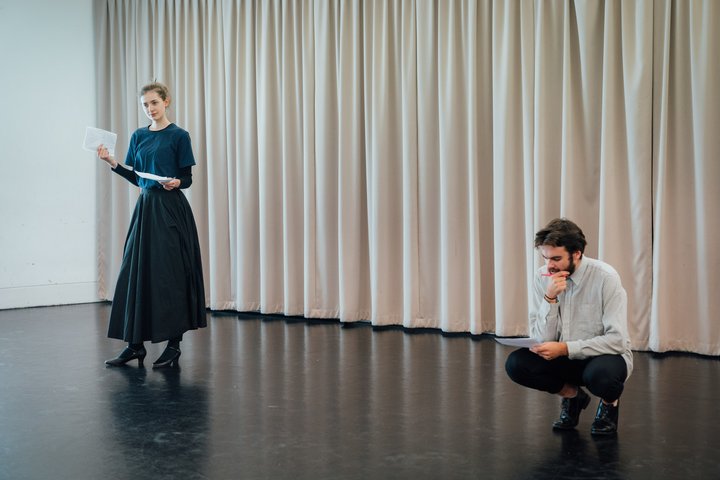 Investigate Shakespeare from an actor's point of view and work with members of RADA's highly trained faculty in this unique online course.
Designed to cater for a wide range of abilities and experience, participants will work in companies of up to 12 to uncover and explore key aspects of Shakespearean performance.
Shakespeare in Action: Online will end with the opportunity to perform in an online version of a Shakespeare play, directed by a RADA tutor.
There will be classes in:
Voice
Physical performance
Shakespearean monologues
Sonnets
Entry requirements
16+.
Applications by students between the ages of 16 and 17 may need additional references and will be given special consideration by the Course Director.
Please remember that, although there is no upper age limit, this is a physically demanding course. While any specific needs will be taken fully into account, participants must be reasonably fit.
Fluent, confident knowledge of the English language is essential.
Schedule
In week one, participants will join three 90-minute classes each day, with a 15-minute break in between.
Week two will consist of rehearsals for a specially-adapted online production of a Shakespeare play, with an emphasis on choral work. There will also be individual tutorials in physical performance.
Approach
Even though we're working through screens, this course is not a casual undertaking and classes are not optional; students are expected to treat these as professional rehearsal calls.
Total commitment to punctuality, discipline and preparation is required from every student.
2021 dates are to be confirmed.
Frequently asked questions and terms and conditions
Does the course count towards university
credits?
There are no University Credits associated with this course.
What is the cancellation
policy?
Once you are accepted onto the course - you will receive full details of our cancellation policy.
Once payment has been made, it is strongly recommended that all students insure themselves to cover the loss of fees in the event of illness, for which the Academy cannot accept any liability.
Rules and regulations of the
Academy
All students must undertake to adhere to the General Rules and Regulations of the Academy. The Academy's Director or Course Director shall, at their absolute discretion, have the right to terminate the course in respect of any student whose presence or conduct is in contravention of the same.
Students must understand, conform and adhere to the Academy's Health and Safety Procedures and Policies.
Friends or other persons who are not officially enrolled are not permitted to sit in on classes, rehearsals or presentations.
All students are expected to wear the correct and appropriate clothing for each class.
Students are expected to maintain a professional standard of dress and hygiene at all times.
Fees are non-returnable once a student has started a course.
Photography or recording of any kind is strictly prohibited in the classroom areas without permission from the Academy's staff.
RADA does not discriminate against applicants on the grounds of gender, disability, ethnicity or sexuality.
Decisions made by the Academy regarding the selection of instructors; the allocation of students to study groups; the material for that study group; and any roles assigned are final and not open to negotiation.
It is strongly recommended that students insure themselves to cover any costs and loss of fees in the event of illness or accident, for which the Academy cannot accept any liability.
If, for reason of epidemic or national crisis, the Academy is compelled to close during the course, no fees can be returned, or compensation be made, for any period of tuition that may have been lost through the Academy's inability to carry on its work.