Imagination Through Movement: online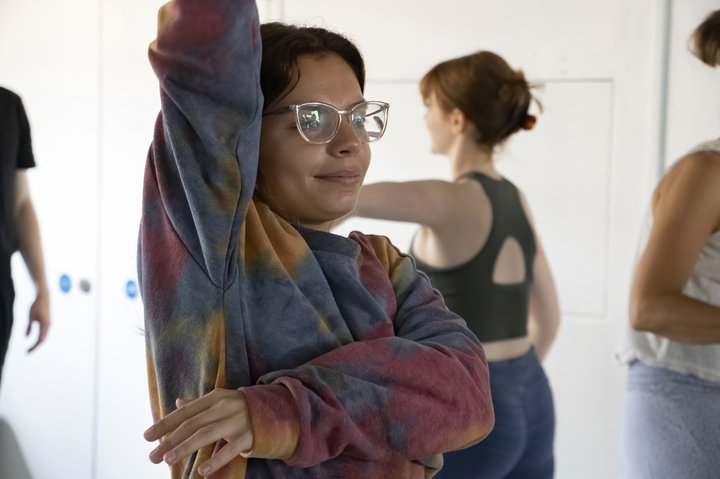 Liberate the full range of your expressive physicality and connect with your 'sensing' self.
Based on the theory and practices of somatic movement and aspects of physical theatre, this course utilises improvisational movement as a means of imaginative expression.
The workshops involve guided movement explorations to music with space for improvisation and play. It expands into reflective personal writing practice and the course culminates in a sharing of your explorations with the rest of the group, either as a solo piece or co-created with others.
Imagination Through Movement is led by RADA Alexander Technique teacher Korina Biggs, who is a performer, a physical theatre educator and has an MA in Dance and Somatic Wellbeing.
Part of our Short Course Skill Sets and Exploring Movement series of courses.
Entry requirements
No audition
Participants have to be 18+. There is no upper age limit on this course.
We are able to make reasonable adjustments to our training where possible. Many of our courses are highly practical. Most involve movement and some may include work on the floor. You may also be asked to read from various texts. If you have access requirements and/or require more information on access and facilities in our RADA buildings, please email shortcourses@rada.ac.uk.
Fluent, confident knowledge of the English language is essential.
Sign up to our mailing list to be the first to hear about new short courses, stories from our participants and upcoming RADA events.
Who is this course suitable for?
No need for prior experience.
Actors or directors looking for new approaches.
Those looking to free their physical expression.
Feedback from previous students
"I was so inspired by your class, and felt so reconnected to my passion for performance and creative community, that I decided to apply to RADA's MA Theatre Lab. I want to thank you for the many magical openings your class created for me."
Pooja Parvati Gupta
"You gave me the chance to reconnect with the artist within me and I am forever grateful."
Previous student
Your booking confirmation will be sent by email. There is no box office collection available.
If you have questions relating to your booking, please email boxoffice@rada.ac.uk.
Frequently asked questions
Will I get a certificate at the end of the
course?
No. A Certificate of Completion is not available for this course. At the discretion of RADA Short Courses, a letter or email may be available, providing attendance has been fulfilled, and the student has adhered to Rules and Regulations of the Academy (see below).
Does the course count towards university
credits?
There are no University Credits associated with this course.