Advances in Scriptwriting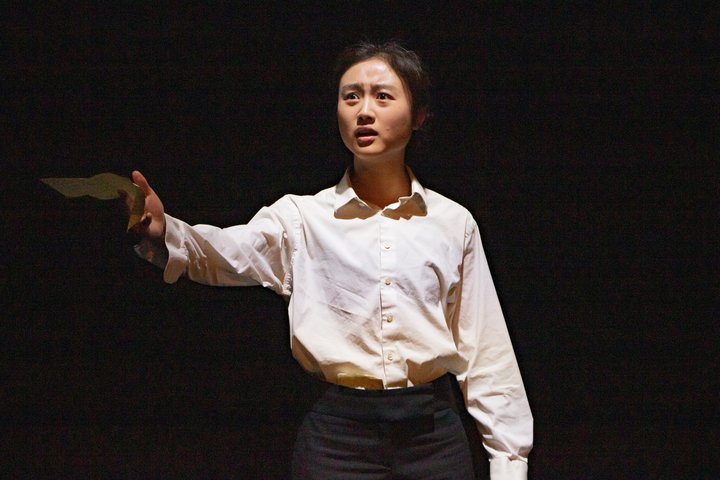 Running annually for over 20 years, Advances in Scriptwriting provides original approaches to essential techniques such as making a scene, subtext, use of time/place, and structure. There is a high level of imaginative but accessible class exercises, but minimal homework.
Previous course participants include Lolita Chakrabarti, author of Red Velvet, and whose Life of Pi gained the 2022 Olivier Award for Best New Play; and Nick Payne, author of Constellations, which won the Evening Standard Theatre Award for Best Play in 2012.
The course is taught by Paul Sirett, an award-winning playwright and freelance dramaturg. Paul was Soho Theatre's Literary Manager, 1994-2001; the Royal Shakespeare Company's Dramaturg, 2001-2005; Associate Dramaturg of the Ambassador's Theatre Group from 2012-2018. He currently works as a script consultant for Trafalgar Entertainment.
Entry requirements
This is not a beginner's class. It is aimed at writers who have had one or two of their films/plays produced or are having serious interest shown in their work by producers or agents.
Applications for the course must be accompanied by evidence of serious consideration of one of the applicant's full-length scripts by a producing company or literary agent (specifically requesting they be sent a copy of your next script), plus a copy of that script.
Applicants have to be 18+. There is no upper age limit on this course.
Who is this course suitable for?
Creatives who have already completed a full-length play.
Writers looking for new approaches.
Those prepared to benefit from imaginative, accessible class exercises.
Paul Sirett's plays and musicals include:
A Night in Tunisia, 1992, Worlds Apart, 1993, Crusade, 1994
Jamaica House, 1998; The Big Life, 2004 & 2005 (West End transfer, Olivier nomination)
Come Dancing 2008; Bad Blood Blues, 2009 (all Theatre Royal Stratford East)
Reasons to Be Cheerful, 2010-2017 (Graeae Theatre Company, multiple productions in the UK, Europe and South America)
This Other Eden, 1993 (Duke of Cambridge Theatre)
Skaville, 1995 (Soho Theatre)
Rat Pack Confidential, 2002 (Nottingham Playhouse/Bolton Octagon & West End)
Lush Life, 2005 (Live Theatre, Newcastle)
Running the Silk Road, 2008 (Yellow Earth, Tour & Barbican)
Peter Pan, 2010 (Dukes Lancaster)
Mods & Rox, 2012 (New Wolsey, Ipswich)
The Iron Man, 2013/14/17 (Graeae/GDIF, UK National Tour and Albania)
Oy and the Morons, 2017 (New Wolsey, Ipswich)
Clear White Light, 2018/19 (Live Theatre, Newcastle)
Previous participants include:
Lolita Chakrabarti (author of Red Velvet, 2022 Olivier Award for Best New Play for Life of Pi)
Nick Payne (whose Constellations won the Evening Standard Theatre Award for Best Play in 2012)
Emily White (George Devine winner 2021, Atlantis)
Iraqi playwright Hassan Abdulrazzak (George Devine Winner 2008 for Bagdad Wedding)
Steve Thompson (Damages, Whipping It Up, Roaring Trade, No Naughty Bits)
Anders Lustgarten (whose The Seven Acts of Mercy ran 2016/17 at the RSC)
Jane Upton (George Devine winner 2016, All the Little Lights)
Frequently asked questions
Will I get a certificate at the end of the
course?
Yes. A Certificate of Completion is available for this course, providing attendance has been fulfilled, and the student has adhered to Rules and Regulations of the Academy (see below).
Does the course count towards university
credits?
There are no University Credits associated with this course.
What is the cancellation
policy?
Once you are accepted onto the course - you will receive full details of our cancellation policy. Once payment has been made, it is strongly recommended that all students insure themselves to cover the loss of fees in the event of illness, or accident for which the Academy cannot accept any liability.
What are the rules and regulations of the
Academy?
By participating in the course you undertake to conform to the General Rules and Regulations of the Academy.
Students must understand, conform, and adhere to the Academy's Health and Safety Procedures and Policies.
The Academy's Principal or Course Director shall, at their absolute discretion, have the right to terminate the course in respect of any student whose presence or conduct is in contravention of the same.
Fees are non-returnable once a student has started a course.
If, for reason of epidemic or national crisis, the Academy is compelled to close during the course, no fees can be returned or compensation be made for any period of tuition that may have been lost through the Academy's inability to carry out its work.
Friends or other persons who are not officially enrolled are not permitted to sit in on classes, rehearsals, or presentations.
All students are expected to wear the correct and appropriate clothing for each class.
Students are expected to maintain a professional standard of dress and hygiene at all times.
Photography or recording of any kind is strictly prohibited in the classroom areas without permission from the Academy's staff.
RADA does not discriminate against applicants on the grounds of sex, disability, ethnicity, or sexuality. We welcome applications from disabled people, and offer places solely on the basis of potential and suitability for the course. The school is housed in a recently-refurbished building which provides good access for wheelchair users.
Decisions made by the Academy regarding the selection of instructors, the allocation of students to study groups, the material for that study group, and any roles allocated are final and not open to negotiation.
It is important to note that the Academy does not accept responsibility for students beyond the scheduled teaching hours on the RADA premises.