Acting Shakespeare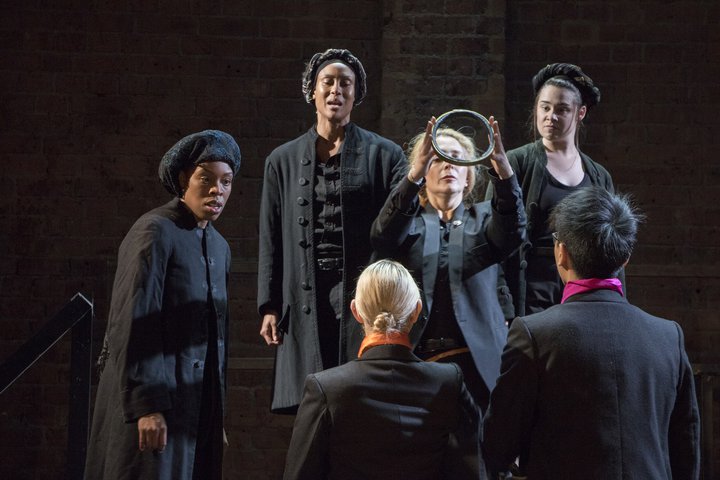 This advanced, intensive eight-week course gives you many opportunities to perform Shakespeare's text, and to explore and deepen your understanding of it.
Through classes conducted by the RADA faculty in essential skills, rehearsal of text and presentations, the course extends the range of each student's work, uncovers tensions that block development and works on strategies to remove them.
Part of our World of Shakespeare series of courses.
Course details:
Participants work in groups of approximately 14, and in smaller groups for some skills classes.
During the first six weeks, you will have classes in Physical Performance, Alexander Technique, Stage Fighting, Period Dance, Choral Singing of the period, Voice, Voice into Text, Character in Text, Sonnets, Monologues and Scenes; as well as weekly workshop sessions.
There will be three presentations, all followed by group feedback from senior Academy staff and individual feedback from your skills tutors. Finally, there will be a workshop production of a Shakespeare play in one of the RADA theatre spaces, rehearsed with your director throughout the final 10 days of the course. All presentations are in-house and not external showcase productions.
Classes are taught, and rehearsals conducted, by the Academy's senior staff and distinguished directors and teachers from the profession.
The course is not a casual undertaking: total commitment to punctuality, discipline and preparation is required from every student.
Who is this course suitable for?
Those who have experience of acting at professional, graduate or undergraduate level
Those wishing to expand, explore and deepen awareness of Shakespeare's text
Those wishing to work on strategies to remove tensions that block development
18+. Students below the age of 18 are not normally accepted. Entrance is by audition.
The course is aimed at students who have experience of acting at professional, graduate or undergraduate level.
Fluent, confident knowledge of the English language is essential.
We are able to make reasonable adjustments to our training where possible. Many of our courses are highly practical. Most involve movement and some may include work on the floor. You may also be asked to read from various texts. If you have access requirements and/or require more information on access and facilities in our RADA buildings, please email shortcourses@rada.ac.uk.
Classes generally take place between 10am and 5pm from Monday to Friday, but some sessions each week will end later than this.
In the latter part of the course, extra rehearsals will be called in the evening and some weekend working will also be required.
Classes are not optional; students are expected to treat these as professional rehearsal calls.
Punctuality is essential; a certificate stating the minimum number of contact hours is awarded on successful completion of the course.
Application
Please complete an application form. You will need to include your CV or resumé and a reference from either a tutor or director on your suitability to participate in this course.
Applications are reviewed and offers are made on a rolling basis; there is no deadline for applications as such. We would therefore advise you to submit your application as soon as possible to avoid disappointment.
Auditions
Auditions are digital; please submit your audition pieces via the application form. You should prepare two pieces, one from Shakespeare and one from a modern play, neither of which should exceed three minutes in length.
We will contact you to let you know whether or not you have been accepted onto the course. In some instances a waiting list place may be offered.
Frequently asked questions
Will I get a certificate at the end of the
course?
Yes. A Certificate of Completion is available for this course, providing attendance has been fulfilled, and the student has adhered to Rules and Regulations of the Academy (see below).
Does the course count towards university
credits?
We do not offer university credits.

In the case of students who are attending courses at universities in North America (or elsewhere), it is a matter for each university or college to decide whether to include the RADA Acting Shakespeare course as part of their students' accreditation process.
If you have any questions regarding this course or further enquiries regarding the content please email shortcourses@rada.ac.uk