Acting Shakespeare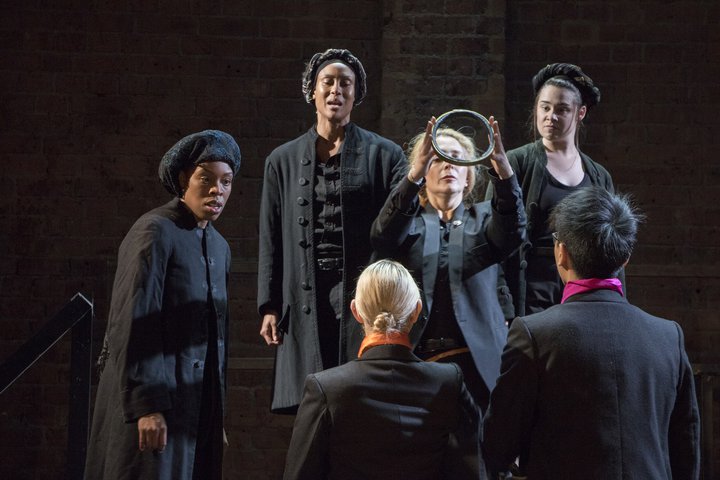 Explore and deepen your awareness of Shakespeare's text in this advanced intensive eight-week course.
Through classes conducted by the RADA faculty in essential skills, rehearsal of text and presentations, the course extends the range of each student's work, uncovers tensions that block development and works on strategies to remove them.
Part of our World of Shakespeare series of courses.
Course details:
Participants work in groups of approximately 16, and in smaller groups for some skills classes.
During the first six weeks, you will have classes in Physical Performance, Alexander Technique, Stage Fighting, Period Dance, Choral Singing of the period, Voice, Voice into Text, Character in Text, Sonnets, Monologues and Scenes; as well as weekly workshop sessions.
There will be three presentations, all followed by group feedback from senior Academy staff and individual feedback from your skills tutors. Finally, there will be a workshop production of a Shakespeare play in one of the RADA theatre spaces, rehearsed with your director throughout the final 10 days of the course. All presentations are in-house and not external showcase productions.
Classes are taught, and rehearsals conducted, by the Academy's senior staff and distinguished directors and teachers from the profession.
The course is not a casual undertaking: total commitment to punctuality, discipline and preparation is required from every student.
Who is this course suitable for?
Those who have experience of acting at professional, graduate or undergraduate level
Those wishing to expand, explore and deepen awareness of Shakespeare's text
Those wishing to work on strategies to remove tensions that block development
18+. Students below the age of 18 are not normally accepted. Entrance is by audition.
The course is aimed at students who have experience of acting at professional, graduate or undergraduate level.
Fluent, confident knowledge of the English language is essential.
Please remember that, although there is no upper age limit, this is a physically demanding course. While any specific needs will be taken fully into account, participants must be reasonably fit.
Classes generally take place between 10am and 6pm from Monday to Friday, but some sessions each week will end later than this.
In the latter part of the course, extra rehearsals will be called in the evening and some weekend working will also be required.
Classes are not optional; students are expected to treat these as professional rehearsal calls.
Punctuality is essential; a certificate stating the minimum number of contact hours is awarded on successful completion of the course.
Download an application form here.
Email your completed application to shortcourses@rada.ac.uk.
Auditions
You can audition digitally. Please email a URL of your pieces with your completed application form to shortcourses@rada.ac.uk.
For the audition you should prepare two pieces, one from Shakespeare and one from a modern play, neither of which should exceed three minutes in length.
We will contact you to let you know whether or not you have been accepted onto the course. In some instances a waiting list place may be offered.
Frequently asked questions
Will I get a certificate at the end of the
course?
Yes. A Certificate of Completion is available for this course, providing attendance has been fulfilled, and the student has adhered to Rules and Regulations of the Academy (see below).
Where can I find information about accommodation in
London?
We will send you a list of accommodation once you have been offered a place on the course.
Does the course count towards university
credits?
We do not offer university credits.

In the case of students who are attending courses at universities in North America (or elsewhere), it is a matter for each university or college to decide whether to include the RADA Acting Shakespeare course as part of their students' accreditation process.
If you have any questions regarding this course or further enquiries regarding the content please email sallypower@rada.ac.uk
What is the cancellation
policy?
Once you are accepted onto the course - you will receive full details of our cancellation policy.
Once payment has been made, it is strongly recommended that all students insure themselves to cover the loss of fees in the event of illness, or accident for which the Academy cannot accept any liability.
What are the Rules and Regulations of the
Academy?
By participating in the course you undertake to conform to the General Rules and Regulations of the Academy.
Students must understand, conform, and adhere to the Academy's Health and Safety Procedures and Policies.
The Academy's Principal or Course Director shall, at their absolute discretion, have the right to terminate the course in respect of any student whose presence or conduct is in contravention of the same.
Fees are non-returnable once a student has started a course.
If, for reason of epidemic or national crisis, the Academy is compelled to close during the course, no fees can be returned or compensation be made for any period of tuition that may have been lost through the Academy's inability to carry out its work.
Friends or other persons who are not officially enrolled are not permitted to sit in on classes, rehearsals, or presentations.
All students are expected to wear the correct and appropriate clothing for each class.
Students are expected to maintain a professional standard of dress and hygiene at all times.
Photography or recording of any kind is strictly prohibited in the classroom areas without permission from the Academy's staff.
RADA does not discriminate against applicants on the grounds of sex, disability, ethnicity, or sexuality. We welcome applications from disabled people, and offer places solely on the basis of potential and suitability for the course. The school is housed in a recently-refurbished building which provides good access for wheelchair users.
Decisions made by the Academy regarding the selection of instructors, the allocation of students to study groups, the material for that study group, and any roles allocated are final and not open to negotiation.
It is important to note that the Academy does not accept responsibility for students beyond the scheduled teaching hours on the RADA premises.