Acting Fundamentals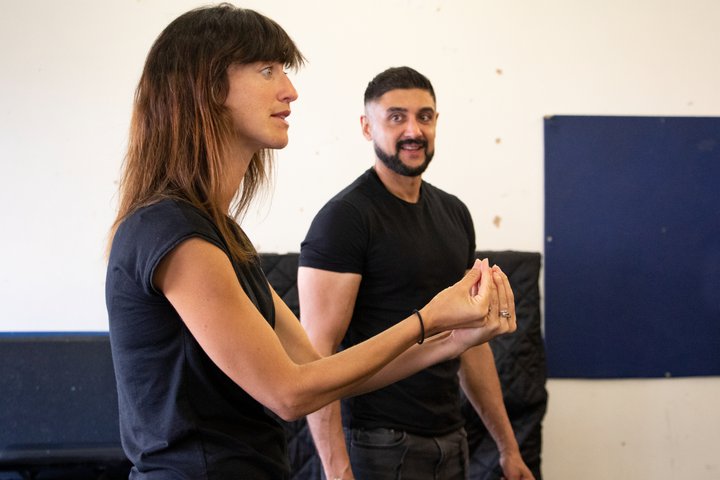 Acting Fundamentals provides a semi-intensive training in acting skills over six weeks for anyone at the beginning of their acting journey – particularly those who are thinking about going to drama school.
Taught by RADA's experienced drama tutors in a blend of both online and in-person classes, you will learn the essential skills every actor needs to have in their toolkit, encompassing a range of aspects including acting techniques, acting for camera, voice, movement, text analysis and rehearsal practice.
The course will give you a taste of what to expect from a conservatoire drama school training and prepare you for further actor training. If you're thinking of a career in acting, but for whatever reason you're not quite ready for drama school – or if you want to explore acting but you're not yet sure if you want to make the commitment to do a BA – this course will give you a solid grounding, develop your acting skills and expand your experience.
Classes are taught online on Monday and Wednesday evenings (6.30pm - 9.30pm) AND in-person at RADA on Saturdays (10am - 5pm). They are structured to make the most of the opportunity for participants to be in their own environment for certain activities, whilst also being able to work collaboratively in the rehearsal room.
Part of our Acting Essentials series of courses.
Ready for the next step? Try Advanced Acting Fundamentals.
Sign up to our mailing list to be the first to hear about new short courses, stories from our participants and upcoming RADA events.
Entry requirements
Participants have to be 18+. There is no upper age limit on this course.
Fluent, confident knowledge of the English language is essential
Some acting experience is useful but not essential
Who is this course suitable for?
Those with no prior experience
Anyone interested in learning the basics of acting
Anyone considering applying for drama school
Those wishing to improve audition/interview skills or who work in 'speaking professions'
Please note there are no RADA scholarships available for Short Courses.
Your booking confirmation will be sent by email. There is no box office collection available. If you have questions relating to your booking, please email boxoffice@rada.ac.uk.
Prior to the class, you will be contacted with login details, along with any specific text, materials or instructions as required.
Places for this course are limited to 14; to avoid disappointment please book early.
Please note: all courses are non-refundable and non-transferable. Due to the structure of the course, full attendance is required for both online and on-site classes. All classes begin promptly and latecomers may not be admitted.
Frequently asked questions
Will I get a certificate at the end of the
course?
Yes. A Certificate of Completion is available for this course, providing attendance has been fulfilled, and the student has adhered to Rules and Regulations of the Academy (see below).
Does the course count towards university
credits?
There are no University Credits associated with this course.