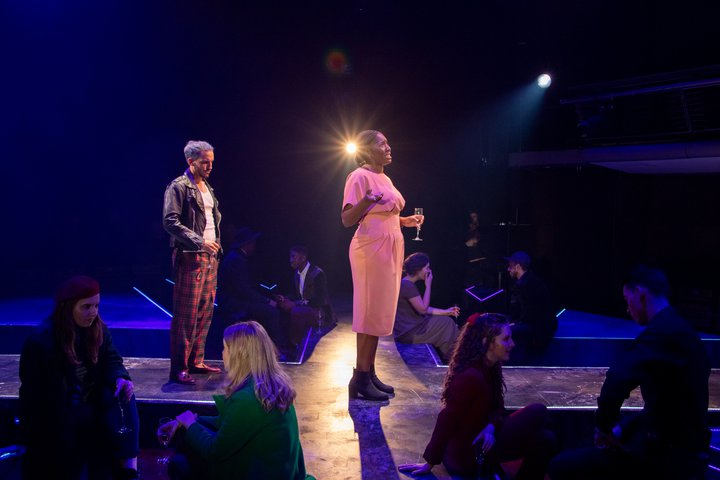 RADA is a world leader in nurturing talent and developing the most talented students into successful artists, technicians and theatre-makers.
Our graduates are renowned around the world and are top of their fields in theatre, television and film. Graduates include Anthony Hopkins, Lindy Hemming, Ralph Fiennes, Fiona Shaw, Tom Hiddleston, Sophie Okonedo, Cynthia Erivo, Glenda Jackson, Alan Rickman, Phoebe Waller-Bridge, Paul Pyant and Ben Whishaw. Our graduates are regular recipients of major accolades including Olivier Awards, BAFTAs, Emmys, Golden Globes, Tonys and many more.
In order to deliver the high standards of training we are renowned for, RADA needs to raise £1.4 million annually on top of student fees. All money raised through corporate partnerships goes towards the cost of our training; safeguarding RADA's teaching practice and ensuring students are able to reach their full potential.
Our students are offered their place after talent-led interviews and auditions. Only once the place is awarded do we discuss financial need and all students who need additional funding are guaranteed to get it. We raise the equivalent of £9,500 per student, which enables us to offer access to the best training in the industry to the most talented people, regardless of their background.
The creative industries is one of the most successful areas of the UK economy and RADA, along with all our Corporate Partners, help to allow access and therefore diversity in the industry.
Benefits
Benefits depend on your level of partnership and include:
Client and staff engagement
The opportunity to organise your own client hospitality event (for up 50 people) around the student or West End production of your choice. Includes a reception pre-show and the chance to meet the cast post-show
Complimentary tickets to all of our RADA Film Club events – exclusive preview screenings of films starring RADA graduates as well as the chance to meet the graduate
Priority Booking for RADA West End theatre productions and invitations to exclusive pre-show receptions with a chance to meet the RADA graduate
Complimentary places on a RADA Business course – world-class training to develop your team's skills, make them better communicators and leaders, and meet your business objectives
Complimentary tickets to all student productions including a Guest night reception pre-show
Complimentary tickets to the RADA Christmas Concert at St Mary Abbots Church in Kensington which includes well-known RADA graduates
The chance to buy a half price table for the RADA Quiz
Complimentary tickets for use across the RADA Festival
Complimentary tickets to the third year Acting Showcase (event not open to the public)
Supporter events
Invitation to the Chairman's annual supporters' reception
Invitation to the annual Summer Supporters' party
Invitation to the Director's annual Supporters' breakfast
Marketing
Crediting on the RADA website
Crediting on programmes for all productions
Logo credit on a Supporters' Board within the RADA Bar
Student and graduate updates
Termly Supporters newsletters and regular updates about RADA graduates
In-kind partners
In order to train our students to the highest level and especially to train our Theatre Production students we need the best quality, most up-to-date equipment. To develop a partnership by donating in-kind please contact the team – benefits will be the same as cash equivalent partnerships.
Scholarships
All our corporate partnership support funds our student training, however, if you would like to pay towards a specific student's training please contact the team to discuss.
Partners can also sponsor a specific student production – please see more information here.
To find out more please contact Amy Ledingham, Head of Development, on amyledingham@rada.ac.uk