Student Wellbeing Service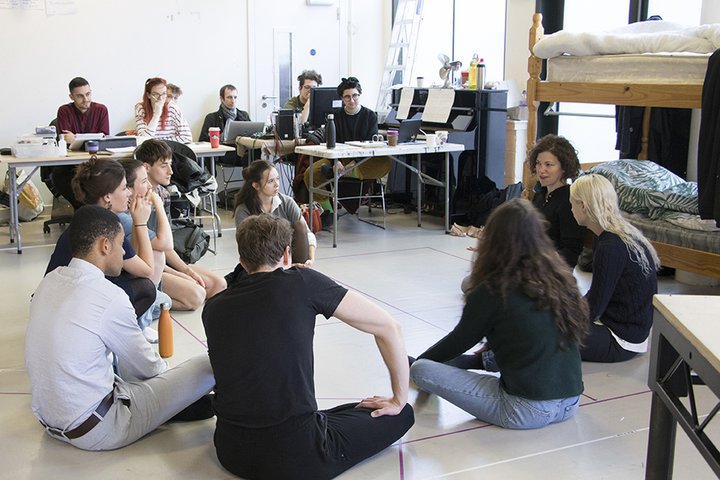 Student Wellbeing is one of our services for students and is part of the Student and Academic Services department. The Student Wellbeing Service provides support for RADA's higher education students. The Student Wellbeing Service is composed of two teams:
The Counselling Service
The Disability Service
The Counselling Service provides support from trained counsellors who can offer both ongoing, brief counselling sessions and drop-in sessions by appointment.

The Disability team includes our Disability Coordinator and several specialists who provide support to students navigating neurodiversity, mental health, specific learning disability study skills and autism. The Disability team can also help with anyone interested in applying for Disabled Student Allowance (DSA).
Team members have particular experience in supporting performing arts students and offer group sessions for students as part of their course. Support is offered in person or online (please note, all support is online at present, owing to RADA's Covid-19 arrangements) and sessions can be arranged to fit around your timetable.
Confidentiality
Counselling and drop-in support is confidential. We won't tell anyone that you are accessing support, or what you talk about. In exceptional circumstances it may be necessary to speak to someone else if either you or someone you know is in danger. Even in this circumstance, we would normally seek to speak to you first before contacting anyone else. ​​For more information about confidentiality please see the Student Wellbeing Service Policy.
Professional standards
All counsellors within the Counselling Service abide by the British Association for Counselling and Psychotherapy's (BACP) Ethical Framework for the Counselling Professions.
Limits of provision
​​​​​The Counselling Service offers early intervention short-term support (usually six sessions) to students with mild to moderate mental health difficulties. The service is not equipped to provide interventions for students who may be experiencing severe and/or enduring psychiatric issues. Please note the Student Wellbeing Service does not provide out-of-hours crisis support.
See information about crisis and out-of-hours support here.
Drop-in service
We offer a drop-in service by appointment.

Students are welcome to stop by the Wellbeing Office and if the door is open, they may be able to be seen without an appointment. It is preferable to register first so we can arrange to see you at a mutually available time. Register here
Our drop-in service offers students the opportunity to have an informal chat in a confidential setting in which you can talk about any issue or worry that you are currently experiencing or have experienced in the past.

We offer practical support, information, advice and guidance. If your difficulty is persistent and causing you significant distress, you may be offered counselling. We are also able to offer:
Help to access NHS services including registering with a GP
Support with reasonable adjustments to training, learning agreements and referrals to the Student and Academic Services team for other learning and welfare support
Signposting to relevant external organisations
Drugs and alcohol
We have a counsellor within the Student Wellbeing Service who specialises in working with students who have concerns around their own alcohol and/or drug use, or may be worried for a friend, housemate or family member who has substance issues.
Body image and eating difficulties
Experiencing difficulties in your relationship with food, or your relationship with your body, is not uncommon. The Student Wellbeing Service can offer a safe space to contain and explore some of these particular difficulties, help you understand your experience and offer you the support you need.
Gender and identity
We provide counselling support for people who identify as trans, non-binary or who are questioning their gender identity or sexuality. The service exists to provide a safe space for people who may find it difficult or daunting to access other services. Discussing your feelings can help make sense of gender or identity questions and help with difficult life transitions.
Other support services at RADA
As well as our dedicated Student Wellbeing Service, we have links with other providers that can support students across a range of health and personal wellbeing needs.
Healthcare
RADA has a relationship with a local GP, Ridgmount Practice, which is open to students living in designated postcodes. We can advise you on areas which will give access to this practice, especially if you have ongoing health needs.
We understand that, due to the nature of the training, you may experience aches and pains that are unfamiliar to you. We encourage students to be aware of their bodies and learn to recognise what is an ache (for example, from assisting with a theatre fit-up for the first time) and what is an injury that needs care. We can refer students for physiotherapy and osteopathy where needed.
Chaplaincy and faith services
We have students from many faiths at RADA. Our Student and Academic Services team can put you in touch with someone from a particular faith to support you at RADA.
We do not currently have prayer rooms on-site at RADA.

If you have any questions, email us at wellbeing@rada.ac.uk