Student Governors and Student Representatives
We hope that your experience of RADA will be an inclusive one, where you feel involved in the life of the Academy and the decision-making. We aim to create an environment where our students feel consulted, informed and able to contribute to developments for the future.
If you would like to help us involve our student body, then think about standing as a Student Representative (Rep).
The role of a Student Governor
RADA has two student members of its governing body and trustees, known as Council.
This recommendation was made by students in the student submission to the Quality Assurance Agency in May 2018 and the process approved by RADA Council in March 2019.
Continuing students elect two Student Governors these two students will be full members of the RADA Council for one year, starting their tenure in October and finishing the following autumn when new Lead Students are elected. The elected students will then be nominated by RADA Council Nominations Committee to join Council.
We will let students have a list of all the student reps for the year once we have a complete list. There is also a RADA Students' Association Working Group who are putting together an 'association' (like a Students' Union) and they will welcome involvement from new students.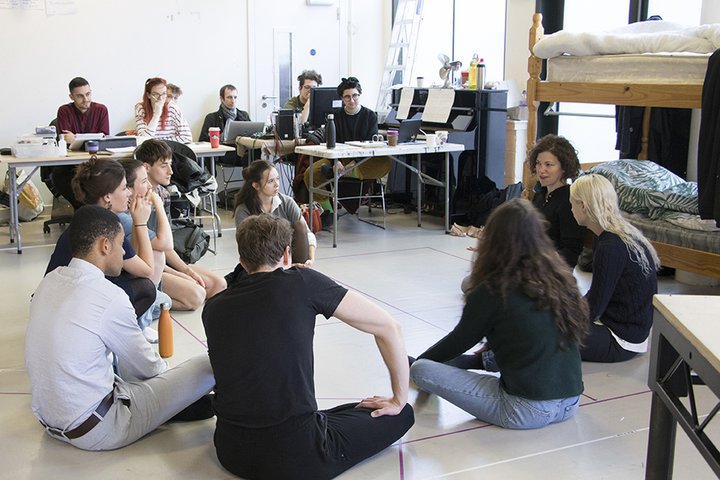 Who can be a Student

Governor?

Students elect two Student Governors; one each for acting and theatre production. Elections will be held in the first few weeks of the Autumn term. To be eligible, you must be:

a full-time student;
on a programme that lasts two or more years (this includes third year students on the BA Technical Theatre Stage Management);
in your second or third year during the year that you are a Student Governor.

This means that the following students are eligible to stand for election in September:

BA (Hons) in Acting: current years 2 and 3
Foundation Degree in Technical Theatre and Stage Management: current years 2 and 3
Postgraduate Diploma in Theatre Costume: current year 2 (the year who will complete in the Summer of 2022)

How are students

elected?

Students must be at RADA for at least a year (full-time or part-time) to be eligible to vote in an election.
Acting and performance students elect the Student Governor (Acting)– this includes BA Acting and MA Theatre Lab who are enrolled at the time of the election.
Theatre production students elect the Student Governor (Theatre Production) – this includes FdA/BA TTSM and PgD Theatre Costume.
In 2021-22, existing MA Text and Performance students may vote in either the Acting or the Theatre Production elections but not both who are enrolled at the time of the election.

What are the election

rules?

Each nomination must be supported by a proposer and seconder. You can propose yourself but will need at least one other student to second your nomination. This seconder must also be eligible to vote in the election.
You will need to complete and return the nomination form by the deadline for nominations.
Please note that by offering yourself for election, you are confirming that you are eligible to act as a charity trustee. Please see the list of requirements for eligibility. If it is later demonstrated that you are not eligible, you will be disqualified and the candidate in the election with the next highest vote will be automatically elected.
RADA will use the alternative vote system, where candidates are ranked in order of preference and then votes transferred, knocking out candidates at each stage of counting, if there is not a single candidate with more than 50% of the vote.
You will serve for one year as Student Governor but may stand for re-election for a second term. The maximum number of terms that can be served is two. We generally advise that think about whether you want to serve for two terms so that your duties do not affect your training.
We advise that students do not stand for election as Student Governor as well as being a year group representative to limit the responsibilities you carry.
You must be a student at RADA for the whole period of your term as Student Governor. If you interrupt your studies for more than two weeks, or you are suspended or withdrawn, you will no longer be permitted to act as Student Governor and we will arrange a replacement (either the candidate with the next higher score in the ballot or one of the other student representatives).
What are the responsibilities of a Student

Governor?

You will be a Trustee of RADA which carries particular responsibilities. A charity trustee shares the ultimate responsibility for governing a charity and how it is managed and run.

You will have the same responsibilities and ethical trust relationship as other Council members. Information at Council can often be sensitive and confidential. As a Student Governor you will be expected to keep information shared with you confidential where indicated and you will be told what can and cannot be shared.

Student Governors are elected to be a RADA student voice on Council rather than as a representative of the student body. This means that your input in Council meetings should aim towards a general and objective view of student opinion rather than your personal view.

In addition to the above, you will decide that one of you will chair the Student Experience Forum which includes all student representatives plus senior staff and student services staff. The other will chair meetings of all student representatives without staff present.

Student Governors are invited to be members of Academic Board in addition to the year group representatives.

There is more information about the role of a student governor in this guide.

How often will I need to attend

meetings?

The RADA Council usually meets four times in an academic year, the Student Experience Forum meets three times per year and the Academic Board meets six times per year.

What criteria are there to become a Student

Govenor?

To be considered for the role, you must be able to declare that you are a 'fit and proper person'. What this means is that you will be asked to sign a declaration which will state that:

you haven't been involved in any fraud.
you haven't been convicted of anything connected to deceptive or dishonest behaviour (or if you have, that this conviction has been spent).
you haven't been involved with any tax abuse or promoting tax avoidance.
you haven't been declared bankrupt. (This means legally, not how much money you actually have in your account.)
you haven't been removed from serving as a trustee with another charity.
you haven't been disqualified from being a company director.

You will also need to provide you National Insurance number (or your National Identity Card), along with addresses for the past twelve months.

Please see additional information about these legal responsibilities.
The role of a Student Representative (Rep)
We have two kinds of representatives: Student Reps and Social Reps.
Student Reps are there to represent the consensus view of their year group and engage in our internal systems for reviewing and making decisions about courses, and gathering student feedback.
Social Reps are charged by their year group with organising events both for the year, the course and across the Academy.
What are the skills needed to be a Student

Rep?

A good Student Rep is someone who is:

Discreet and understands the importance of confidentiality
Objective and impartial in relation to their own views and that of the student body
Good at gathering information from others and able to represent it in a concise way
Likes to be involved in decision-making
Doesn't mind reading sometimes technical and bureaucratic papers
Is willing to participate in meetings.
Commands the confidence of their year group.

How many Student Reps are

there?

Two 1st Year BA Acting Course reps
Two 2nd Year BA Acting Course reps
Two 3rd BA Year Acting Course reps
Two 1st Year FdA Technical Theatre & Stage Management Course reps
Two 2nd FdA Year Technical Theatre & Stage Management Course reps
Up to two 3rd Year BA TTSM course reps (with smaller numbers students may choose to elect one course rep)
One PgD Theatre Costume course reps (which may be combined with one of the third year reps if the student group prefers)
Two MA Courses rep (usually MA students combine the social and student reps and have two reps covering both roles)
How are Student Reps

chosen?

Reps are elected by their year group at the start of each academic year (or end of the previous year, if possible, for continuing students). Outgoing representatives are asked to come along to an Welcome session for incoming students to help them understand what student representation and engagement means.

The incoming first year students normally elect their student reps in Week 3 to allow time for them to get to know each other. Student reps are elected for one academic year at a time but may stand for re-election.

What are the key responsibilities of a Student

Rep?

Once elected, the Student Reps have a number of responsibilities, outlined below:

Bi-termly meetings with the year group. To help you, RADA schedules two meetings each term of each year group. This is your chance to identify any issues from the year group for reporting back to Course Directors or more generally through the Student Experience Forum (see below).
Being a line of communication with RADA's senior staff and to the governing body (RADA Council): As well as meeting with the Course Director on a regular basis, your job as a rep is to convey information both to RADA's senior staff and also communicate the outcome of decisions back to your year group. You aren't solely responsible for this, of course, but it is a way of smoothing communication and providing an opportunity for students to come to a consensus within a year group about what changes they might like or any problems they've identified.
Participate in the governance and academic committee structure of RADA. This is a really important job. The committees are outlined below and, in general, a committee is not considered quorate (ie able to make decisions) unless there is one student representative present. This is to reinforce the importance we place on the student voice at RADA.
Social representatives
There are usually two student representatives for each year of each course (except where the course has a very small number of students.). The aim is for them to organise in-house events for the student body at least once a term; to assist third year Reps in organising the annual graduation Ball; and to generally help promote RADA activities each term.