Youth Company: Theatre Production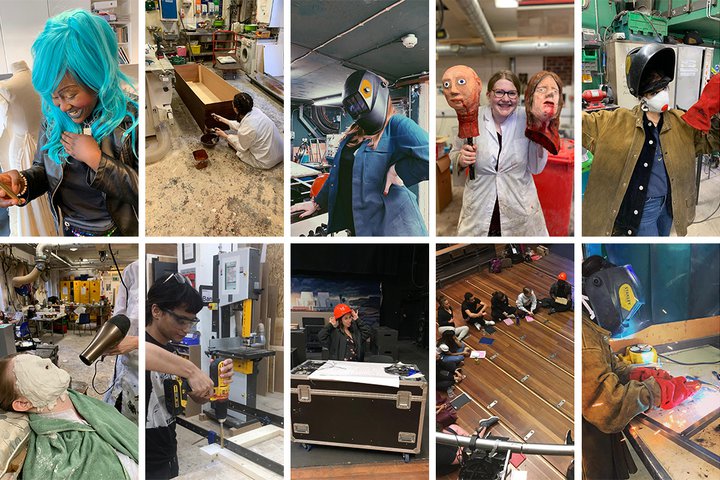 Is this course for me?
Ever wondered what the backstage team do on a show?
Apply for our Youth Company: Theatre Production and explore practical elements of theatre making including production, management and design from concept to stage.
Regardless of your experience or background we want people who are passionate, curious and keen to learn. Come and see how your creative or organisational skills can be used to make a theatre show.
This is a free course which is part of our Access and Participation work. It is an eight month long course available to young people age 16-20 who meet certain criteria which takes place on Saturdays and gives you the opportunity to experience technical theatre training.
What will I be doing?
In the Spring term you will be introduced to a range of technical and creative roles and consider ways in which productions can be made accessible.
In the Summer term you will working collaboratively with the Youth Company: Acting to create a production in RADA's Jerwood Vanbrugh Theatre.
The types of things you will learn:
Stage Management
Sound Design
Lighting Design
Video Design
Costume
Wigs, Hair & Makeup
Prop Sourcing & Making
Design
Captioning
Producing
Filmmaking
Disability Awareness
Anti-Racism
Q&As and discussions with RADA teachers, students, graduates and technicians
Application and Interview support for our Technical Theatre & Stage Management course
Term dates
All Youth Company members will be expected to attend all sessions, including every Saturday during term time.
Current Youth Company Term dates (2021-22)
Spring Term: Saturday 29 January – Saturday 26 March, 10am – 5pm (10am – 1pm on certain dates - these will be communicated during the course)
Summer Term: Saturday 30 April – Saturday 23 July, 10am – 5pm
Pre-production Week: Monday 25 July - Saturday 30 July, 10am – 5pm
Production Week: Monday 1 August - Friday 5 August, 10am – 5pm
Performances: Friday 5 August (1 evening performance), Saturday 6 August (2 performances – afternoon & evening)
How do I apply?
Register your interest in applying at the form above.
If you are disabled, we encourage you to share information about access requirements when completing the application form. This will enable us to provide additional support both during the selection workshops and across the course.
If you have any questions about accessibility, the course or would like to talk to a member of the Youth Company team then please email outreach@rada.ac.uk.
How will I be

selected?

Company members will be selected from a series of selection workshops at RADA. These will take place between Saturday 15 January – Tuesday 18 January 2022. These workshops will be a chance for you to learn a little bit more about the course, meet new people and take part in some ice breakers and activities. You will not need to prepare anything.