Women@RADA 100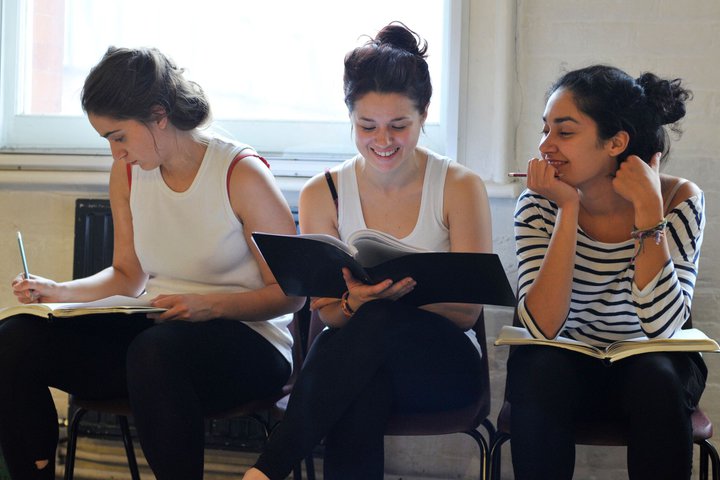 The Women@RADA 100 is a programme of rehearsed playreadings ranging from classics to current work, which provides opportunities for actors, writers and directors to share work and create new collaborations.
Wednesday 23 January 2019, 7pm
written by Isla van Tricht
directed by Rosa Crompton

Liam is 16 and has tried to kill himself, again. Liam's mum has a string of boyfriends and a drinking problem. Liam's best (and only) friend, Tia, is worried about him.
When Liam starts meeting with an 'alternative life guru' known only as Pine, everything finally begins to change for him. But given Pine's unconventional methods and ideology will this change be for better or worse? A new drama exploring brain-washing, friendship and faith.
Isla van Tricht's recent work includes Tits'n'Teeth at Underbelly, Edinburgh Festival Fringe and The Chronicles of Electra Cute at JW3. Her plays have been produced at the VAULT Festival, RADA Festival and 59E59 Theaters, New York as part of their Brits Off-Broadway season. Her work has been long-listed for awards including the Bruntwood Prize, the Verity Bargate Award and the Papatango Playwriting Award (twice).
She is currently under commission from Carbon Theatre writing a play for young audiences for a 2020 UK tour.
Rosa Compton's recent work as a director includes FCUK'D (Gilded Balloon), Tits'n'Teeth (Underbelly), Not Savages (VAULT) and Siren (VAULT and Brasserie Zedel). Rosa directed the NT Connections play These Bridges for White City Youth Theatre at the Bush Theatre and the director of Foundry18, which is a theatre company creating work out of improvisation as part of the John Thaw initiative at The Actors Centre.
Previous work as an assistant and associate director includes Maydays (RSC The Other Place), The Mentor (Vaudeville Theatre), Raising Martha (Park Theatre), Babe the Sheep Pig (UK tour), Forever Yours Mary-Lou (Bath Ustinov), The One That Got Away (Bath Ustinov) and Blithe Spirit (York Theatre Royal).
Wednesday 20 February, 7pm
Femme Fatale, written by Polly Wiseman and directed by Nathan Evans
Wednesday 27 March, 7pm
Beached, written by Tim Allsop and directed by Natasha Rickman
Women@RADA 100 playreadings take place three times a term in the RADA Bar.
All playreadings have at least 50% female cast and creatives. They are free to attend, but please reserve a ticket online to secure your seat. There are a limited number of tickets available on the door.
Women@RADA is a grassroots collective that supports the creativity of women across the theatre industry and explores ways to promote gender parity.