Women@RADA 100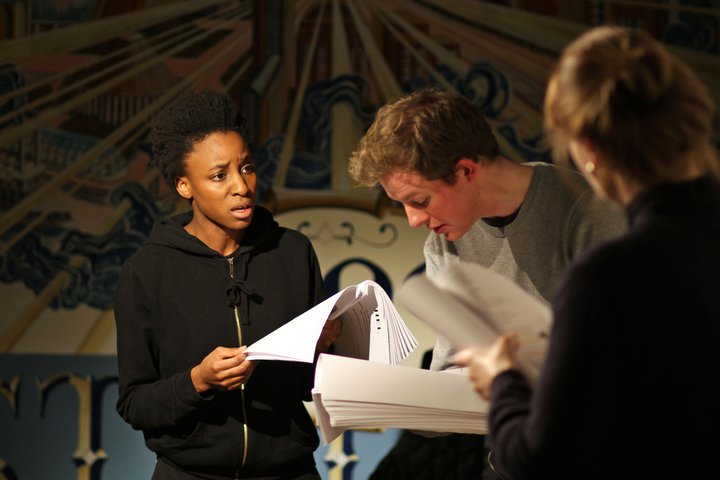 The Women@RADA 100 is a programme of rehearsed playreadings ranging from classics to current work, which provides opportunities for actors, writers and directors to share work and create new collaborations.
Playreadings take place in the RADA Bar, Malet Street.
Box office
To get in touch please email boxoffice@rada.ac.uk or call on +44 (0)20 7908 4800
Playreading no. 71: Thin Ig
written by Fran Zoutewelle and Jenny Wall


Two sisters return to their deceased foster mother's studio in search of their birth certificates: once an old barn in peaceful, rural England – now marshland. This is an England where the shoreline has encroached on the land and climate refugees are leaving the island.
As they are physically sifting through memories, an old hermit, a spirit of the coastline, also returns home. As they speak to her, it becomes clear that she is something more or less than human and that she is close to her end. Their unexpected meeting in this place, at this moment in time, compels them all to consider and reflect on where to go next and what will be become of who or what remains.
Cast
Keren Lianne Harvey
Kai Ruby Bentall
Ada Gillian Bevan
Jenny is an actress who trained at LAMDA. Roles while training included Emily Brontë in We Are Three Sisters and Jock in The Straits. Since graduating, credits have included Our Old Den (short film) and Macbeth/A Midsummer Night's Dream at The Shakespeare's Rose Theatre Blenheim, where she and Fran met and began writing together.
Francesca is an actor who trained at RADA and won the Laurence Olivier Bursary 2012. Her screen credits include The Last Tree (BFI), Mike Leigh's Mr Turner, and Agatha Raisin (Sky One).
On stage, she has played Ophelia in Hamlet (European tour/Park Theatre/Trafalgar Studios), Hermia at The Rose Theatre Blenheim and in Filter Theatre's A Midsummer Night's Dream (Brisbane/Dublin), Anne Deever in All My Sons (Rose Theatre), as well as productions at the Globe, the Birmingham Rep and Manchester Royal Exchange. She toured as Olivia in Filter Theatre's Twelfth Night, and played Viola in Kelly Hunter's production of Twelfth Night at the Almagro Festival in Spain. Other productions include Callisto: A Queer Epic at the Arcola Theatre, Iman Qureshi's The Funeral Director with ETT and Papatango, and most recently Dick Whittington at Theatre Royal Stratford East.
Playreadings take place three times a term.
Playreading no. 72
Wednesday 4 March 2020 - Spring Daughter by Isla van Tricht
Playreading no. 73
Wednesday 25 March 2020 - Risk Assessment by Conny Templeman
Women@RADA 100 playreadings take place three times a term in the RADA Bar.
All playreadings have at least 50% female cast and creatives. They are free to attend, but please reserve a ticket online to secure your seat. There are a limited number of tickets available on the door.
Women@RADA is a grassroots collective that supports the creativity of women across the theatre industry and explores ways to promote gender parity.