Women@RADA 100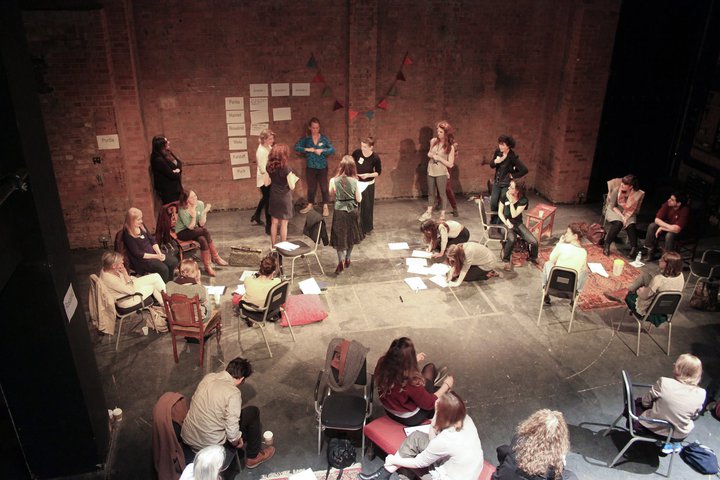 The Women@RADA 100 is a programme of rehearsed playreadings ranging from classics to current work, which provides opportunities for actors, writers and directors to share work and create new collaborations.
Wednesday 13 June
written and directed by Emily Jenkins

"Out back by the fields is the old folly – bright stone barbed wire and buttercups... this is where Bobby and Amy used to play."
It's the late nineties. This is a world of Take That, Tamagotchis, Dib Dabs, Hubba Bubba and Pog swaps; where cows and sheep dot across the fields and the sun always shines.
When Bobby and Amy meet age 13 – across the fields by a very special folly – they form a life-long and unusual friendship. Facing bullies, hostile families and eccentric townspeople, it's Bobby and Amy against the world.
But then, one day, the fields are taped up... and nothing in their sleepy Cotswold town will ever be the same again.
Bobby & Amy is a comic, multi-roling two-hander about a boy and girl growing up amongst the devastation that faced the farming community in the late 90s.
Emily Jenkins is a Fringe First Award-winning writer, director and Shakespeare coach.
Her first play Rainbow won a Fringe First Award, and she has since written for Paines Plough and Traverse Theatre, and attended the Royal Court Young Writers and Studio Programmes. Her most recent play COOKIES was directed by Olivier-nominated director Anna Ledwich and produced at the Theatre Royal Haymarket in London's West End.
She is currently under commission with Paines Plough, writing a new play for Roundabout 2019.
Emily is also a Shakespeare coach working at Shakespeare's Globe for Globe Education and has worked on numerous Globe productions. Until 2017, she was Head and Chair of the prestigious Poel Event – an annual Shakespeare training course for professional actors at the National Theatre. She runs Shakespeare workshops for organisations such as The Actor's Centre and Spotlight, and regularly teaches and directs at LAMDA.
As a director she has worked at venues such as the Bush Theatre, Southwark Playhouse and Royal and Derngate Theatre. For more info go to www.emilyjenkins.co.uk
Women@RADA 100 playreadings take place fortnightly during term time in the Club Theatre at RADA Studios.
All playreadings have at least 50% female cast and creatives. They are free to attend, but please reserve a ticket online to secure your seat. There are a limited number of tickets available on the door.
Women@RADA is a grassroots collective that supports the creativity of women across the theatre industry and explores ways to promote gender parity.