TUBESONG by Tom Edward Kane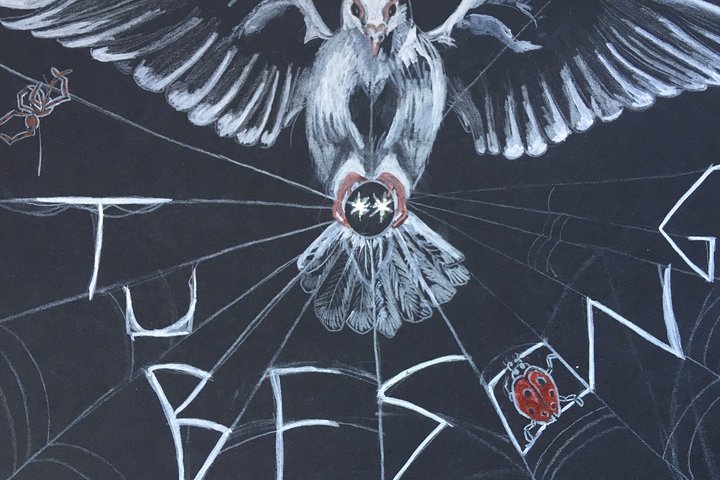 A RADA Festival commission in association with HOME, Manchester.
How far will one Dove go to find it's mate? Or a Spider, to find it's friend?
In a world where day and night are lit as one,
beneath the same ultraviolet lights,
and metallic serpents haunt the tunnels in the very aspect, of long,
forgotten gods can be heard the TUBESONG.
In which that often overlooked wonder of this modern age, the London Underground, is washed in the deep lakes of mythology, where religious imagery and rituals of old appear once again in the asking of the age-old questions: Why do we worship? What or who do we worship? And where in the deep tunnels below will we find the reason to carry on?
Available as Pay What You Can starting from £0 on the HOME website. Suggested ticket price £5.
Watch here from 16 July.
Written by Tom Edward Kane
Illustration by Polly Misch
Composed by Luke Brady
Edited by Tyler Forward
Tom Edward Kane is an actor/writer from Enfield in North London and a RADA graduate from 2016. He is incredibly pleased to be working on this project with Polly and Luke after having the idea some three years ago while blissfully unemployed; and is incredibly grateful at being given the opportunity to obsess about mythology through Manchester Home and RADA. On top of this he would like to shout out Miss Katie Pilbeam for being the best teacher he ever had through secondary school, and without whom none of this would have materialised.
Polly Misch is an actor from South East London, who graduated from RADA in 2016 and enjoys drawing the ducks on Sundays. This is her first illustration project and is delighted to be working with Tom Kane, whom she studied with, and would frequently spend lunchtimes sitting in the square drawing pigeons and discussing mythology with Tom in his ever so soothing, booming voice.
Luke Brady is an actor/musician from Dorking, Surrey and a RADA graduate from 2016. He is thrilled to get to work with both Tom and Polly and explore his hand for the first time with narrative composition. At length him and Tom have talked all things mythological, so coming together to collaborate with likeminded contemporaries is a long awaited dream.
Tyler Forward, freshly graduated from RADA. Specialising in visual design collaboration in both lighting and video.