The Laramie Project by Moisés Kaufman and the members of the Tectonic Theater Project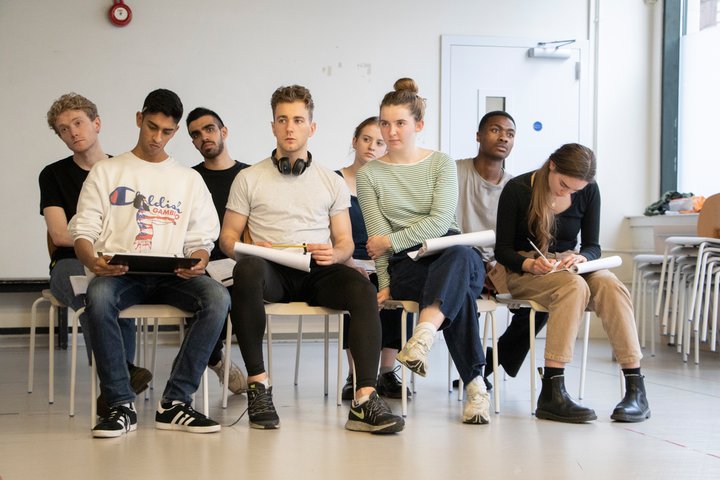 Aftershow Q&A on Monday 25 November
Inspired by true events, Moisés Kaufman's verbatim play confronts the brutal and homophobic murder of Matthew Shepard, which sparked shock and debate in the USA in 1998.
Comprising over 400 interviews gathered over 18 months, Kaufman's ground-breaking play explores the personal tragedy of what became a political turning point in hate crime legislation in America.
Moisés Kaufman created The Laramie Project with members of the Tectonic Theater Project, which he co-founded in 1991. His other works include Gross Indecency: The Three Trials of Oscar Wilde and the Tony-nominated 33 Variations.
Kristine Landon Smith co-founded Tamasha Theatre in 1989. Her work with Tamasha includes the Olivier-nominated East is East, Fourteen Songs, Two Weddings and A Funeral, The Trouble, Child of the Divide and Wuthering Heights. Kristine has taught all over the world, particularly in the UK and Australia.
Please be aware that this production contains: homophobic language, strobe lighting, haze, loud noises and themes of mortality.
Cast in alphabetical
order
Daniel Bowerbank
Greg Pierotti, Sgt Hing, Aaron Kreifels, Minister's Wife, Phil Labrie, Harry Woods, Priest
Leonard Buckley
Moisés Kaufman, Rulon Stacey, Philip Dubois, Roger Schmit, Kristin Price, Dennis Shephard
Omar Bynon
Andy Paris, Jedadiah Schultz, Zubaida Ula, Anon, Andrew Gomez
Elizabeth Dulau
Romaine Patterson, Zackie Salmon, Amanda Gronich, Doug Laws, Dr Cantway, Governor Geringer, Russell Henderson
Scott Gutteridge
Matt Galloway, Jonas Slonaker, Waitress, Jeffrey Lockwood, Mormon Home Teacher
Frankie Hastings
Barbara Pitts, Catherine Connolly, Eileen Engen, Trish Steger, Sherry Aanenson, Jen, Sherry Johnson, Aaron McKinney
Lara Grace Ilori
Marge Murray, Baptist Minister, DJ Shadow, Judge, Conrad Miller, Shannon
Saura Lightfoot Leon
Rebecca Hilliker, Alison Mears, Jon Peacock, Stephen Mead Johnson, Fred Phelps, Bailiff
Gavi Singh Chera
Doc O'Connor, Rob Debree, Stephen Belber, Lucy Thompson
Máiréad Tyers
Leigh Fondakowski, Reggie Fluty, April Silva, Matt Mickelson, Tiffany Edwards, Foreperson
Other parts played by members of the company
GBS Theatre
Royal Academy of Dramatic Art
Malet Street
WC1E 7JN
+44 (0)20 7908 4800
Getting here
By tube
Goodge Street Station: Northern Line 2 minute walk
Euston Square: Hammersmith and City, Metropolitan, Circle Lines
Tottenham Court Road: Central and Northern Lines
Russell Square: Piccadilly Line
By train
You can easily reach us by public transport links from London's major railway stations. The most accessible include Euston, King's Cross / St. Pancras and Waterloo