The Goodies - Live in your Ear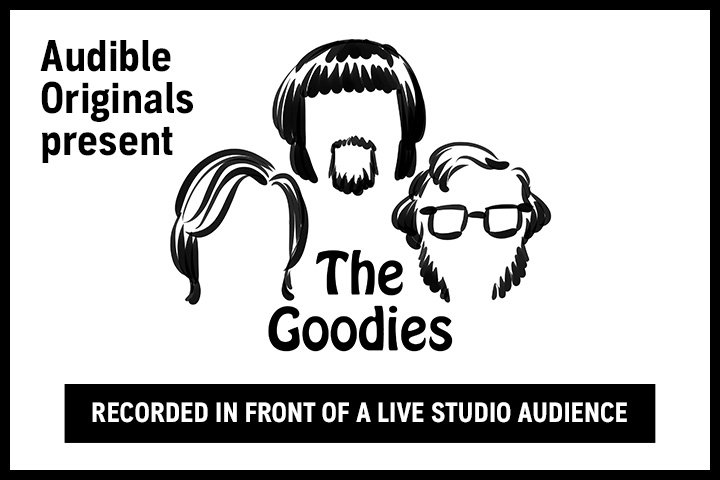 This year… in Britain's hour of need… who can save us? The answer lies behind a Union Jack waistcoat, a pair of bushy sideburns and a shaggy mop of hair.
No, it's not the Duchess Of Westminster...
The Goodies are back!
It's been over 30 years but the Super Chaps Three have finally returned, in a brand new radio-style adventure brought to you by Audible Originals.
Tim Brooke-Taylor, Graeme Garden and Bill Oddie climb back on their tandem, equipped with a fourth saddle for their special guest Joanna Lumley, in a special show which is being recorded for release this year.
As Parliament falls apart and sinister dictators threaten the world, Tim, Graeme and Bill must save the day.
They defeated Kitten Kong!
They stuffed the Funky Gibbon!
They invented Ecky Thump!
Performed live in front of a live studio audience, this hilarious hour of Goodies Goodness is being recorded as a radio show by Audible Originals - and YOU can be a part of it.
Cast and creatives
Starring: Tim Brooke-Taylor, Graeme Garden and Bill Oddie
Special guest star: Joanna Lumley
Featuring: Jon Culshaw, Philip Pope, Kate Harbour, Barnaby Eaton-Jones
Songs by: Bill Oddie
Script by: Gareth Gwynne and John-Luke Roberts, with Graeme Garden and Bill Oddie
Story by: Barnaby Eaton-Jones
Executive producer for Audible Originals: Sam Bryant
Produced by: Barnaby Eaton-Jones
Directed by: Dirk Maggs
RADA Studios
16 Chenies Street
London WC1E 7EX