I am all the rooms of the house by Hester Ullyart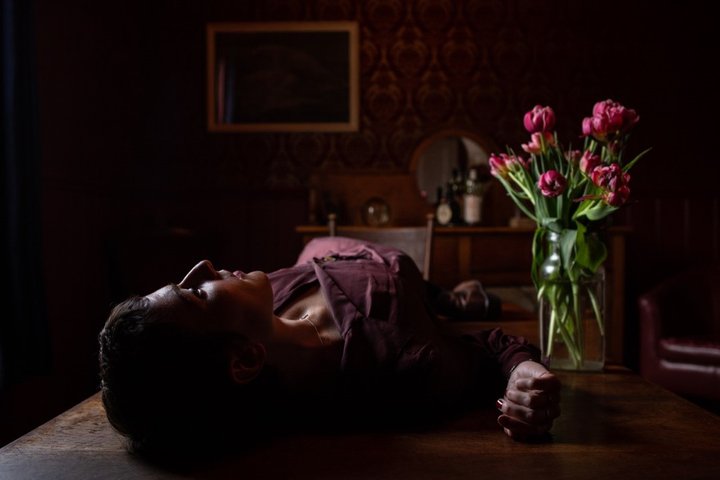 A RADA Festival commission in association with HOME, Manchester.
I am soft water, shallow, still
I am a narrow faucet
If you still tried to turn me on
Baby I'd endorse it
If walls could talk - a lover's lament.
A house speaks its truth in this metaphorical poem by UK writer performer Hester Ullyart, vividly brought to life by composer Anita Clark and director of photography Sabin Holloway.
Love, loss, and reclamation, drop by drop, brick by brick, step by step.
Recorded at the British Hotel, in New Zealand, where Hester is currently in lockdown.
Image credit: Sabin Holloway
Available as Pay What You Can starting from £0 on the HOME, Manchester website. Suggested ticket price £5.
Watch here from 30 July
Written and performed by Hester Ullyart
Composed by Anita Clark
Filmed by Sabin Holloway
With Special thanks to The British Hotel, Lyttelton NZ, Angus and Ruth, Meredith Morton, Darryl Cribb, Bonnie Judkins and Louise Buckingham.
Hester Ullyart is an actress, poet, director and award winning playwright. Born in Hull, East Yorkshire, she graduated RADA in 2011.
She creates full‐length theatre shows, cabaret and spoken word works with spell-binding, shapeshifting central performances. She works in close collaboration with cross-platform artists to bring her multi-disciplinary concepts to life.
Hester's rich character portrayals often unveil the deep intimacies of her protagonists with a rhythmic intent. At turns gritty, magical, musical, vulnerable or explosive, rich worlds are often tackled with the wit of disarming Northern gaze. Deeply inspired by cinema and in love with the tangibility of theatre up close, she oversees all aspects of her independent work.
She is currently based between London, Hull and New Zealand where she has been working on a creative exchange in directing and performance; collaborating with NZ artists such as the avant-garde Free Theatre, country-noir musician Delaney Davidson and the Lyttelton Arts Factory (Director, 'Our Town') where she worked with composer Anita Clark for the first time. Their fertile collaboration is gratefully nurtured further with the RADA Festival commission in association with Home, Manchester of I Am All The Rooms Of The House.
Hester's independent work includes THE BALLAD OF PARAGON STATION (winner 'Stellar Outstanding Content' NZ Fringe, Hull Truck Edinburgh Festival, Heads Up Festival) and PARAGON DREAMS *****Yorkshire Post
Hester's acting theatre credits include A Streetcar Named Desire (The Court Theatre, NZ), Brave Folk (Farnham Maltings), The Butler Dresses Again (LAF NZ), Sweet Bird of Youth (Chichester Festival Theatre), Othello (Stafford Gatehouse Theatre), Blackbird (East Riding Theatre); The Gaul (Hull Truck Theatre), Macbeth (The Orange Tree), Saturday Night and Sunday Morning (Mercury Theatre), Love's Labour's Lost; The Grand Gesture (Northern Broadsides), A Christmas Carol; Sparrow (East Riding Theatre), The Mousetrap UK Tour (Mousetrap productions), Blok/Echo (The Wrestling School at RADA). She represented RADA in the Sam Wanamaker Festival at Shakespeare's Globe.
Hester and Hull Truck Theatre's 'slick and stylish' contemporary thriller 'PARAGON DREAMS' premiered Hull Truck in May 2019.
Follow her at @hesterullyart on twitter and @hestermaryida on Instagram