Hawk by Company Gabrielle Moleta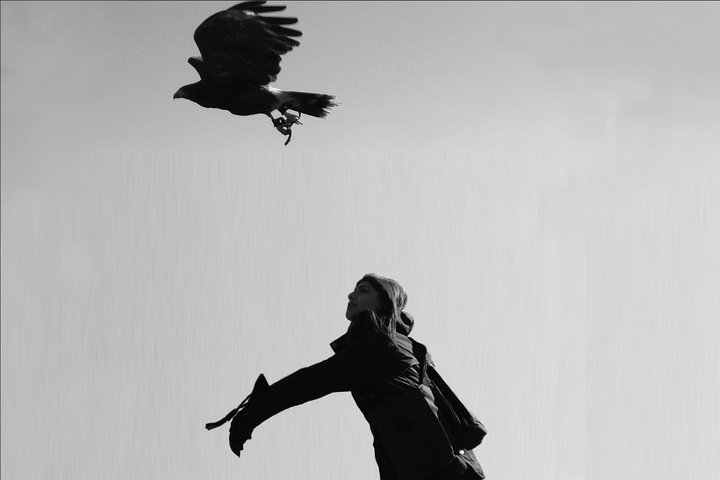 What does it take to train a raptor? Some can do it, some can't. And Brian is not the only one with hawk problems.
What the hooded, non-consenting birds elicit in those who would tame them exposes the tamer as much as the tamed. The strangeness of these wild things enables truths to emerge both from the present and the past. The birds and the humans are foreigners to each other while nurture and love perch uncomfortably alongside shame, abuse, concupiscence and ecstasy.
The hawk/human relationship is central to this piece and the creatures, both human and animal, are extraordinary to behold - beautiful, compelling and strange.
Hawk is innovative in that it uses the actor-training technique of Transformation and Imaginative Improvisation of the unique Copeau-St Denis-Blatchley-Clouzot-Moleta lineage as an intrinsic method for devising. Not merely does it inform the physical development of the actor into the wild creature, transformation into the human, and a richly imaginative physical world, but pivotally, it creates the interwoven stories of this piece.
Anne Pajunen
Timothy Dodd
Matthew Austin
Jamie Fischer
Polly Wiseman (text)
Will Wollen (assistant director)
What else to see in the Festival
Gielgud Theatre
Royal Academy of Dramatic Art
Malet Street
London WC1E 6ED
+44 (0)20 7636 7076
Getting here
By tube
Goodge Street Station: Northern Line 2 minute walk
Euston Square: Hammersmith and City, Metropolitan, Circle Lines
Tottenham Court Road: Central and Northern Lines
Russell Square: Piccadilly Line
By train
You can easily reach us by public transport links from London's major railway stations. The most accessible include Euston, King's Cross / St. Pancras and Waterloo