A Manual of Fantastical Zoology by Tanmay Dhanania and Soumyak Kanti DeBiswas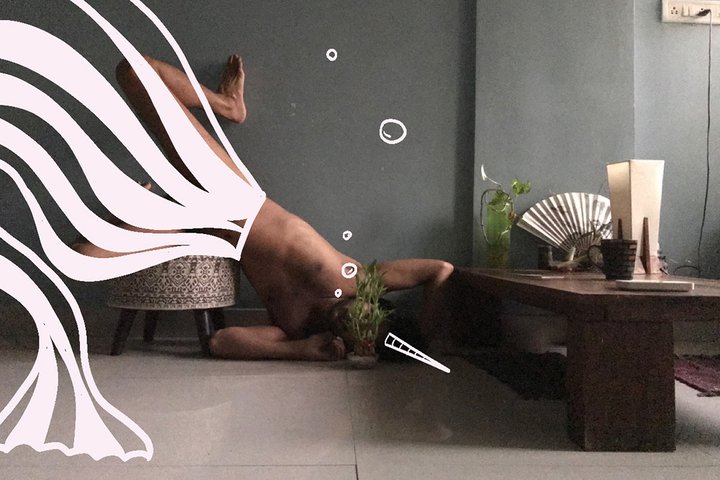 A RADA Festival commission in association with HOME, Manchester.
A Tin Can Show.
In isolation the mind plays tricks on us. Our fragile connection to reality is further strained and unfettered, our fancies run amok. What imaginary beings do we then start inhabiting? What combination of magic, loneliness, madness or intimacy do we experience?
Come find out in A Manual of Fantastical Zoology - a live exploration into the psychology of isolation devised by the company.
Available as Pay What You Can starting from £0 on the HOME website. Suggested ticket price £5.
Watch here LIVE at 2.30pm 18 July.
Artists
Tanmay Dhanania
Bornila Chatterjee
Tanaji Dasgupta
Sumeet Thakur (Live Score)
Risha Shetty (Technology and Graphics)
Directed by Soumyak Kanti DeBiswas
Produced by Tanmay Dhanania & Soumyak Kanti DeBiswas
About Soumyak Kanti de
Biswas
Kanti co-founded Tin Can - a theatre company based in Calcutta in 2005. His work as playwright and director has been supported by British Council, National Theatre Studio, Parthian Books, Seagull Foundation for the Arts, National Theatre Scotland, The Yard Theatre, The Courtyard Theatre and Theatre Royal Plymouth. Awarded Best Director at Thespo X Mumbai in 2008, he acted in two feature films in India: Tasher Desh (dir: Q/2012) and Madly Bangali (dir: Anjan Dutt/2010). In 2012 Kanti graduated from the Royal College of Art London and subsequently created a music club at The Yard Theatre in Hackney Wick. The theatre was awarded the 2013 Empty Space Peter Brook/Mobius Award, the 2014 Off West End Awards. In 2016 Kanti returned to India to write and produce a feature film - 'Cat Sticks', awarded Jury Honourable Mention at Slamdance Festival 2019.
Tanmay Dhanania trained as an actor at the Royal Academy of Dramatic Art. He went on to appear in UK television shows such as New Tricks (BBC), Indian Summers (Channel 4) and The Durrells (itv). He has also acted in and helped produce Indian feature films such as Brahman Naman (Netflix), Garbage (Netflix) and Cat Sticks (MUBI). He has performed or taught theatre in the UK, the US, Ireland, Sri Lanka as well as India. Tanmay was awarded the Mask and Dagger Award for Extraordinary Contributions to Theatre from the University of California at Berkeley. He has been associated with Tin Can since 2008. Tanmay is from Calcutta and currently lives in Bombay, by the sea.
Production images
A selection of images from the production which will be performed live on Saturday 18 July and will be available to watch after the live show on the HOME website.