My Darling Christopher by Hot Coals Theatre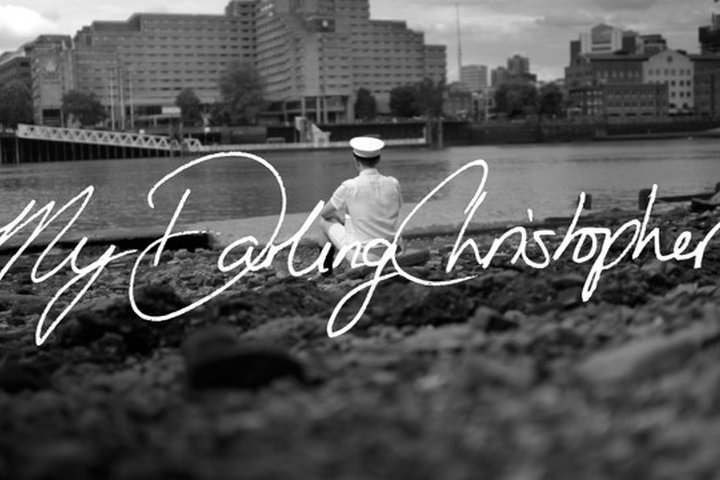 A RADA Festival commission in association with HOME, Manchester.
Based on the true story of Clive, who, as a young boy at the outbreak of The 2nd World War, contracted Meningitis and lost both his sight and his hearing.
Clive is now 15 years old and attending Goring School, having been evacuated from Margate School for the Deaf. Clive's father, away serving in the Navy receives a heartfelt letter from his wife, Dorothy. As Christopher reads the letter English, BSL and Visual Vernacular interweave to tell the shocking story of a war plane crashing to the ground meters away from Clive's classroom.
My Darling Christopher is an exploration as part of a larger project to create a full theatre production entitled A New Way of Life. This wider production, which has been put on hold due to recent lockdown measures, follows Clive's story as he navigates life through the war and through his sight and hearing loss, attending Deaf Schools, learning Sign Language and learning a new way to communicate with his beloved mother, Dorothy.
The piece will use a unique theatrical language that is highly visual and inclusive, combining spoken English, British Sign Language and Visual Vernacular.
Available as Pay What You Can starting from £0 on the HOME website. Suggested ticket price £5.
Watch here from 16 July.
Hot Coals Productions
Written by Jo Sargeant & Clare-Louise English
Directed by Clare-Louise English
Christopher: Robin Paley Yorke
Clive: William Grint
Pilot: Brian Duffy
Dorothy: Jo Sargeant
Deaf Dramaturge: Stephen Collins
Director of Photography: David Monteith-Hodge
Additional Filming: Teresa Garratty
Editor: Timothy Kelly
Assistant Editor: Tyler Forward
Music: Chris Drohan
Costume: Jo Sargeant
Runner: Teresa Thornber-Mann
On set Interpreter: Erin Hutching
With special thanks to:
Arts Council England
Theatre Deli
Clive Davis
Hot Coals Theatre was founded in 2012 by alumni of the acclaimed MA Theatre Lab at RADA, Clare-Louise English & Jo Sargeant and their patron is Caroline Parker MBE.
Hot Coals combine physical theatre, clowning and mask to create their own unique, highly visual theatre. It is Hot Coals' mission to create visual theatre accessible to both hearing and d/Deaf audiences in a shared experience.
Previous productions: Storm in a Teacup, Finders Keepers and Knock Knock have all toured the UK and received critical acclaim. Hot Coals currently have two theatre productions in development and have enjoyed their first foray into film-making!