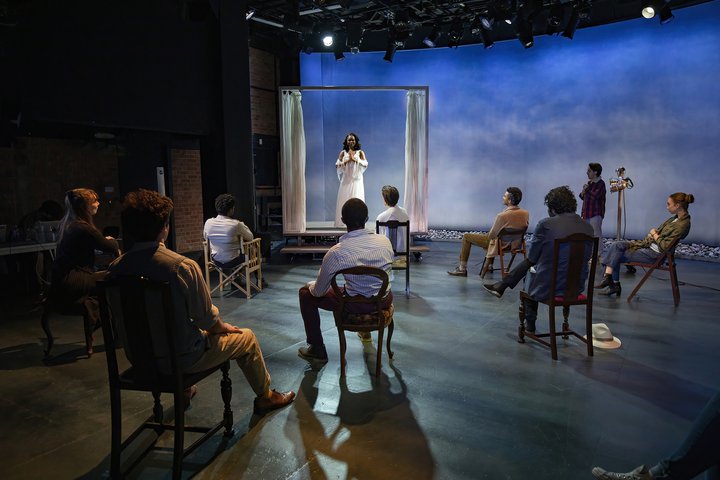 RADA exists to realise dramatic potential. We are dedicated to world-leading training in the dramatic arts. Craft, openness, rigour and collaboration are at the heart of what we do.
We pride ourselves on the exceptional standard of our teaching, tailored to the needs of each student. As an academy, we set the standards for training as well as the expectations of a creative community of learners.
We seek to train the most talented individuals. Our student population is a diverse community, united by a shared passion for theatre-making. Students come from all over the UK and the world to study with us.
We are proud to play an essential role in the UK's £116 billion creative industries and we have an impressive track record of graduate employment in theatre, film, television and radio. Many of our graduates are award-winners and leaders in their fields: actors; directors; writers; producers; lighting, sound and costume designers; prop makers; scenic artists; stage managers; production managers, and many others.
We have maintained strong links with the performing arts industries since we were founded in 1904, and have built an outstanding reputation as a world-renowned centre of excellence.
We have an ambitious strategy to encourage students from all circumstances and backgrounds to come to RADA. We are making change happen, and we want to do much more.
We also create opportunities for a wider community to engage with our training, through our short courses and our access and participation work.
Excellence
We audition and interview around 4,500 applicants each year for just 64 undergraduate places
Every student receives at least 35 hours of teaching each week
Our NSS average student satisfaction over the past three years is 95%
We are defined by government agencies as a world-leading institution
Diversity and inclusion
An average of 50% of undergraduate students receive financial support from RADA
Black and Global Majority students make up 36% of our BA Acting course
Funding
Less than 60% of the costs of training each student are covered by student fees and government grants. We need to raise £9,000 per student per year on top of the money we receive
Therefore 40% of our income is self-generated