Youth Company: Acting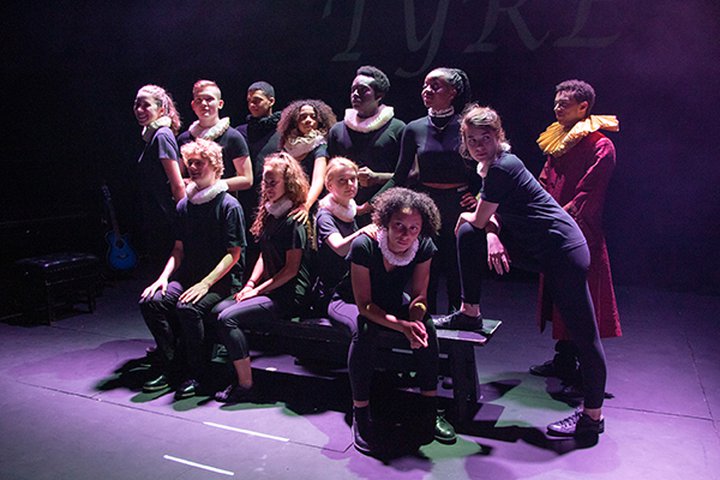 Part of our widening participation and outreach work, this is a year-long drama course taking place on Saturdays that gives young people aged 16-20 the opportunity to experience actor training and perform on RADA's main stage.
Working collaboratively with the Youth Company: Theatre Production and as part of a supportive group of 16 like-minded acting members RADA's Youth Company: Acting creates the space for members to get creative and analytical.
You will learn a range of acting techniques and skills that reflect our intensive classical training.
Term one: focus on skills-work; acting techniques; voice and movement.
Term two: apply these methods to text-based work.
Term three: rehearse for your public production that takes place in the Jerwood Vanbrugh Theatre.

Sessions are led by RADA faculty and Youth Company Director Phil Sheppard with specialist workshops from other RADA tutors, guest directors and theatre companies.

The 2019/20 dates are as follows:
Workshop audition dates
Saturday 14 September, 10am – 5pm
Sunday 15 September, 10am – 5pm
Monday 16 September, 4pm – 9pm
Autumn term
Saturday 28 September to Saturday 7 December (11 weeks)
10am – 1pm and 10am – 5pm on certain dates (these will be communicated during the course)
Spring term
Saturday 11 January to Saturday 21 March (11 weeks)
10am – 1pm and 10am – 5pm on certain dates (these will be communicated during the course)
Summer term
Saturday 2 May to Saturday 18 July, 10am – 5pm
Pre-production week
Monday 20 July to Friday 24 July
Production week
Monday 27 July to Friday 31 July
Performances
Friday 31 July (one performance), Saturday 1 August (two performances)
How to apply
Due to the current situation we are reviewing when we will open applications for the Youth Company: Acting for 2020-21.
This course is for:
people who do not already have a degree
people who are currently not in higher education
The types of things you will learn:
practitioner methods (including Stanislavsky and Meisner)
text work - how to work with texts, both classical and modern
voice work - including projection, articulation, clarity of speech, and how to use the breath to support the voice
movement - in particular how the work of movement practitioner Rudolf Laban can enhance an actor's work.
improvisation
devising methods
Alexander Technique
stage combat
acting for camera


Frequently asked questions
Who is the programme

for?

Participants are young people, aged 16 -20, who have not yet been to university or another higher education programme. You might still be at school or college or already have left. It's really about giving an opportunity to someone who might be interested in pursuing drama or thinking about actor training. This will give you a good grounding but also let you explore whether it's the right thing for you.

We especially encourage applications from people who might not have had much opportunity to do lots of drama. We are prioritising people who are under-represented within the creative industry and in higher education, so students from black, Asian, minority ethnic (BAME) backgrounds, lower-income families, disabled students, care leavers/looked after children.

Whatever your circumstances, we expect full commitment to the programme: attending every week, on time and participating.

How often does the Youth company: acting

meet?

We meet on Saturdays during term time, over a year. Production weeks will be from 20 July to 1 August, culminating in two performances at RADA in the Jerwood Vanbrugh Theatre on Saturday 1 August 2019
How will I be

selected?

Each year sixteen Company members aged 16 - 20 are selected from a series of short workshop auditions that are held at RADA over a weekend in September. You will not need to prepare a speech.

Will I get to

perform?

Yes! The course culminates at the end of the Summer term in a public performance of a classical play in RADA's Jerwood Vanbrugh Theatre.
In 2017 the youth company performed The Tempest by William Shakespeare.