Youth Company: Acting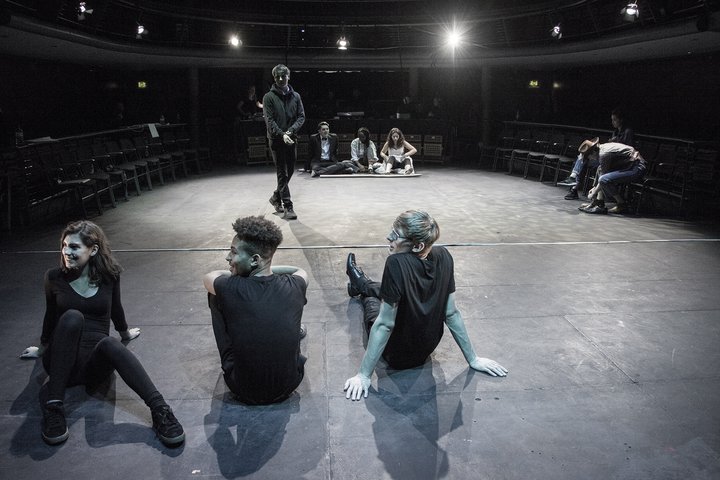 A year-long drama course that gives young people aged 16-20 the opportunity to experience actor training and perform on RADA's main stage.
Working together with the Youth Company: Theatre Production and as part of a supportive group of 16 acting members you will learn a range of acting techniques and skills that reflect our intensive classical training.
Term one: focus on skills-work; acting techniques; voice and movement.
Term two: apply these methods to text-based work.
Term three: rehearse for your public production that takes place in the Jerwood Vanbrugh Theatre.

Sessions are led by RADA faculty and Youth Company Director Phil Sheppard with specialist workshops from other RADA tutors, guest directors and theatre companies.

2018/19 term dates are as follows:
Autumn: Saturday 29 September - Saturday 8 December (11 Weeks)
Spring: Saturday 5 January - Saturday 16 March (11 weeks)
Summer: Saturday 4 May - Saturday 20 July (13 weeks)
Production weeks
Monday 22 July - Friday 2 August 2019
Production dates
Friday 2 August at 7pm and Saturday 3 August at 2pm and 7pm.
How to apply
Make sure you have taken the following steps to complete your Youth Company: Acting application
Download and complete an application form
Attach a passport size photograph
Include a letter of recommendation from a teacher or youth leader
Complete an equality and diversity monitoring form
Post your completed form to Amina Abdillahi, RADA, 62-64 Gower Street, London WC1E 6ED United Kingdom
The types of things you will learn:
practitioner methods (including Stanislavsky and Meisner)
text work - how to work with texts, both classical and modern
voice work - including projection, articulation, clarity of speech, and how to use the breath to support the voice
movement - in particular how the work of movement practitioner Rudolf Laban can enhance an actor's work. of movement practitioner Rudolf Laban can enhance an actor's work.
improvisation
devising methods
Alexander Technique
stage combat
acting for camera


Frequently asked questions h2>
Who is the programme

for?

Participants are young people, aged 16 -20, who have not yet been to university or another higher education programme. You might still be at school or college or already have left school. It's really about giving an opportunity to someone who might be interested in pursuing drama or thinking about actor training. This will give you a good grounding but also let you explore whether it's the right thing for you.

We especially welcome applications from people who might not have had much opportunity to do lots of drama at school and people who might be under-represented within the acting profession and in higher education (so students from BAME backgrounds, lower-income families, disabled students, care leavers/looked after children). The opportunity is free if you meet our criteria (see 'What financial support is available?').

Whatever your circumstances, we expect full commitment to the programme: attending every week, on time and participating.

What financial support is

available?

A number of scholarships available.

Free places are given to Youth Company members from households earning less than £25,000 per year, looked after children and care-leavers. You will have the opportunity to apply for a scholarship if you are from a family income of less than £42,000 and in need of financial support. A limited number of travel bursaries are also available for those who need help getting to us.

You will have the opportunity to apply for a free place, scholarship or travel bursary once you have been accepted on the course. All support provided is confidential, so we won't tell anyone else that your place is being supported, unless you want us to.
How often does the Youth company: acting

meet?

We meet on Saturdays during term time, over a year. Production weeks will be from 22 July to 2 August, culminating in two performances at RADA in the Jerwood Vanbrugh Theatre on Saturday 3 August 2019

How will I be

selected?

Each year sixteen Company members aged 16 - 20 are selected from a series of short workshop auditions that are held at RADA over a weekend in September. You will not need to prepare a speech.

Will I get to

perform?

Yes! The course culminates at the end of the Summer term in a public performance of a classical play in RADA's Jerwood Vanbrugh Theatre.
In 2017 the youth company performed The Tempest by William Shakespeare.