Acting for Young Actors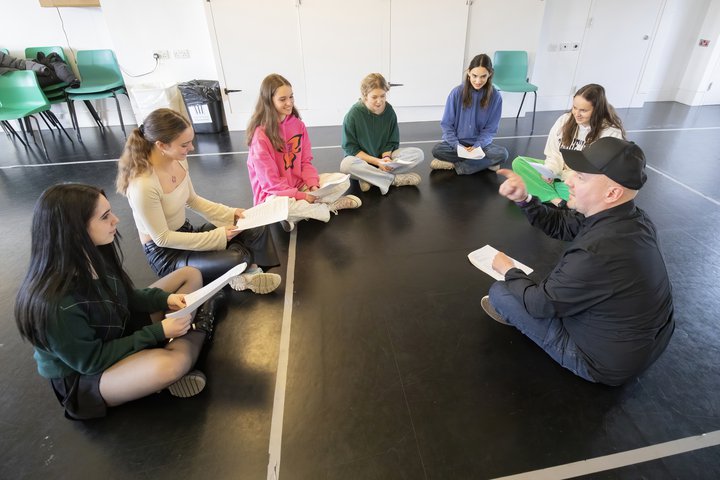 Acting for Young Actors is a programme designed to stretch your abilities and widen your experience. There are four different courses to choose from, each costing £910.
If you are thinking of applying to drama school, or you have a more general interest in theatre and storytelling, this course will challenge your skills and give you a taste of classes at a leading drama school. Under the guidance of RADA's expert faculty, you will gain confidence, find your voice, and deepen your understanding of acting and playmaking.
Please note, our courses do not offer explicit or direct advice on audition technique for drama school entry.
Who are these courses suitable for?
Younger actors who may not have any prior experience
Those who wish to learn more about Shakespeare, stage presence, contemporary text or devising
Those wanting learn to develop their movement and voice
Exploring Shakespeare
Do you struggle with Shakespeare? Do you wish you could better understand and start to enjoy his work? On this course, you will feel his words come alive when you stand up and speak them, discovering how his vivid characters are passionately engaged in complications of heart and head. In addition to working on scenes, monologues and sonnets, you will have classes in voice, physical performance, singing, stage fighting, and choral speaking sessions.
Stage Presence
How do you unlock your acting abilities and learn to move freely and make yourself heard on a stage? This course will supply you with the tools to become dynamic in 'the space'. There are classes in Voice, Physical Performance, Storytelling, Meisner Technique, Choral Speaking, and Stage Combat; plus, the exhilarating rehearsal of a Shakespeare Crowd Scene.
Contemporary Text
How can the complex issues of today be distilled into stories that enlighten and entertain? Here you will discover how the theatre of today reflects the world around us; and how your own experience transmits to the work in question. In addition to Text Study, working on monologues and scenes from suitable plays written for young actors, you will have classes in Voice, Physical Performance, Dance, and Stage Combat.
Devising
Collaboration is an essential element of theatre practice. In this course, work to create a piece of theatre on a theme chosen by your group. You will have sessions on Story Development, Research and Structure, and an Introduction to Playwriting, as well as classes in Voice and Physical Performance.
This course prepares students for the demands of AS and A-level, both of which have a strong collaborative element.
Course dates

Exploring Shakespeare
11 – 15 April 2023, Tues – Sat 9.30am – 6pm
24 – 28 July 2023, Mon – Fri 9.30am – 6pm
Stage Presence
11 – 15 April 2023, Tues – Sat 9.30am – 6pm
24 – 28 July 2023, Mon – Fri 9.30am – 6pm
Contemporary Text
11 – 15 April 2023, Tues – Sat 9.30am – 6pm
31 July – 4 Aug 2023, Mon – Fri 9.30am – 6pm
Devising
31 July – 4 Aug 2023, Mon – Fri 9.30am – 6pm

Entry requirements
No selection: There is no selection process for this course, if you feel this course is suitable for you and have read all the information on this webpage, then please proceed to booking.
Participants must have fluent, confident use and knowledge of the English language.
Participants must be aged between 16 and 18 at the start of the course. Students aged 16 or 17 will need additional permission from a parent or guardian. Please see relevant section on the application form.
What are the Terms and Conditions of my
booking?
Will there be anything I need to prepare before the course
starts?
Exploring Shakespeare: you will need to select and prepare a monologue from a Shakespeare play.
Stage Presence: you will need to select and prepare a monologue from a classical or from a contemporary piece.
Contemporary text: you will need to select and prepare a monologue from a contemporary piece.
More information will follow closer to the start of the course.
Is there any work to do outside of class
time?
Participants will be encouraged to undertake some further personal preparation work after classes and outside of RADA.
What's included in the
fee?
The fee covers the cost of your tuition for the times advertised above and any materials essential to the course (and not specified here as materials you need to provide yourself). The fee does not include any meals or accommodation.
What materials or equipment do I
need?
You need to wear loose clothing that you can move in freely.
I have a disability or access requirement – can reasonable adjustments be
made?
We are able to make reasonable adjustments to our training where possible. Many of our courses are highly practical. Most involve movement and some may include work on the floor. You may also be asked to read from various texts. If you have access requirements and/or require more information on access and facilities in our RADA buildings, please email shortcourses@rada.ac.uk
Are there any funding or payment plans
available?
There are no RADA Scholarships available for Short Courses. We cannot offer payment plans, and full payment is required to secure your place on a course.
Can RADA provide
accommodation?
We are unable to provide accommodation for RADA Short Courses.
Please note that in the event of cancellation, RADA can accept no liability for any costs you may already have incurred; and we strongly recommend you purchase insurance cover for any travel or accommodation booked before the start of the course.
Will I get a certificate at the end of the
course?
Yes. A Certificate of Completion is available for this course. Certificates are awarded to students who had no unexcused absences or lateness and operated within the obligations laid out in the Terms and Conditions.
Does the course count towards University
credits?
There are no University Credits associated with this course.
What is the attendance
policy?
Our attendance policy can be read within our Terms and Conditions. 100% attendance and punctuality are expected for all classes.
How do I register for an in-person
course?
You will be providing most of the information we need when you fill in your application form or information form.
On the first day of your course, you will be asked to arrive at RADA up to 30 minutes before the start of your first session, and you need to bring a copy of your passport, and, if applicable, evidence of your right to join a short course in the UK.