Dynamic Acting for Young Actors: Online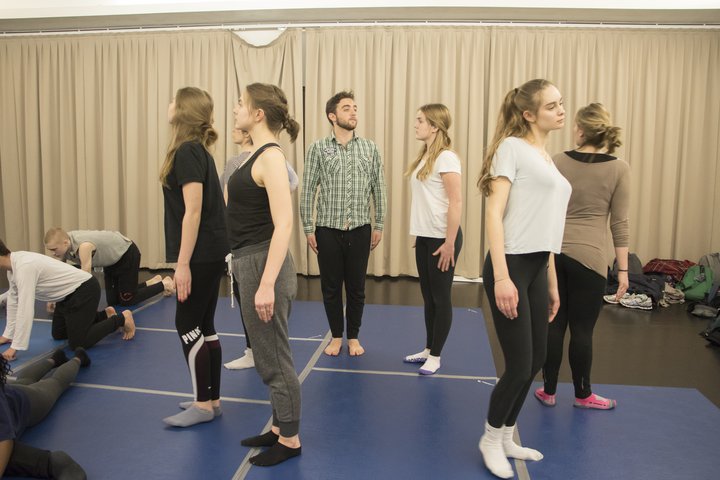 Dynamic Acting for Young Actors is a programme of three courses designed to stretch your abilities and widen your experience. Each course costs £650.
Maybe you are thinking of applying to drama school, or perhaps you have a more general interest in theatre and storytelling: either way, prepare to be challenged by spending a week gaining a taste of classes in a leading drama school. Under the guidance of RADA's expert faculty, you will gain physical confidence, vocal assurance; and deepen your understanding of acting and playmaking.
Stagecraft: Basics of Performing - £650
Tuesday 6 - Saturday 10 April (applications closed)
What do you do on a stage? How do you stop feeling self-conscious, learn to move freely and make yourself heard there? What about getting those lines in your head?
This unique course gives you the confidence to unlock your acting.
You will work on topics including:
Voice
Physicality
Line Learning
At the start of the week, your acting tutor will select a speech just for you.
Play for Today: Contemporary Text - £650
Monday 19 - Friday 23 July
How can the complex issues of today be distilled into stories that enlighten and entertain? 
Here you will discover new elements of yourself as an actor, and how the theatre of today reflects your world. 
In addition to Contemporary Text Rehearsal, working on scenes from suitable plays written for young actors, you will have classes in Voice, Physical Performance, and Acting Out (Modern Theatre and Society).
Telling Tales: Devising - £650
Monday 2 - Friday 6 August
When you are devising your own play – how do you start? What is it to be about?
Collaboration is an essential element of theatre practice; and here you will work to devise two unique pieces of theatre, one with words and one without, on a theme that your group determines at the start of the week. There are also classes in Voice and Physical Performance. 
While this course is useful for students undertaking AS and A-level Drama, (both of which have a strong devising element) it will engage anyone with an interest in just what makes a play 'tick'. 
Students must be aged 16 at the start of the course. There is an upper age limit of 18. Students between the ages of 16 and 17 will need additional permission from a parent or guardian. Please see relevant section on the application form.
Fluent, confident knowledge of the English language is essential.
Please note, our courses do not offer explicit or direct advice on audition technique for drama school entry.
The Dynamic Acting for Young Actors courses are not a casual undertaking: complete and consistent commitment to punctuality, discipline and preparation is required from every student.
Please remember that this is a physically demanding course. While any specific needs will be taken fully into account, participants must be reasonably fit. 
Hours
Classes will take place between 2 and 7pm.
Attendance is monitored, and is not optional. A certificate stating the minimum number of contact hours is awarded on successful completion of each course.
Please note: All courses are non-refundable and non-transferable.
All classes begin promptly and latecomers may not be admitted.
Even though we're working through screens, participants should wear loose and comfortable clothing and be prepared to remove their shoes.
In line with academy policy, please note that no recordings of online courses will – or may – be made.