Dynamic Acting for Young Actors: Online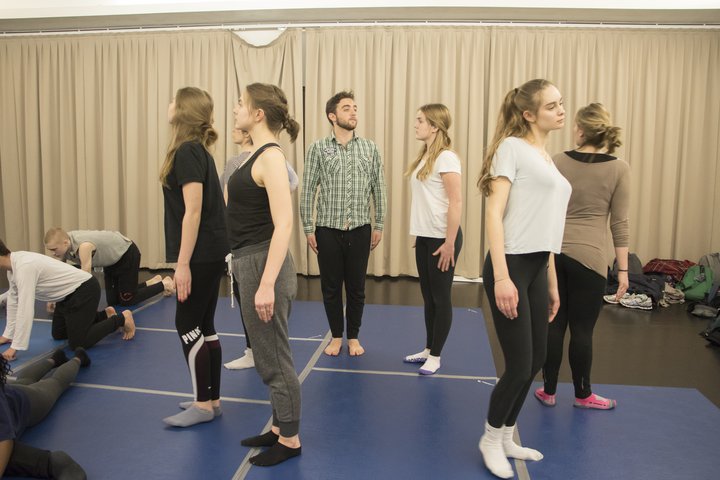 Prepare to be challenged by spending a week gaining a taste of classes in a leading drama school. Under the guidance of RADA's expert faculty, you will gain physical confidence, vocal assurance; and deepen your understanding of acting and playmaking.
Maybe you are thinking of applying to drama school, or perhaps you have a more general interest in theatre and storytelling: either way, these rigorous courses, are designed to stretch your abilities and widen your experience.
But please note, our courses do not offer explicit or direct advice on audition technique for drama school entry.
Entry requirements
Students must be aged 16 at the start of the course. There is an upper age limit of 18
You are not asked to audition, but you need complete the questionnaire on the application form, giving information about your experience (or otherwise) of acting. Fluent, confident knowledge of the English language is essential.
Hours of work
Classes will take place between 2 and 7pm. Attendance is monitored, and is not optional. A certificate stating the minimum number of contact hours is awarded on successful completion of each course.
Dynamic Acting for Young Actors is not a casual undertaking: complete and consistent commitment to punctuality, discipline and preparation is required from every student.
What to bring
Further details will be sent once you have been accepted onto the course/courses.It is important to note that the Academy does not accept responsibility for students beyond the scheduled teaching hours. Parents or guardians are advised to provide adequate supervision outside of timetabled hours.
2021 dates are to be confirmed.
Frequently asked questions and terms and conditions
Can RADA help me to find
accommodation?
Accommodation is not provided for this course.
What is the cancellation
policy?
Once you are accepted onto the course - you will receive full details of our cancellation policy.
Once payment has been made, it is strongly recommended that all students insure themselves to cover the loss of fees in the event of illness, for which the Academy cannot accept any liability.
Rules and regulations of the
Academy
All students must undertake to adhere to the General Rules and Regulations of the Academy. The Academy's Director or Course Director shall, at their absolute discretion, have the right to terminate the course in respect of any student whose presence or conduct is in contravention of the same.
Friends or other persons who are not officially enrolled are not permitted to sit in on classes, rehearsals or presentations.
Students must understand, conform and adhere to the Academy's Health and Safety Procedures and Policies.
All students are expected to wear the correct and appropriate clothing for each class.
Students are expected to maintain a professional standard of dress and hygiene at all times.
Fees are non-returnable once a student has started a course.
Photography or recording of any kind is strictly prohibited in the classroom areas without permission from the Academy's staff.
RADA does not discriminate against applicants on the grounds of sex, disability, ethnicity or sexuality. We welcome applicants from disabled people and offer places solely on the basis of potential and suitability for the course. The school is mainly housed in a newly-refurbished building which provides good access for wheelchair users.
Decisions made by the Academy regarding the selection of instructors, the allocation of students to study groups, the material for that study group and any roles allocated are final and not open to negotiation.
It is strongly recommended that students insure themselves to cover any medical or transport costs and loss of fees in the event of illness or accident for which the Academy cannot accept any liability.
If, for reason of epidemic or national crisis, the Academy is compelled to close during the course, no fees can be returned or compensation be made for any period of tuition that may have been lost through the Academy's inability to carry on its work.
It is important to note that the Academy does not accept responsibility for students beyond the scheduled teaching hours on the RADA premises. These are Monday to Friday 9am to 6pm. Parents are therefore advised to ensure that adequate supervision of activities undertaken in the evening and at weekends is provided, as appropriate, during the duration of the course.