Close Encounters: an Introduction to Combat for Stage and Camera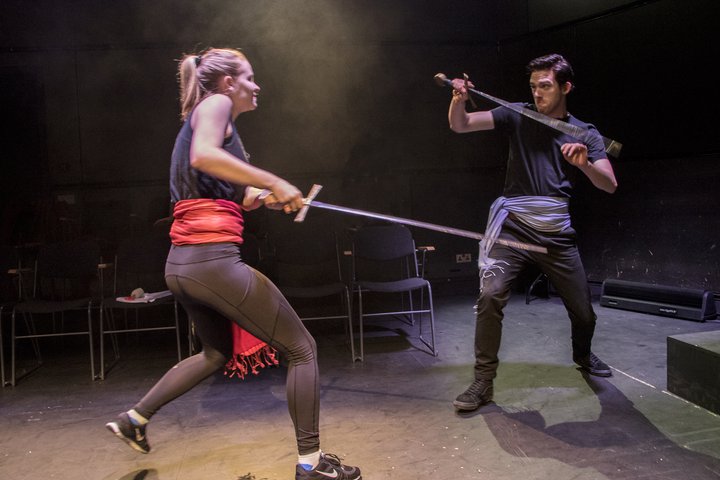 This exhilarating course offers a distinctly hands-on taste of combat for theatre and film. Don't worry if you have little or no experience, RADA's skilled instructors will guide you safely through each stage.
You start by working on a Knife Duel, and the result is filmed and edited. Next you take up swords in a Massed Battle. Finally you work on Unarmed Combat.
At the end, you have the chance to take part in a live presentation before a small invited audience, and watch the world-première screening of your Knife Duel.

Entry requirements
18+. There is no upper age limit.
A good general level of fitness is required, as well as a readiness to learn very small sections of text. While differing abilities are welcome, all applications are scrutinised for suitability.
The course is active and participatory, and appropriate for any level of experience and ability.
Hours
The course runs from 10am to 6pm.
Applications are now closed.
Frequently asked questions and terms and conditions
Does the course count towards university
credits?
There are no University Credits associated with this course.
Can RADA help me to find
accommodation?
Accommodation is not provided for this course.
What is the cancellation
policy?
The application form contains full details of our cancellation policy.
It is strongly recommended that all students insure themselves to cover the loss of fees in the event of illness, for which the Academy cannot accept any liability.


Rules and regulations of the
Academy
All students must undertake to adhere to the General Rules and Regulations of the Academy. The Academy's Director or Course Director shall, at their absolute discretion, have the right to terminate the course in respect of any student whose presence or conduct is in contravention of the same.
Friends or other persons who are not officially enrolled are not permitted to sit in on classes, rehearsals or presentations.
Students must understand, conform and adhere to the Academy's Health and Safety Procedures and Policies.
All students are expected to wear the correct and appropriate clothing for each class.
Students are expected to maintain a professional standard of dress and hygiene at all times.
Fees are non-returnable once a student has started a course.
Photography or recording of any kind is strictly prohibited in the classroom areas without permission from the Academy's staff.
RADA does not discriminate against applicants on the grounds of sex, disability, ethnicity or sexuality. We welcome applicants from disabled people and offer places solely on the basis of potential and suitability for the course. The school is mainly housed in a newly-refurbished building which provides good access for wheelchair users.
Decisions made by the Academy regarding the selection of instructors, the allocation of students to study groups, the material for that study group and any roles allocated are final and not open to negotiation.
It is strongly recommended that students insure themselves to cover any medical or transport costs and loss of fees in the event of illness or accident for which the Academy cannot accept any liability.
If, for reason of epidemic or national crisis, the Academy is compelled to close during the course, no fees can be returned or compensation be made for any period of tuition that may have been lost through the Academy's inability to carry on its work.
It is important to note that the Academy does not accept responsibility for students beyond the scheduled teaching hours on the RADA premises. These are Monday to Friday 9am to 6pm. Parents are therefore advised to ensure that adequate supervision of activities undertaken in the evening and at weekends is provided, as appropriate, during the duration of the course.