Advanced Scene Study for Actors: Online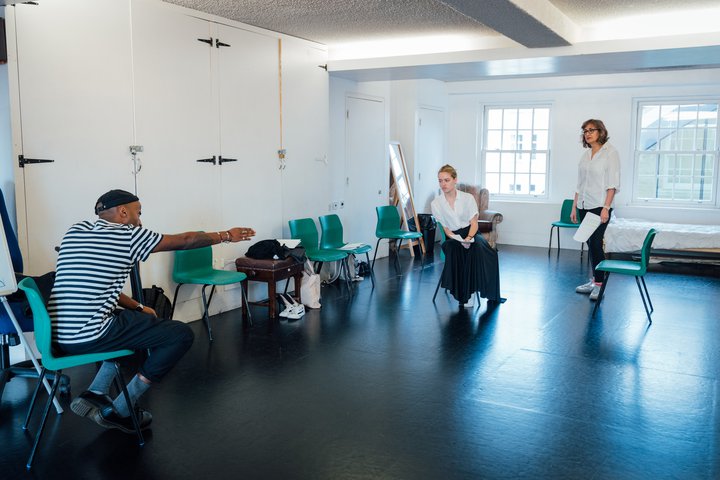 Develop stronger rehearsal methods and consolidate your acting technique through in-depth work on scenes.
This 10-week course is a more advanced and intensive form of Scene Study for Actors and is aimed at those with a higher level of experience. It is particularly suitable for those who have previously completed one of our other 10-week courses.
Building on the basic principles of practitioners such as Constantin Stanislavski and Sanford Meisner, you will work both collectively and in small groups to analyse and rehearse specific scenes from various texts, culminating in a sharing of the scenes you have prepared.
Some preparation/reading will be required between classes.
Part of our Text & Craft series of courses.
Entry requirements
Most suited to those who have completed one other 10-week/intensive course.
Applicants have to be 20+. There is no upper age limit on this course.
Who is this course suitable for?
Actors who are fairly confident in performing.
Actors or directors looking for new approaches.
Those wishing to improve audition/interview skills or who work in 'speaking professions'.
Choose from:
29 Sep - 01 Dec 2022 (Thursday evenings, 6.30pm - 9.30pm)
Or
1 Oct - 03 Dec 2022 (Saturday afternoons, 2pm - 5pm)
Your booking confirmation will be sent by email. There is no box office collection available. If you have questions relating to your booking, please email boxoffice@rada.ac.uk.
After booking, please then submit an information form to us here so that we can find out a bit more about you.
Prior to the class, you will be contacted with login details, along with any specific text, materials or instructions as required.
Please note: all courses are non-refundable and non-transferable. Due to the structure of the course, full attendance is required.
Frequently asked questions
Will I get a certificate at the end of the
course?
No. A Certificate of Completion is not available for this course. At the discretion of RADA Short Courses, a letter or email may be available, providing attendance has been fulfilled, and the student has adhered to Rules and Regulations of the Academy (see below).
Does the course count towards university
credits?
There are no University Credits associated with this course.
What is the cancellation
policy?
All courses are non-refundable and non-transferable. Once payment has been made, it is strongly recommended that all students insure themselves to cover the loss of fees in the event of illness, or accident for which the Academy cannot accept any liability.
What are the Rules and Regulations of the
Academy?
By participating in the course you undertake to conform to the General Rules and Regulations of the Academy.
Students must understand, conform, and adhere to the Academy's Health and Safety Procedures and Policies.
The Academy's Principal or Course Director shall, at their absolute discretion, have the right to terminate the course in respect of any student whose presence or conduct is in contravention of the same.
All courses are non-refundable and non-transferrable.
If, for reason of epidemic or national crisis, the Academy is compelled to close during the course, no fees can be returned or compensation be made for any period of tuition that may have been lost through the Academy's inability to carry out its work.
All classes begin promptly and latecomers may not be admitted. Due to the structure of the course, full attendance is required.
Friends or other persons who are not officially enrolled are not permitted to sit in on classes, rehearsals, or presentations.
All students are expected to wear the correct and appropriate clothing for each class.
Students are expected to maintain a professional standard of dress and hygiene at all times.
Photography or recording of any kind is strictly prohibited in the classroom areas without permission from the Academy's staff.
RADA does not discriminate against applicants on the grounds of sex, disability, ethnicity, or sexuality. We welcome applications from disabled people, and offer places solely on the basis of potential and suitability for the course. The school is housed in a recently-refurbished building which provides good access for wheelchair users.
Decisions made by the Academy regarding the selection of instructors, the allocation of students to study groups, the material for that study group, and any roles allocated are final and not open to negotiation.
It is important to note that the Academy does not accept responsibility for students beyond the scheduled teaching hours on the RADA premises.