A World in Translation: Online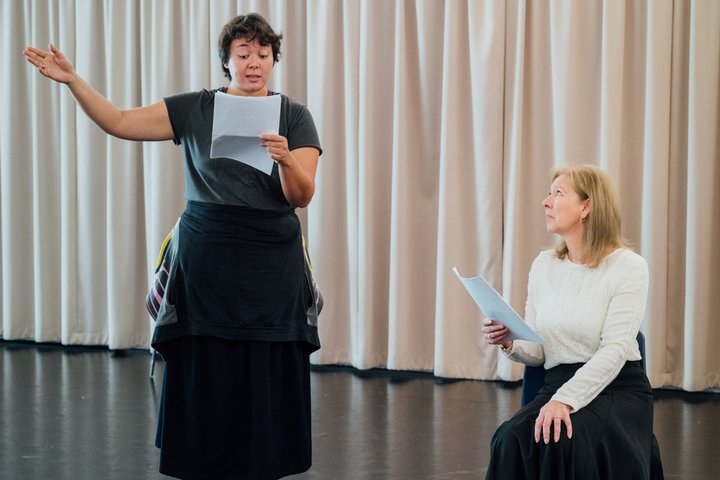 Access your creativity in new and exciting ways with this unique short course that focuses on the mind and body, illuminating an aspect of the actor's art.
A World in Translation is a new course for everyone. It will give participants a rare opportunity to work with a professional theatre translator alongside a RADA teacher. Working with classic and modern texts from Spanish-language writers, students will explore the processes of staging plays in translation, from the translator's approach to original text through to the work of directors, performers and other theatre artists in bringing the translation to life for new audiences.
No knowledge of any language other than English is required for this workshop (although it is more than welcome).
Course layout
Part one: Comparing multiple translations of the same classic text, students will explore the creative decisions that lead to different translators making different choices. Approaching these translations as performers, directors or other theatre artists, they will consider how different translations lead to different interpretations on stage.
Part two: Using a modern text by a leading Spanish-speaking writer, they will work on making some of these translation decisions themselves to write and then workshops their own versions of a translated scene.
Texts
The Desolate Prince (El príncipe desolado) 
by Juan Radrigán
translated by William Gregory - Version: May 2018
The House of Desires 
by Sor Juana Ines de la Cruz
translated by Catherine Boyle - Version: RSC 2004
Learning objectives
Students will gain insight into the process of translation and the creative decision-making involved in moving a playtext from one language to another.
They will learn how vibrant translations are made and the different approaches to keeping the piece alive and relevant to a modern audience.
Through hands-on exercises and analysis of existing translations, they will have the space to question what is meant by terms like 'faithful', 'literal', 'speakable' in theatre translation, and where the blurred line lies between translation and adaptation.
It will give the learner a greater understanding of the many factors to consider when staging a play originally written in another language.
Your booking confirmation will be sent by email. There is no box office collection available.
If you have questions relating to your booking, please email boxoffice@rada.ac.uk
You may also be interested in
Why not enjoy another short course that focuses on the mind and body, which can be booked alongside this one?
Choose from:
Please note: All courses are non-refundable and non-transferable.
All classes begin promptly and latecomers may not be admitted.
Even though we're working through screens, participants should wear loose and comfortable clothing and be prepared to remove their shoes.
In line with academy policy, please note that no recordings of online courses will – or may – be made.