16-20s Young Actors' Workshops: Online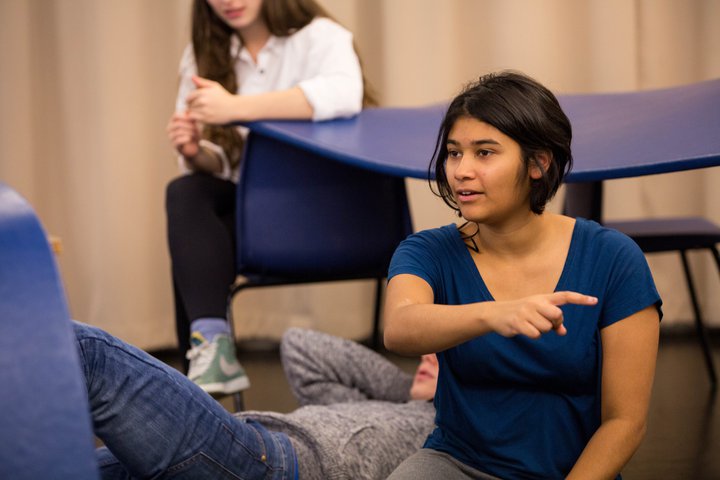 Lively and engaging, these workshops will cover some of the subjects taught at the Academy on the full time acting course: allowing participants a 'taste' of what they should expect at drama school and may include areas such as; voice, movement, improvisation, approaches to text, acting techniques, and scene study.
Monday 29 March – Voice into Text
A practical exploration of voice work including the fundamentals of breath, resonance and clarity. The focus will be on how an actor uses these vocal techniques when delivering text.
Tuesday 30 March – Character; a Physical Approach
Creating a character involves understanding the way people think, speak and move; in this workshop you will be encouraged to use your body as the source of character creation.
Wednesday 31 March – Devising
By exploring components of devising such as narrative, imagery, character, and dialogue; you will be given the opportunity to pull these elements together to establish your own devising skills and create original pieces of theatre.
Thursday 1 April – Acting Techniques
Learn how to develop your acting work by examining the ideas of Constantin Stanislavski. You will explore Stanislavski's approach, by looking at units, objectives, super-objectives, actions and obstacles.
The course is for 16 to 20-year-olds.
Students between the ages of 16 and 17 will be contacted to provide permission from a parent or guardian.
A RADA tutor leads the course.
Places for these classes are limited to 8 people and are frequently oversubscribed. To avoid disappointment please book early.
Your booking confirmation will be sent by email.
If you have questions relating to your booking, please email boxoffice@rada.ac.uk.
Please note: All courses are non-refundable and non-transferable. All classes begin promptly and latecomers may not be admitted.
Even though we're working through screens, participants should wear loose and comfortable clothing and be prepared to remove their shoes.
In line with academy policy, please note that no recordings of online courses will – or may – be made.