Access and participation partnerships
Our existing partnerships are established to encourage and create diversity in drama school training.
We are committed to providing access and opportunities for disabled artists interested in pursuing a careers in technical theatre or acting.
Information about our partnerships with D/deaf and disabled-led theatre companies can be found on the Access to Acting page.
Camden Council
Every summer, RADA delivers a week long course as part of Camden Summer University.
The course is free to participants aged 15-19 who live in or go to school in the borough of Camden. Applications can be made via the Camden Summer University website.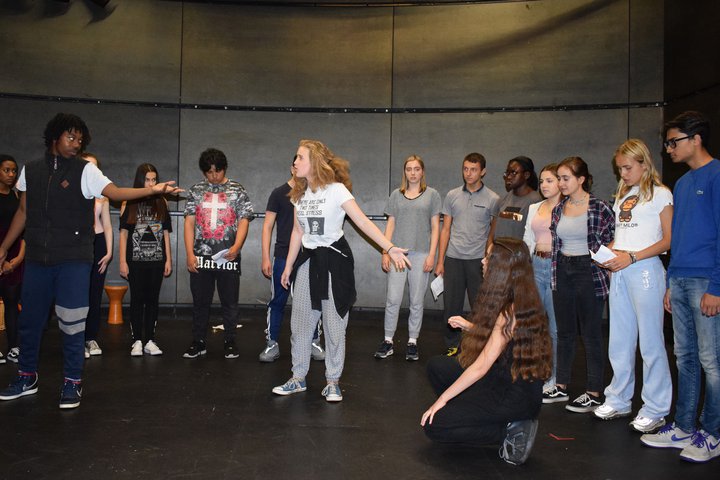 The Diversity School Initiative
By partnering with The Diversity School Initiative, we support that everyone should be given a fair and equal opportunity to train in acting and technical production.
The Diversity School Initiative provides outreach in schools as well as a mentorship and network for drama school students.
Open Door
We are committed to providing access for young people from working class backgrounds. We have partnered with Open Door, offering free space, tickets for shows and auditions to young people who are part of the Open Door scheme. If you would like to audition for Open Door, please visit their website.
London Shakespeare Workout
For over 10 years, we have partnered with London Shakespeare Workout to offer prisoners RADA acting workshops. Current BA (Hons) in Acting students deliver sessions in Shakespeare to inmates.
Theatre Royal Stratford East
RADA and Theatre Royal Stratford East have teamed up to create a course for young people to explore drama school training. The course is for young actors aged 17-24 who want to develop their acting techniques and find out more about RADA and full-time drama training. The course opens access to RADA and provides training and workshops in voice, text and movement and provides workshops in audition monologue techniques.

For more information, please visit the Theatre Royal Stratford East website.